SEPTEMBER 07, 2023
Santorini, with its breathtaking beauty and romantic allure, has long been a dream destination for honeymooners. Andronis Hotels, a luxury collection of four exquisite properties located in the enchanting village of Oia, and one in Imerovigli, elevates the concept of luxury to new heights. Let's explore them all, and the exceptional experiences that make them ideal as settings for a luxury honeymoon in Santorini like no other – all the way from intimate surroundings to enhanced wellness and sensational dining. Each of the Andronis properties offers a distinct and enchanting stay experience. Deciding on which one is best suited for your romantic escape with your other half, is entirely up to you.
For Iconic Santorini Stays:
In Oia –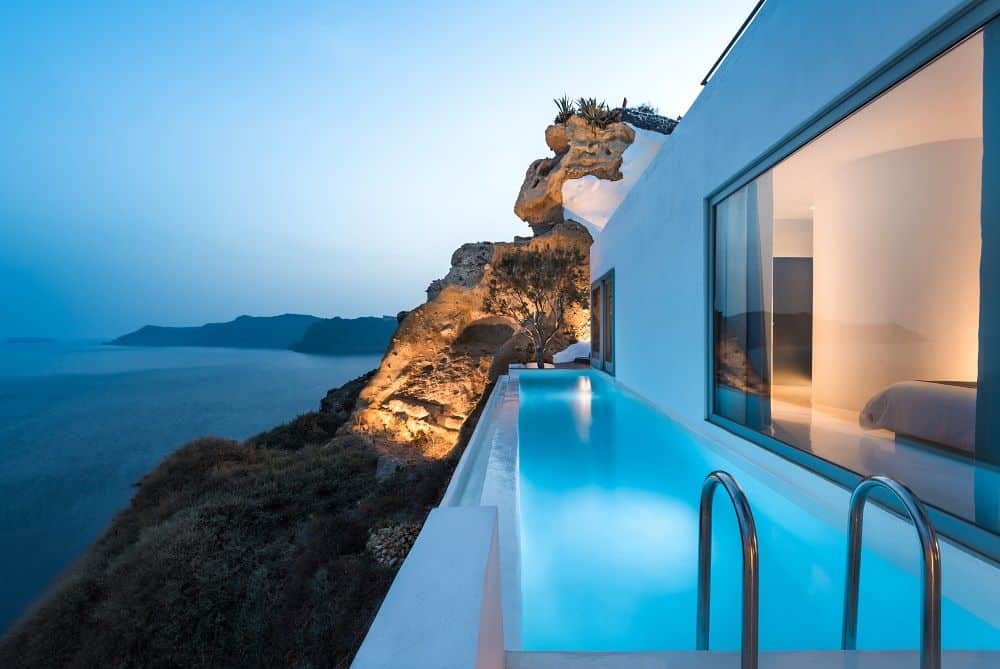 Andronis' Oia hotels of the group are a plexus of elegant abodes carved out of the Caldera, a collection of intimate refuges in the most iconic of the island's settings, for a luxury honeymoon in Santorini that is made of the essence of Santorini.
Andronis Luxury Suites is where endless feelings unravel, as you unwind together, soaking in the spell-binding Oia sunset views. The spacious and luxuriously appointed villas & Santorini suites with private pools are where honeymooners can indulge in their own little slice of paradise of minimalist island aesthetics.
Close by is Andronis Boutique Hotel, captivating you with its charmingly-appointed luxury suites in Oia, Santorini featuring terraces of the most breathtaking views, and Alta Mare by Andronis, a luxury Santorini hotel at the edge of the Caldera showcasing an awe-inspiring horizon onto the Aegean Sea, perfect for a romantic getaway to be treasured.
The rustic flair of Andronis Arcadia's suites & villas, nestled amidst Oia's serene backdrop, provides a tranquil escape for honeymooners seeking something out of the ordinary. You'll get lost in the grandeur of the expansive Oasis Suite with its sizable private pool, a perfect choice for a luxury honeymoon in Santorini that wraps an entire world around you two.
In Imerovigli –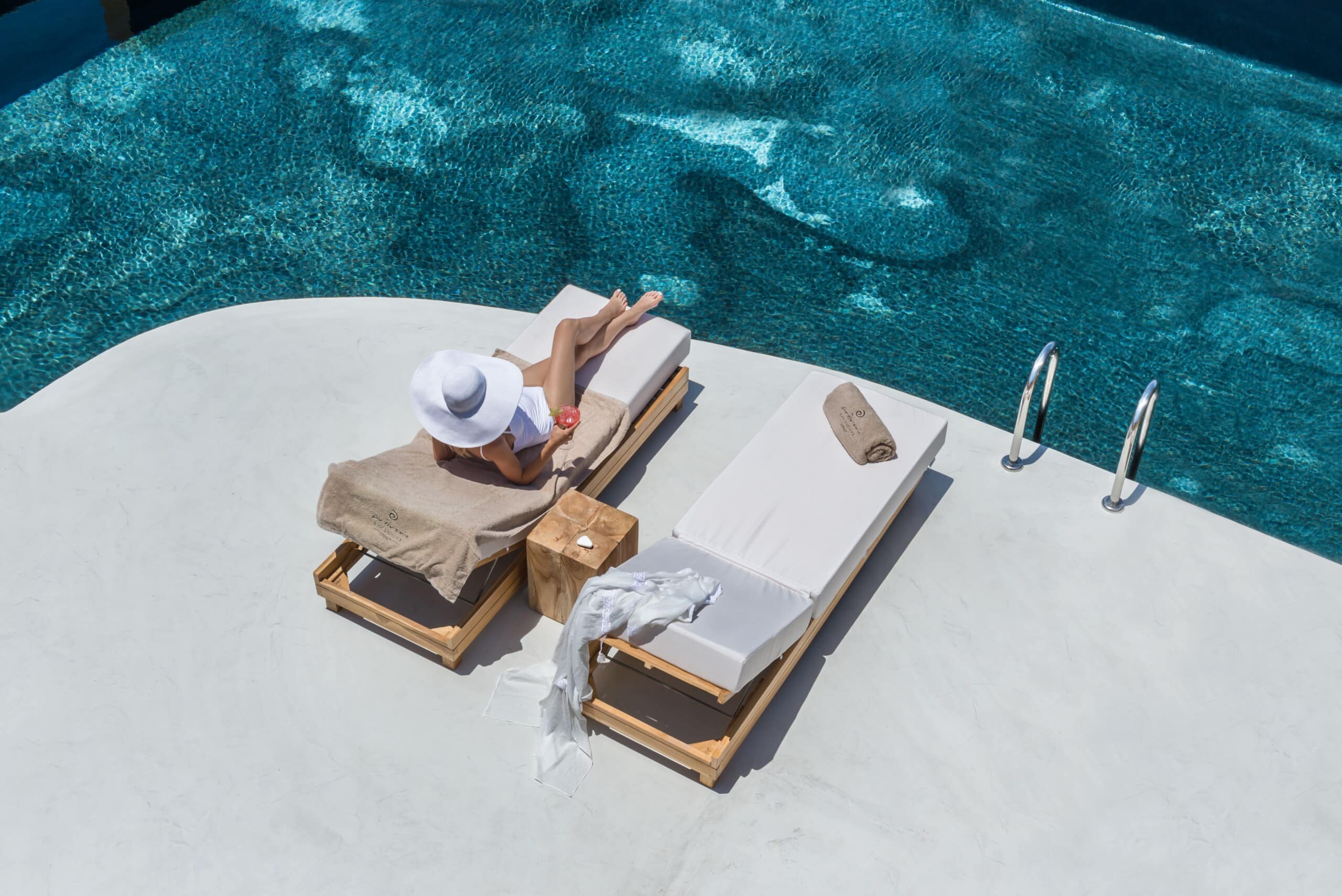 Andronis Concept Wellness Resort is a Santorini Imerovigli luxury resort with private infinity pool suites and immaculate exteriors that offer disarming sun-meets-sky vistas, as far as the eye can see. A place of tantalizing beauty and tranquility, it was made for experiencing Santorini at its most serene. Right on the Caldera, it commands absolutely mesmerizing views of the Aegean, the settlement of Oia, and the sunset. Honeymooners can enjoy true privacy, in, undoubtedly, one of the best Imerovigli hotels in Santorini.
For Indulgent Levels of Wellness
Spotlight once again on Andronis Concept Wellness Resort and its state-of-the-art Kallos Spa – a sanctuary for the senses where you can indulge yourselves in a range of nourishing signature treatments. The stunning facilities include a Cave Waterfall Pool and a stunning edge pool that overlooks the landscaping that transposes you into an otherworldly setting.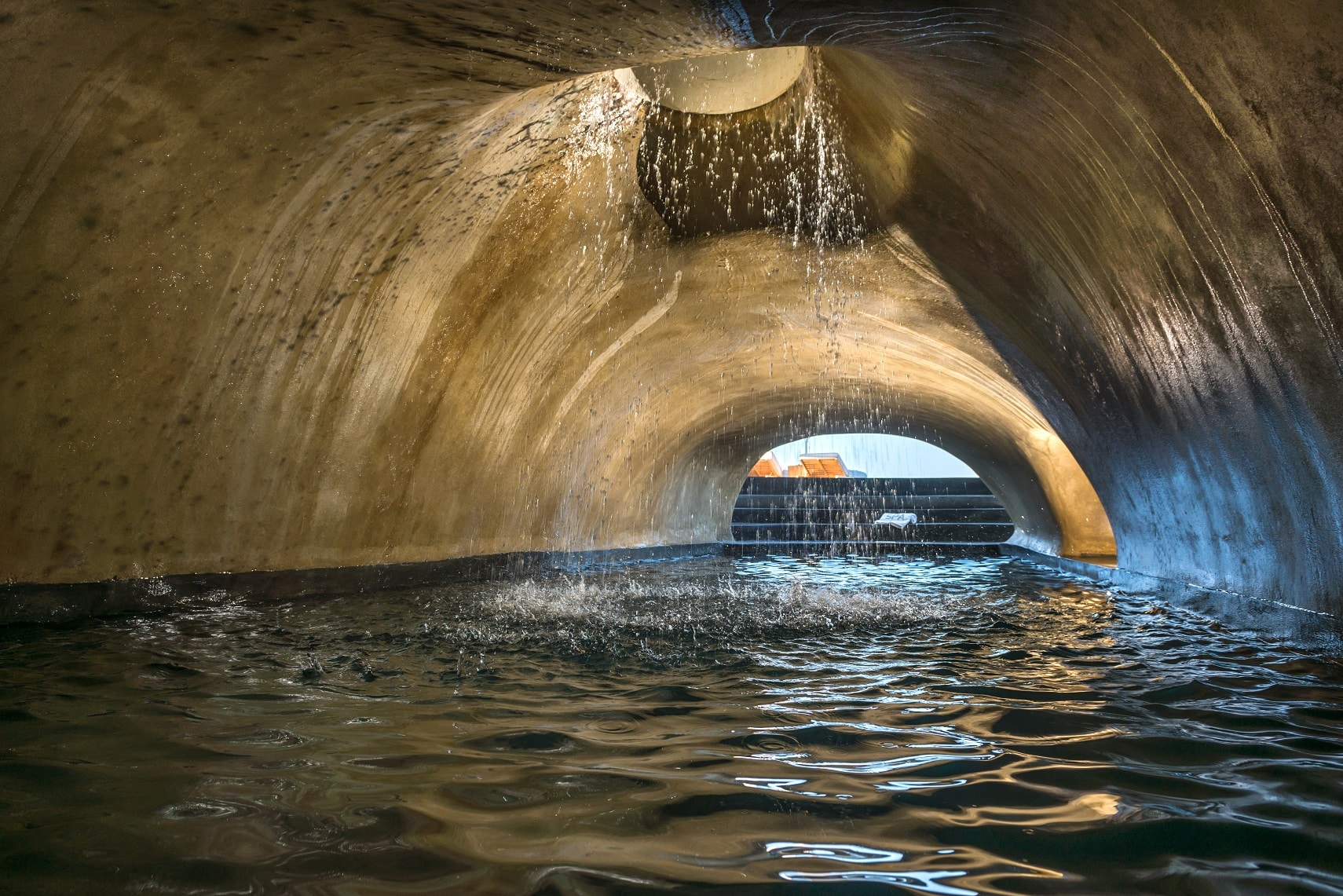 In the iconic Oia, it is Andronis Luxury Suites that beckons honeymooners with its opulent amenities and a serene wellness experience. The in-house Mare Sanus Spa offers a range of rejuvenating therapies, ensuring relaxation and pampering at its finest. Guests of Alta Mare by Andronis and Andronis Boutique Hotel also enjoy wellness experiences there.
Stirring the waters, comes Andronis Arcadia's Evexia Spa. In addition to the calming wellness chambers, treatments, and therapies, it features the Water Path, made up of two L-shaped, Kneipp pools – one with hot and and one with cold water – embellished with reflexology stones to walk on.
For Inspired Culinary Journeys 
The most sensational culinary adventures await couples who choose the hospitality of Andronis Hotels.
Andronis Luxury Suites boasts haute cuisine in the form of the fine-dining restaurant in Oia, Lycabettus Restaurant, where couples can savor the finest of Mediterranean cuisine with the most epic scenery the island has to offer. Experience a romantic dinner that pulls all the stops, on an astonishing cliff-balcony accompanied by panoramic views of the Aegean Sea.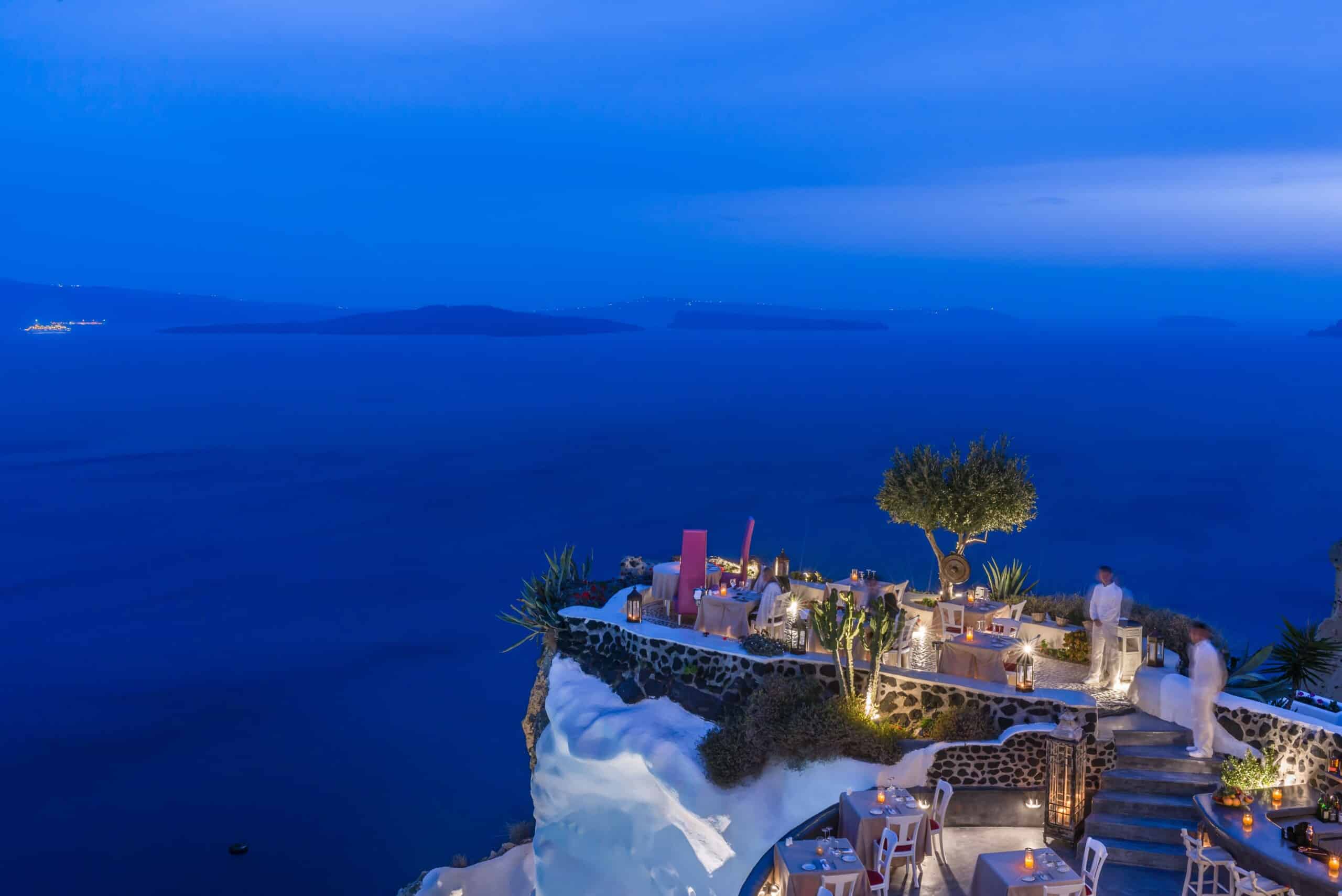 Similarly, Andronis Boutique Hotel also in Oia, houses the exquisite Lauda Restaurant in a sophisticated cliffside setting, serving delectable dishes curated by the world-acclaimed 3 Michelin Star Chef Emmanuel Renaut. As for a more casual approach, Andronis Arcadia proposes soul-inspiring Oia sunset dinner experiences with a more upbeat mood, in a more lounge setting while the exquisite dining options tantalize the taste buds with gourmet-casual cuisine ranging from Sushi to Mediterranean tastes at Pacman Sunset Restaurant and fine cuts by the world known Beefbar.
In Imerovigli, within Andronis Concept Wellness Resort, you will find Throubi Restaurant, which brings a holistic twist to your luxury honeymoon in Santorini. Breakfasts and dinners here are especially captivating, as perfectly balanced nutritional dishes are complemented by sweeping views.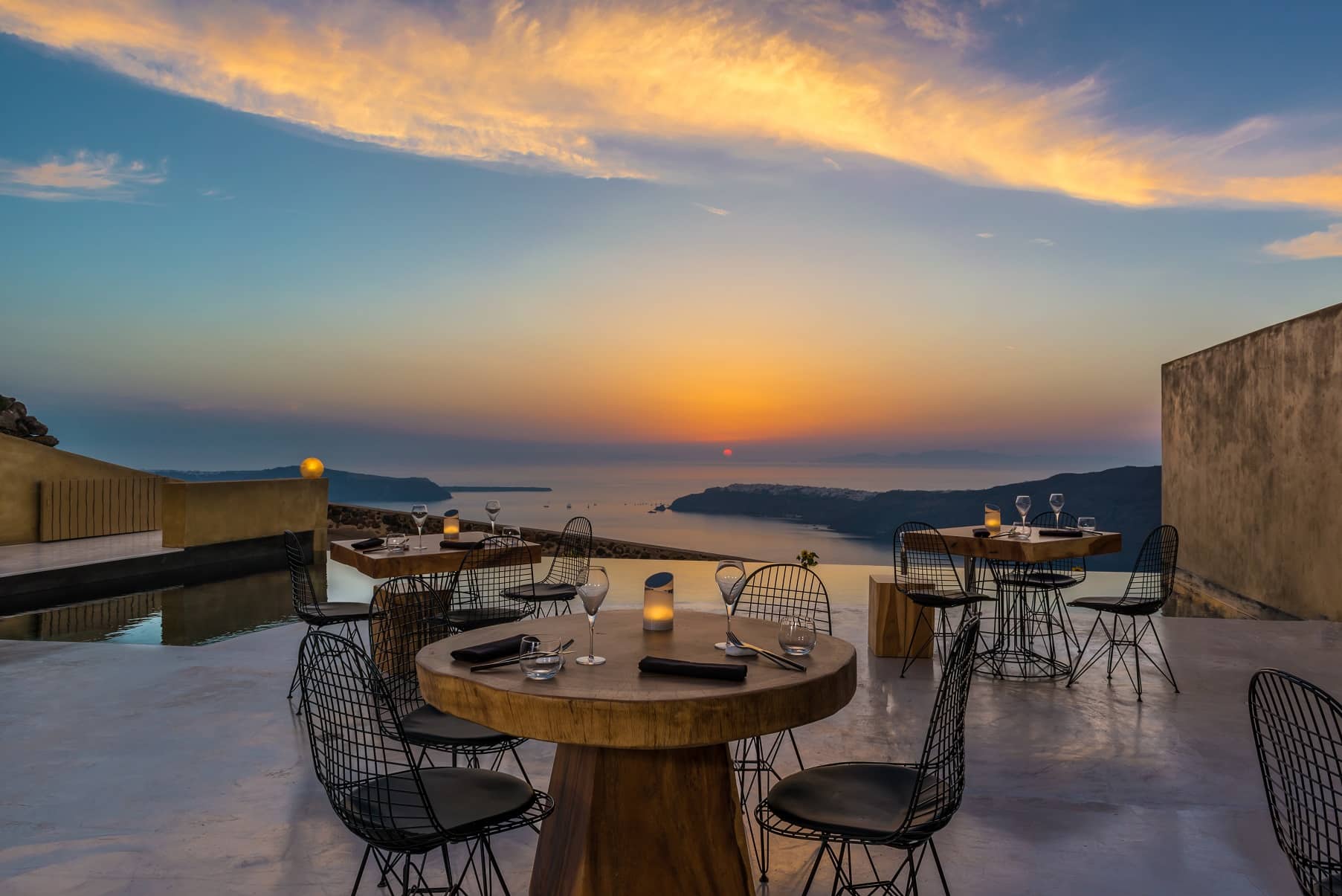 For honeymooners seeking the epitome of luxury and romance, Andronis Hotels in Santorini fulfill every desire. Across five remarkable properties, couples can revel in wellness experiences, savor exquisite culinary delights, and indulge in soul-rich stays. As for unlocking your inner explorer, the group's insights let you experience Santorini seamlessly during your luxury honeymoon in Santorini.
The breathtaking beauty of Santorini island combined with Andronis' commitment to elevated hospitality and impeccable service, create the perfect setting for newlyweds to embark on a journey of love, intimacy, and unforgettable memories.
Read More