JULY 04, 2023
Nestled on the beautiful island of Santorini, Andronis Concept Wellness Resort in Santorini is a destination within a destination – a bonafide paradise calling out to anyone seeking a relaxing and rejuvenating escape – a real soul-rich experience to be lived to be believed. The scope and vision of this luxury wellness retreat in Santorini afford you the chance to dip into decadent hedonism without the paradox, leaving you recharged and recalibrated. Here, happiness is not a feeling to be pursued; it is a feeling that ensues.
Santorini is renowned for its picturesque views, and Andronis Concept Wellness Resort proposes a wellness retreat in Santorini that takes full advantage of this, boasting breathtaking views of the Aegean Sea. Perched on the cliff tops of the Imerovigli settlement, with a backdrop like the tranquil Aegean to soothe your senses, this wellness retreat in Santorini invites visitors to find their inner balance and sense of wonderment amidst the most serene environment.
Here you will not find just another wellness retreat in Santorini. Here is a place crafted specifically for finding alignment, harmony and balance in all the ways that count. Andronis Concept Wellness Resort offers a range of expert wellness treatments and programs designed to cater to the individual needs of every guest for a personalized wellness experience like no other. Let's take a look at what your next wellness retreat in Santorini has in store for you…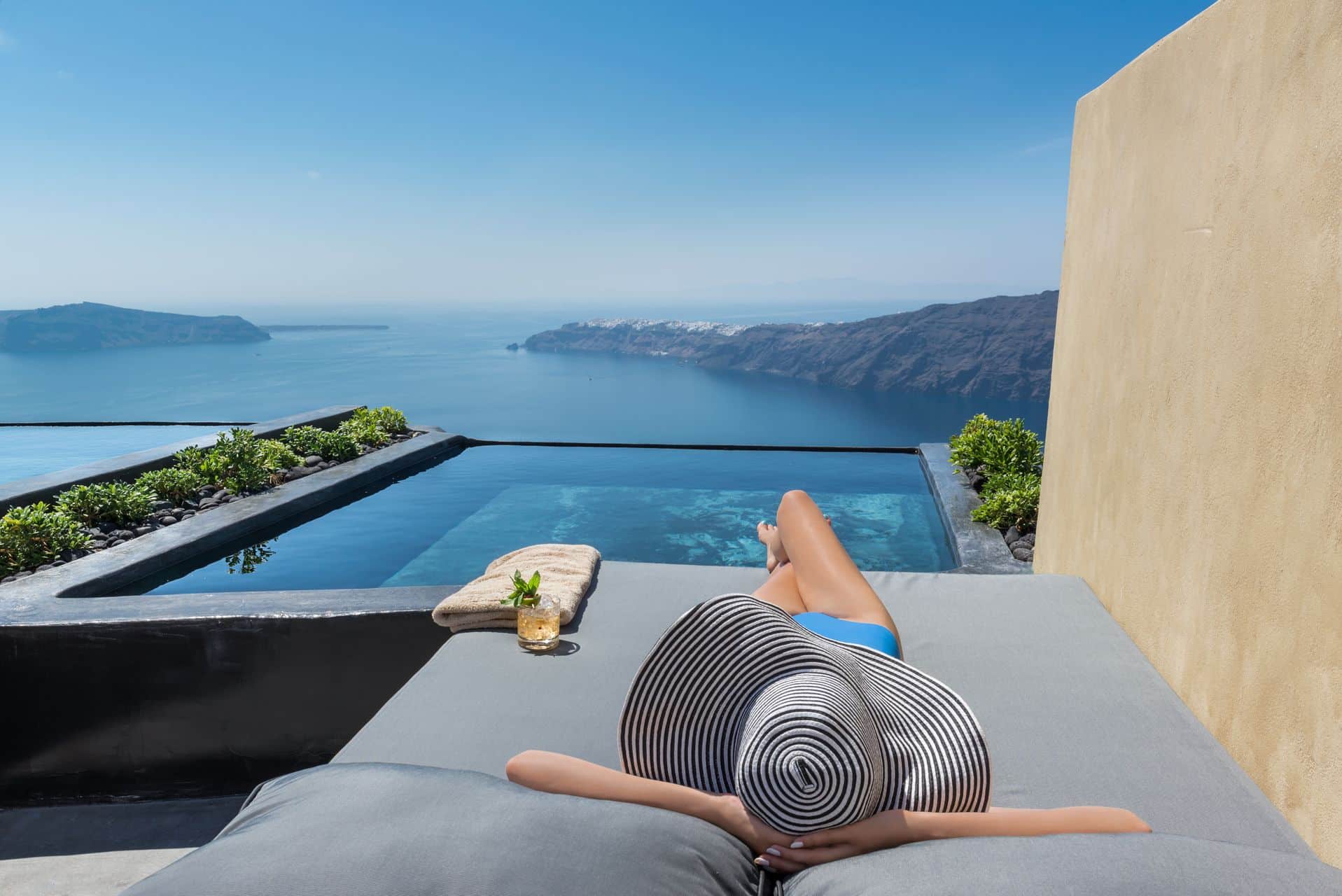 The "Kallos" Spa Experience
Kallos means beauty in Greek. And at our state-of-the-art Kallos Spa, everything has been tailored around replenishing and renewing your unique kind of beauty, both outer and inner. They say that beauty lies in the eye of the beholder, and at Andronis, we believe that the beholder of your beauty should be you – first and foremost. For this reason, you will find that our Spa offers a series of advanced beauty treatments which aim at reinstating a healthy glow in you. We also believe that true beauty comes from inner harmony and alignment, therefore you will find a range of happiness-boosting and mental-reviving treatments plus detox meals, specially prepared at our restaurant if you feel like going the extra mile.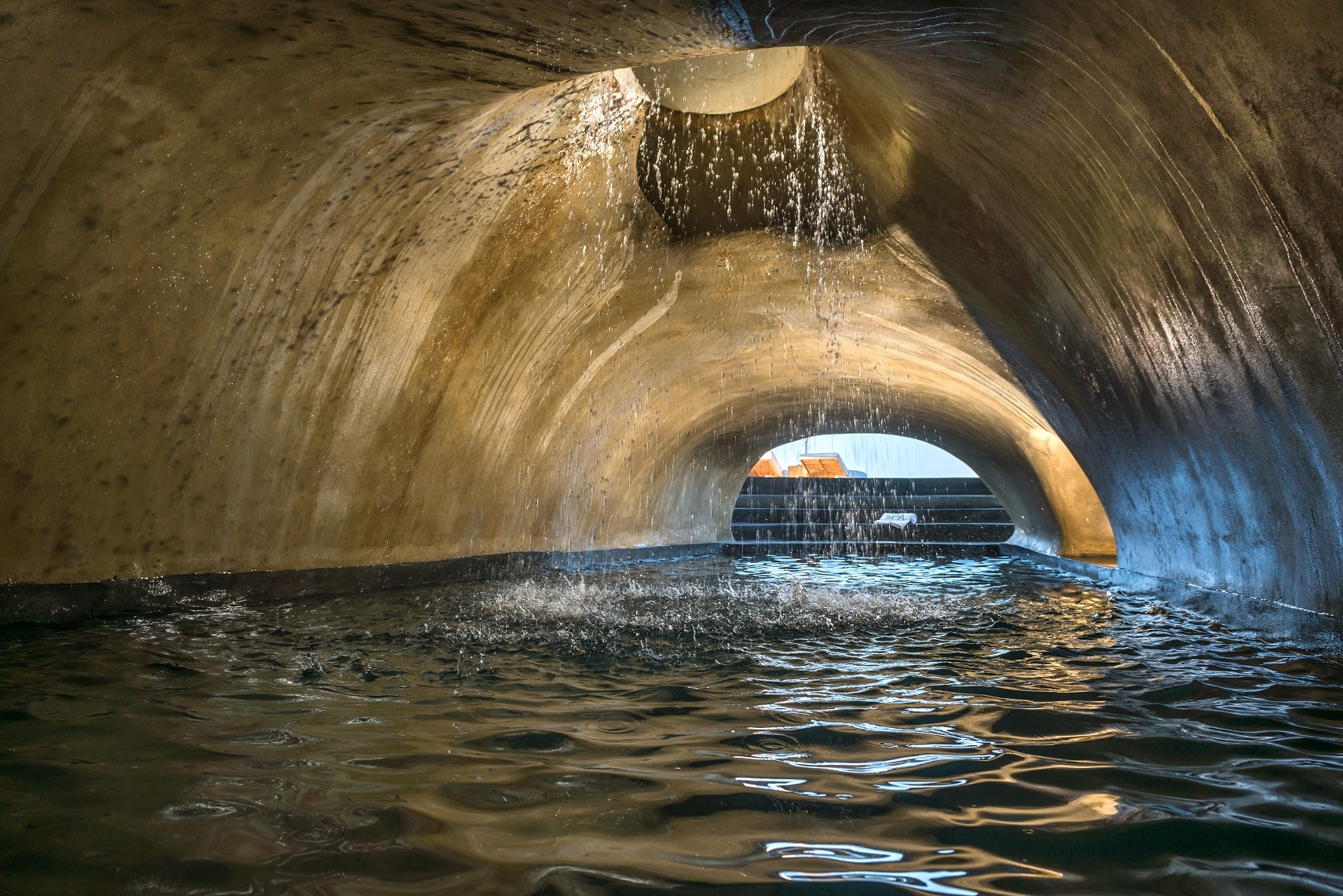 Soothing Massages & Facials
In this sanctuary of tranquility, you'll find a range of treatments and therapies that include massages, facials and body treatments that aim to rejuvenate and relax you. Our skilled therapists use only natural and organic products that promote palpable biological and emotional change in those that experience them – both through touch and smell. This enhances the overall wellness experience, and the stunning environment provides a serene and peaceful setting to amplify the power of living in the moment.
Yoga & Fitness Time
Another one of the highlights of your wellness retreat in Santorini at Andronis Concept Wellness Resort is the extensive yoga program. You can partake in yoga classes in several styles such as Hatha, Vinyasa, and Yin, for a variety of levels depending on your experience, while expert instructors ensure you get the most out of your meditation time. Our Yoga space is a luminous cocoon of top-to-bottom glass windows, with an unobstructed view of the Aegean sea that lends itself perfectly to meditation and inner focus. Of course, if you prefer more conventional forms of exercise, you have access to our fully-equipped Fitness center that includes a sauna and steam room, open 24 hours a day, allowing you to maintain your fitness routine, relax and unwind after a workout, whenever you feel like it.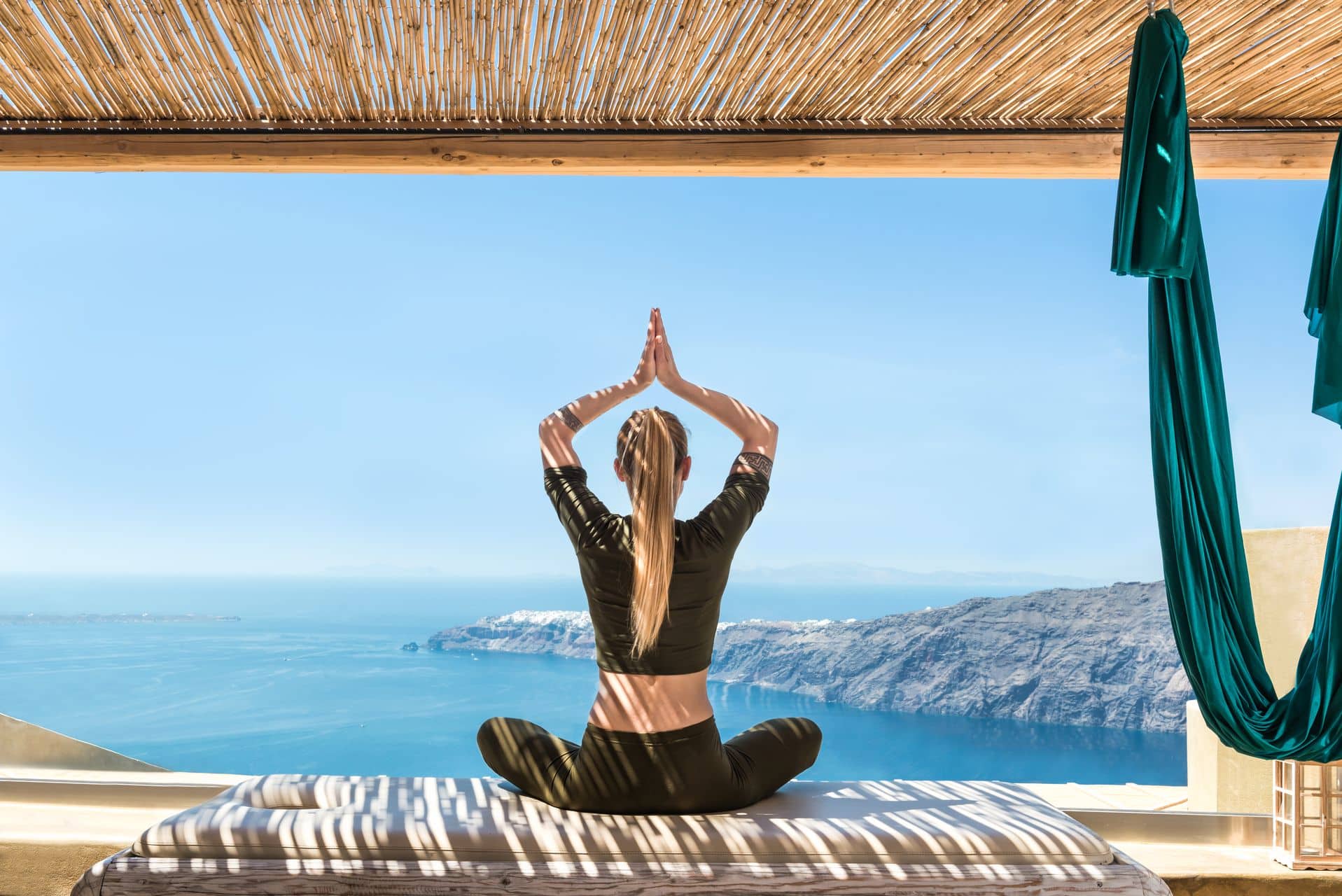 Family Moments
In case you are considering a wellness retreat in Santorini with the family, Andronis Concept Wellness Resort is just the place for you. Family time at Andronis Concept includes a series of conceptual experiences tailored to our younger guests, so they don't feel left out on all the excitement. Kids can experience the Kids Spa, for a gentle introduction to the world of wellness and beauty. They can also try some Yoga for Young that offers many benefits to your children, including guiding them towards a healthy lifestyle and laying the foundations for a future aligned with their mind, body, and spirit. One more thing the entire family will love is the family cooking lesson. This immersive experience brings your family closer together through learning to prepare the most delicious local dishes, and take those skills back home to re-enact for your family and revel in the memories you created together.
Inspired Accommodation
Andronis Concept Wellness Resort has a variety of luxurious accommodations to choose from, including suites and villas with private infinity pools. The living quarters are stylish, elegant and spacious, with a minimalist design that complements the serene environment. The suites and villas are equipped with all the modern-day amenities and luxurious features you expect, including expansive private terraces that boast phenomenal land and seascape views of Santorini's soul-rich tapestry, and outdoor Jacuzzis in addition to the plunge pools, with enough space for guests to unwind and relax, providing the perfect escape from the stresses of daily life.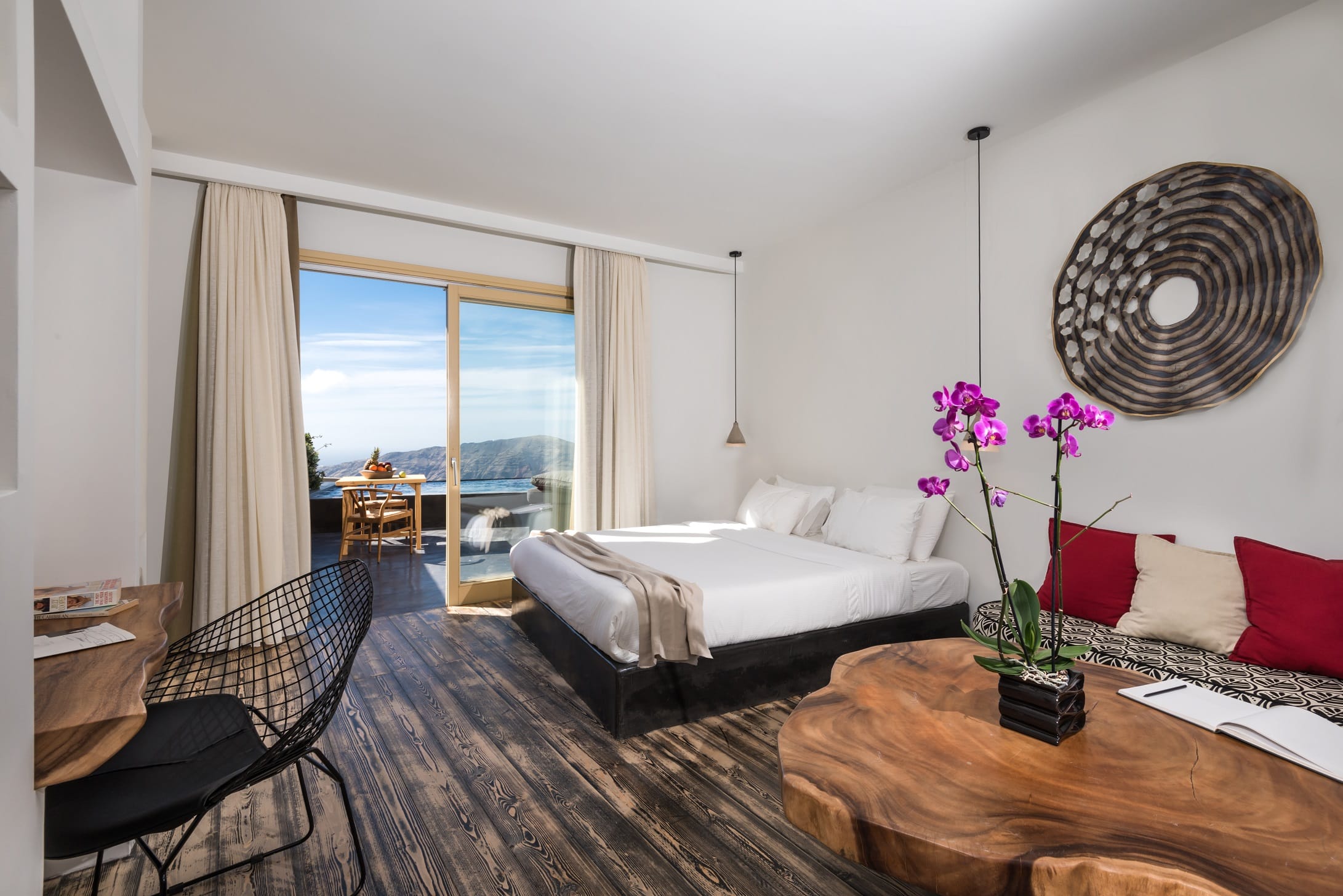 Delectable Dining
In addition to the wellness treatments and facilities, the resort features the talents of Executive Chef Charalambos Koukoudakis' tasty concoctions at Throubi Restaurant. Here you can dine immensely well, coupling tantalizing flavors with the phenomenal sunset views Santorini is known for. The resort's focus on wellness is evident in its cuisine too, with an emphasis on fresh, locally sourced ingredients, prepared in a way that is both healthy and delicious. Early birds will be rewarded as the breakfast buffet is a legitimate feast for the senses, with a range of nutritional and indulgent options that cater to all dietary requirements.
The delights of a wellness retreat in Santorini at Andronis Concept Wellness Resort are manifold – here is a place that provides a thoroughly comprehensive wellness experience that caters to individual guest needs. Andronis Concept Wellness Resort provides an inspired, holistic approach to wellness which ensures that guests leave feeling renewed, refreshed, and feeling alive in a newfound sense. So, tune in and drop out of the daily hassles and rediscover yourself, while indulging in meaningful luxury that will leave you revitalized and reborn anew. The resort's serene environment, world-class facilities, and skilled therapists create the perfect atmosphere for a wellness retreat that nurtures the mind, body, and soul.
Andronis Concept Wellness Resort is the perfect destination for a wellness retreat in Santorini that goes beyond the ordinary, and then some.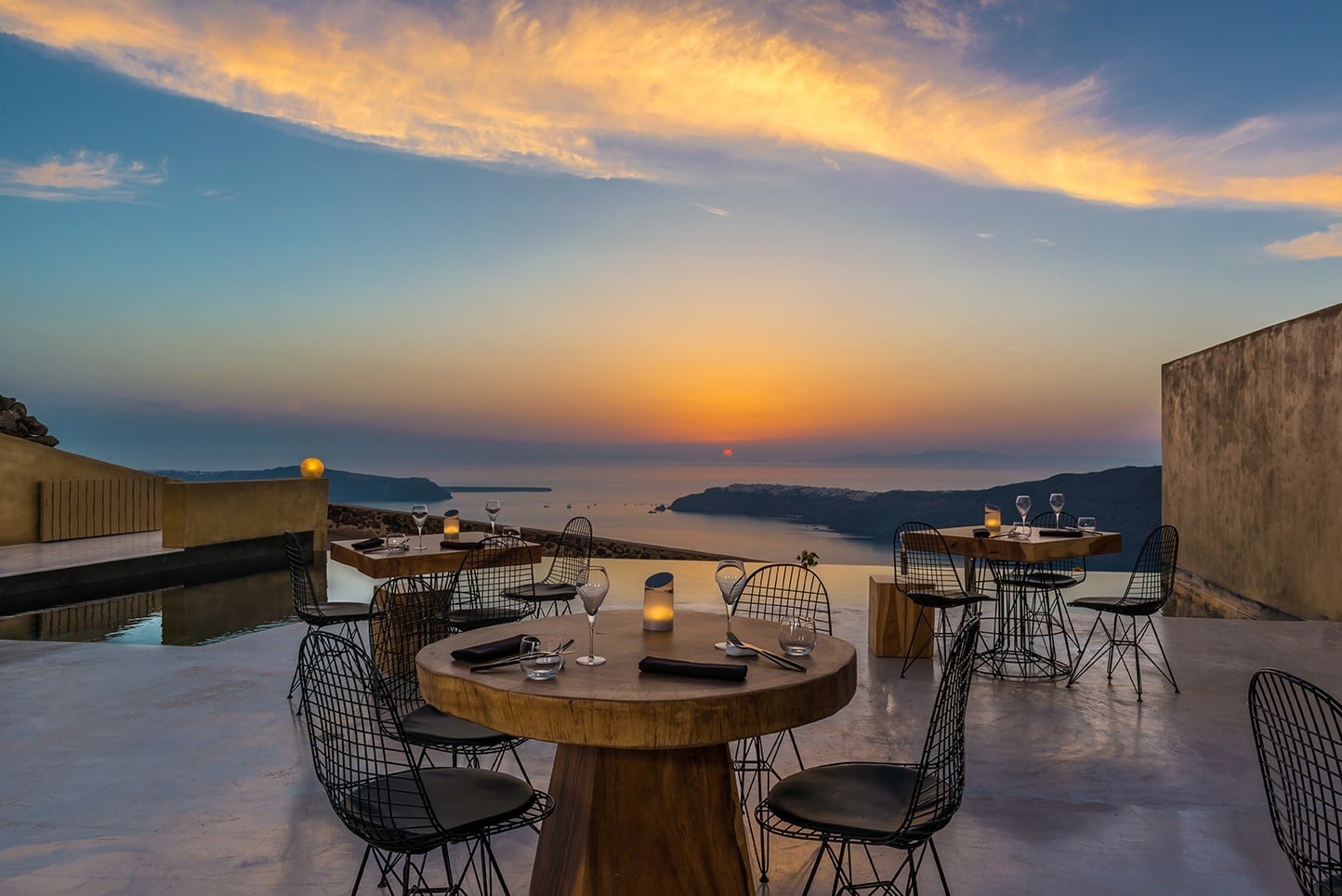 Read More