In Andronis, your relaxation is a serious matter. We consider that during your vacation, you should take a break from the fast pace of your life and whatever burdens you. For that, we trust the healing power of sleep. This is why we do our best for our guests to enjoy their time off and go back to their routine rejuvenated. Ready to have the most relaxing vacation in Santorini?
SLEEP CONCIERGE
Always striving to provide the ultimate standard of luxury and comfort, we want to ensure that you get a good night's sleep. This is why, some days prior to your arrival, you will receive a form in your email. By filling it, apart from other details, you can let us know, which type of pillow and which room scent you prefer. Moreover, if you feel like it, we can provide you with lavender turndown service. The fragrance can be sprayed over the bed and pillows to calm the nerves and aid sleep. This natural way of falling asleep will leave you feeling refreshed and revitalized the following morning.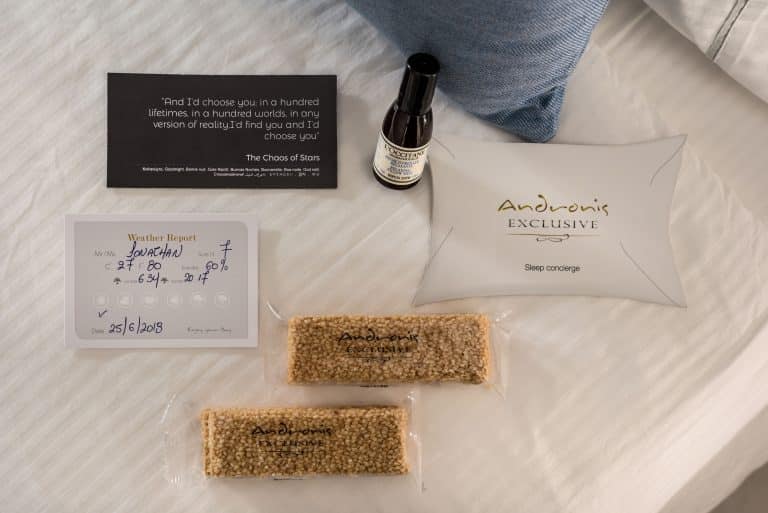 SLEEP LIKE A ROYAL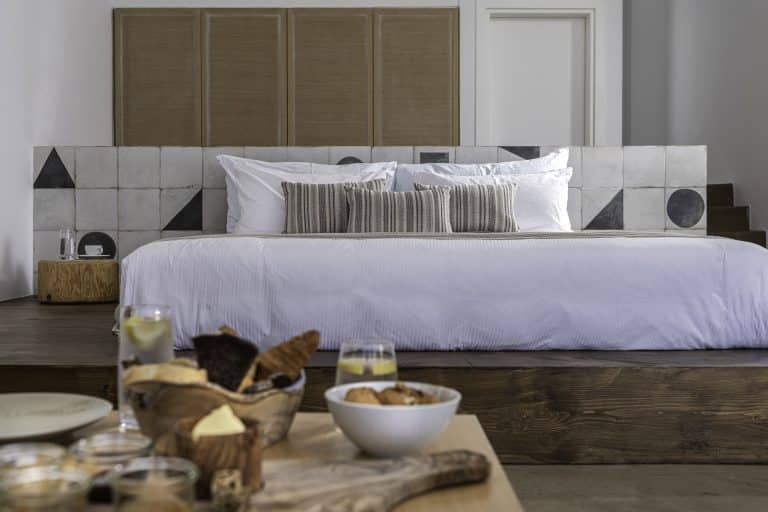 ENSURING THE MOST RELAXING VACATION
The healing and soothing power of sleep should not be taken for granted. Creating the right environment and circumstances is crucial. This is why, for your leisure, we choose the top-rated brand of mattresses, Beautyrest, synonymous with indulgent and restorative sleep, to ensure that your vacation in Santorini will be relaxing.
UNWIND ON A SUNBED
REST IN THE FANCY POOL OF PACMAN RESTAURANT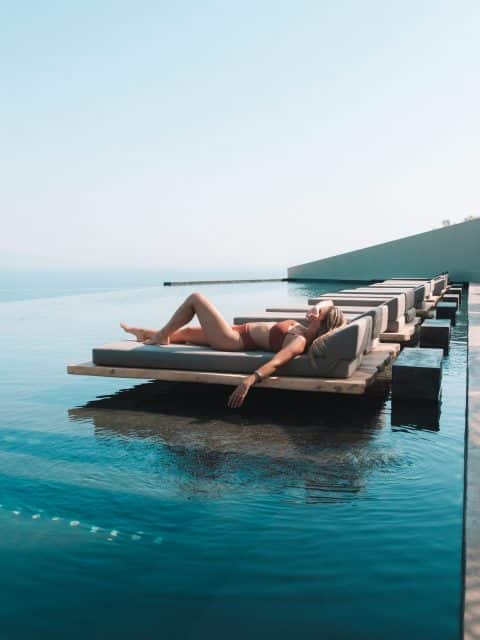 YOUR PRIVATE TERRACE IS THE PLACE TO CHILL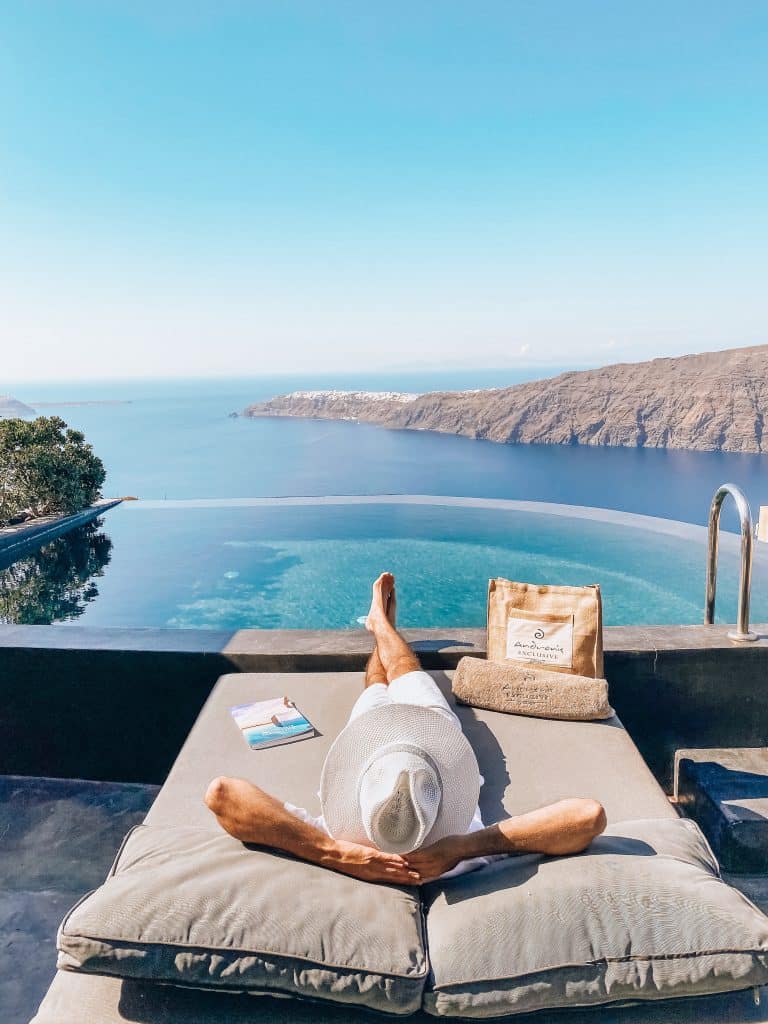 Do you like spending your days in the common pool of your hotel during vacation? Or you prefer the peace of your private balcony? No matter, what's your type, you've got your back! Greece is famous for its warm and sunny days, so whether you want to get a tan in the sun or take a nap under the shadow of our umbrellas, the comfy mattresses of our sunbeds, are an ideal place.
DOZE UNDER THE STARS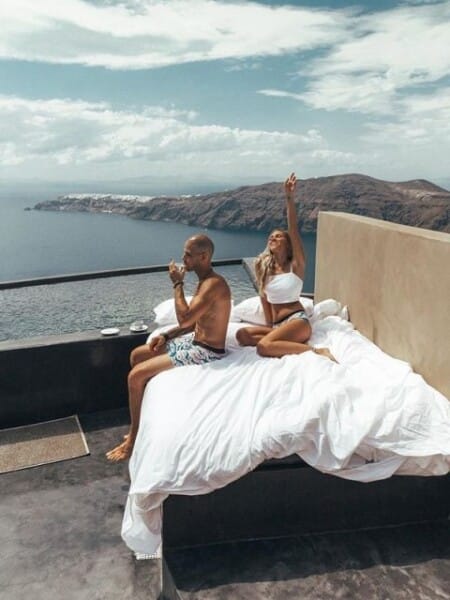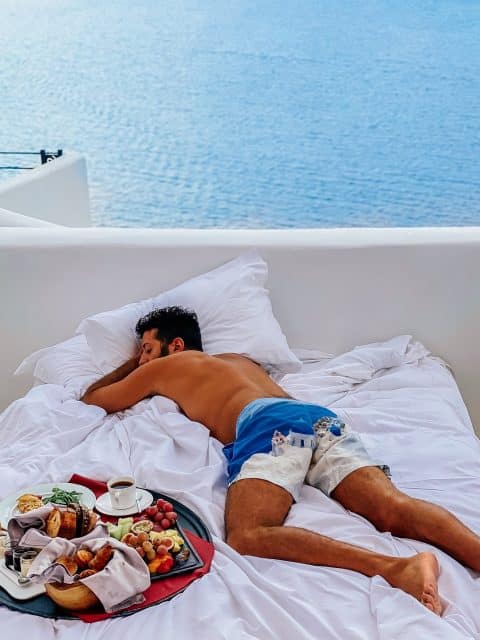 YOU CAN'T GET ENOUGH OF THE VIEW? MOVE THE BED OUTSIDE!
Sometimes our guests want to make the most out of the view during their stay. That's why they move the beddings to their private verandas and they sleep under the majestic starry sky of Santorini. Apart from being a unique experience, an outdoor bed is the coolest setting for your Instagram photos. To find out the most instagrammable spots in Andronis properties, click here.
However, no matter how much we love sleep and relaxing vacations, in Santorini, there is always a good reason to wake up early in the morning and seize the day. Book now your dream trip to Santorini and get ready to enjoy the full #AndronisExperience.