Most probably, Oia is a place you got to know through social media. There's a reason behind that, and it's the fact that the whole island of Santorini offers impressive views and sceneries. That being said, yes, Santorini is one of the "Top Instagrammable Destinations". The island is big enough for you to find the special spots for your "clicks" but we are giving you a hand by gathering the most instagrammable spots of Andronis properties in Santorini.
Gazing the infinite blue at Lycabettus Restaurant
No matter which time of the day you'll happen to be there, Lycabettus' terrace is always magnificent. No wonder why it's one of the most photographed places of our properties since it seems like it's hanging on the edge of the cliff with the famous incomparable blue view surrounding it.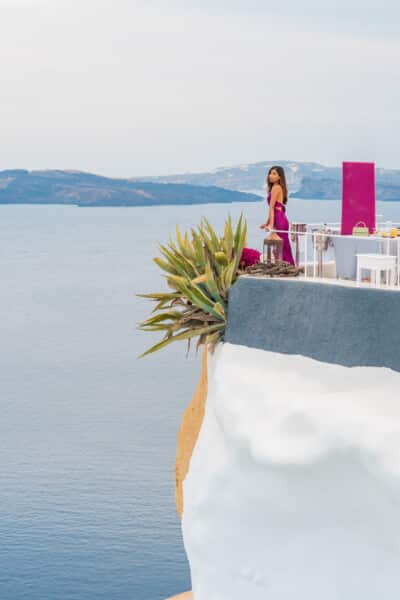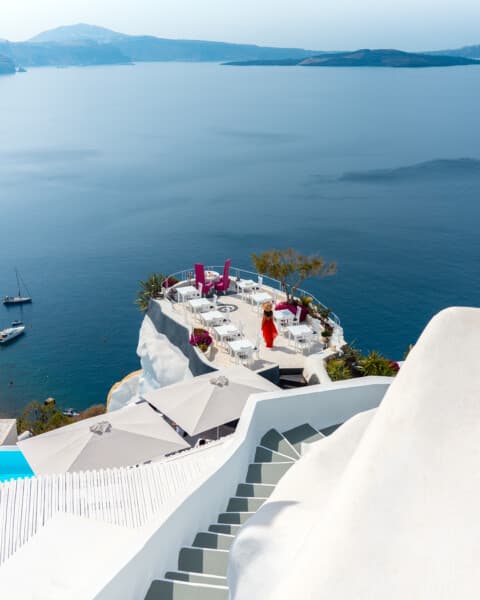 Views to start your day with
Starting your day with good food is the best way to treat yourself during your vacation. But doing it in front of such a view is what makes it a truly memorable experience. With such a view around you and a variety of colors and tastes on your table capturing the moment in a beautiful way will be a "piece of cake".
Needless to say, you won't be able to wait for your pics to be up before you start eating these mouth-watering dishes.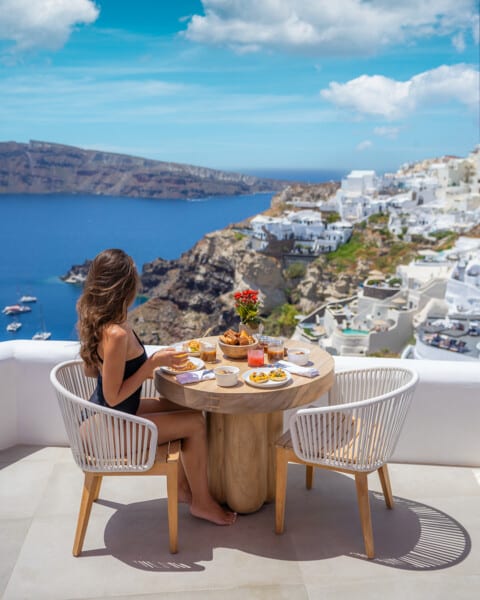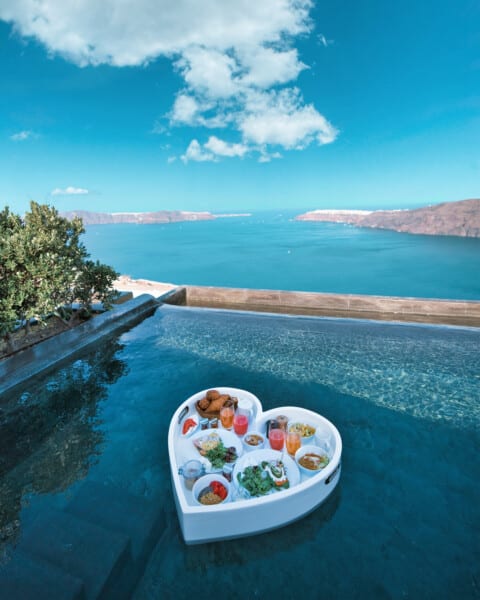 Stairs to Heaven
We already presented you with Lycabettus Restaurant and the lovely view it offers. Although, you should know that the magic begins a little before getting there. Anywhere you walk around the villages of the caldera of Santorini, you should take a moment to appreciate the scenery. Imagine going down the stairs surrounded by the white walls…walking under the vivid colors of the bougainvilleas and seeing the blue of the sea spreading in front of your eyes as a veil. Without a doubt, you would be the perfect muse for any photographer.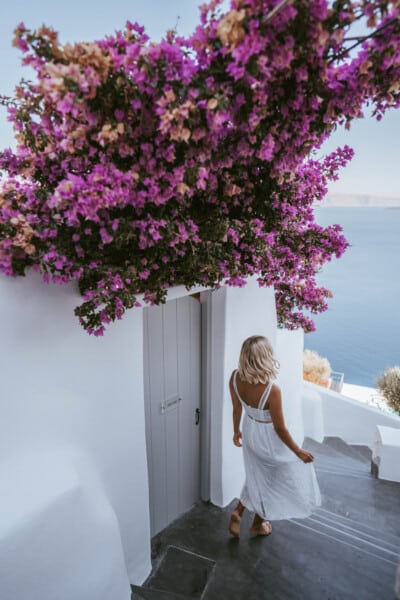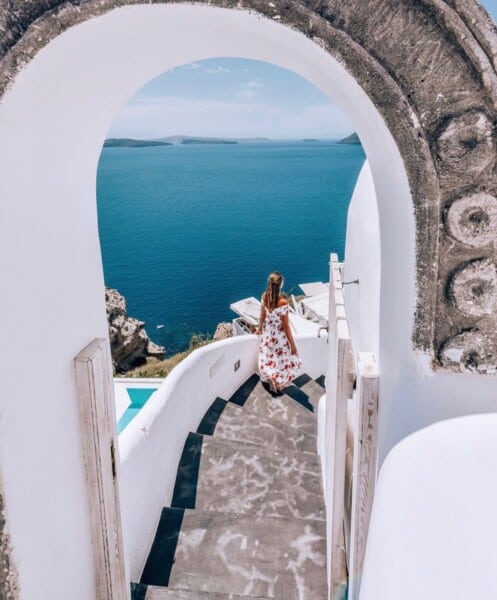 Your private pool - where dreams come true
There's not much to say for this one…the pictures talk for themselves. The background of the houses in Oia is captivating, but seeing it from the edge of your private pool is what makes it even better. You could stay in your private pool for hours and daydream. For you, it's a moment of ultimate relaxation. For your followers, it's a photo that will make them LOSE IT! Is there a more instagrammable spot in Santorini?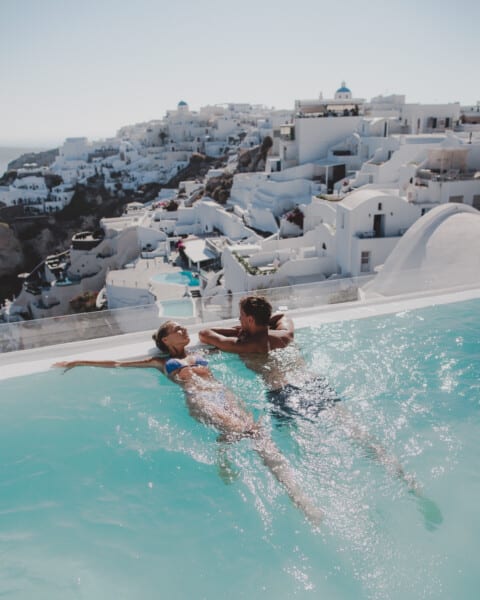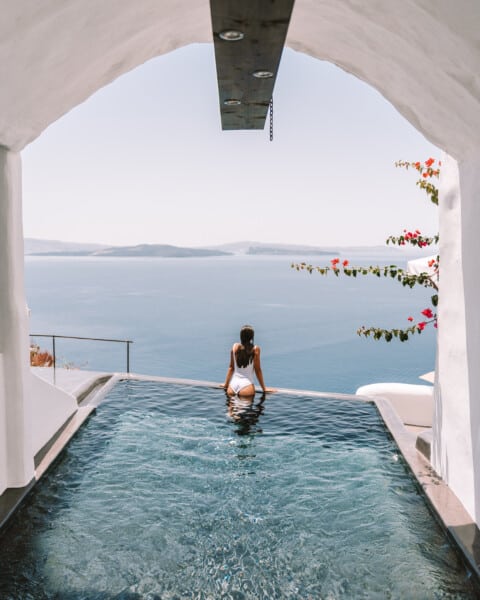 Magical Sunsets from every Pool Suite
If the island of Santorini is famous for one thing, that is its magical sunset. That's why all the rooms in Andronis Arcadia in Oia & Andronis Concept Wellness Resort in Imerovigli are designed to capture direct sunset vistas. The only disadvantage – it will be extremely hard to choose which photo to post since all of them will be mesmerizing!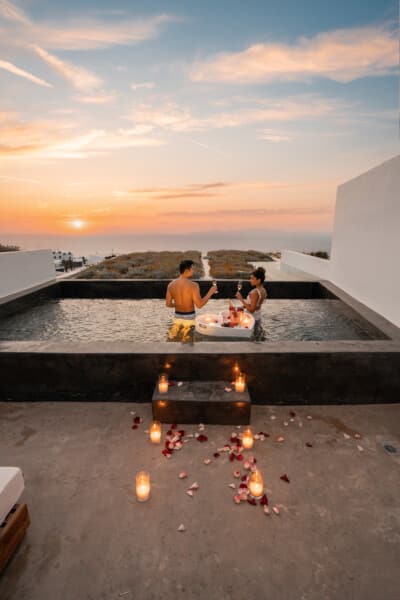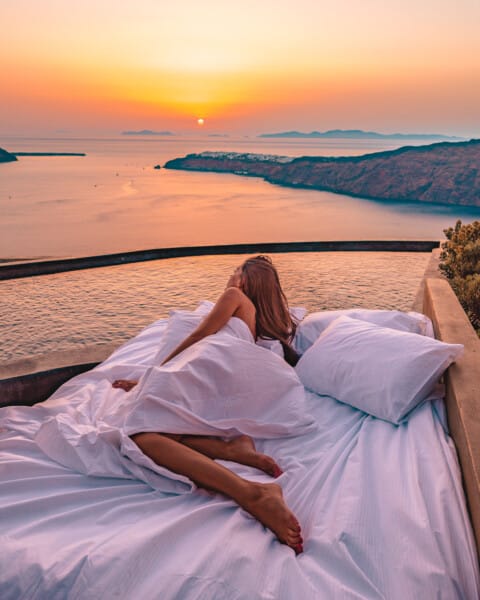 One last click before your delicate dinner at Lauda
Take a beautiful picture as you go down the stairs to Lauda Restaurant and the blue view unveils in front of your eyes. Looking at the camera or not the scenery makes the ideal background for you. Tip: save some clicks for when our host guides you to your table and offers you a beautiful red rose.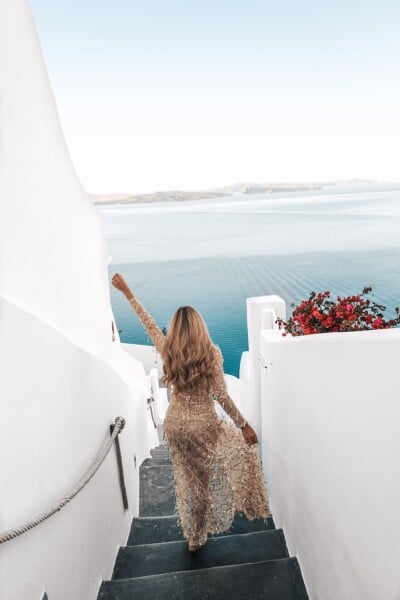 White walls make the best canvas
The private balconies of Andronis Arcadia are an ideal place for your photo shooting. The white and earthy tones in the background are the best canvas, so the only thing you'll have to do for a great photo is to use your imagination. Strike some poses, from "artsy" to fun, for you or your young ones, the result will be for sure great!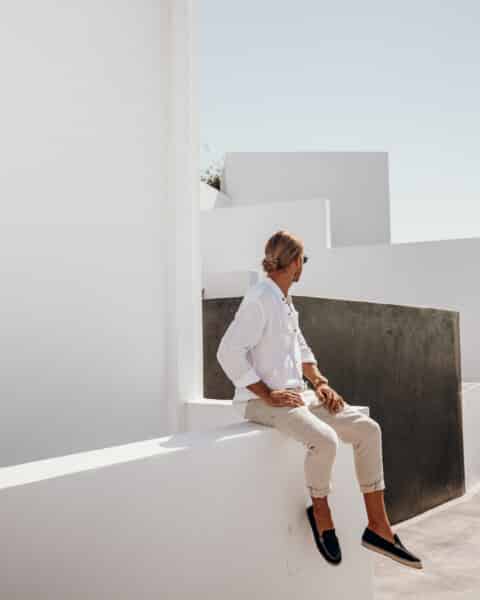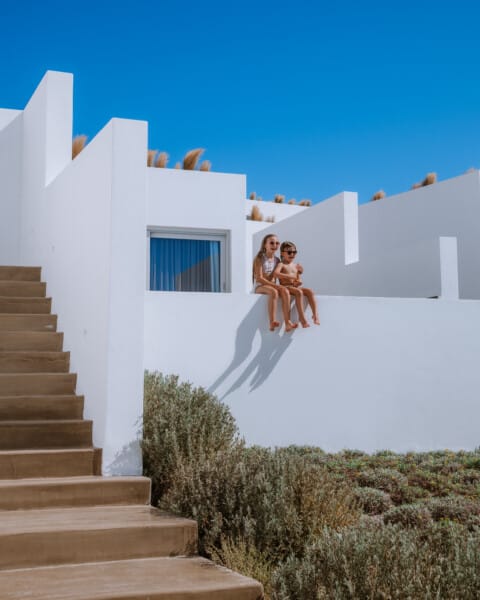 Cocktails, dreams, and sunsets
Following Andronis Arcadia's lifestyle philosophy, Pacman welcomes you in a vibrant & boho-chic area. The magnificent alfresco space provides you with unspoiled views of Oia's spectacular sunsets, creating the best photography set. Photos with cocktails in front of the sunset are always a must.
Summing up, these are only a few of the most popular and photographed places around Andronis properties in Santorini. We invite you to wander and discover more hidden gems. Check all of Andronis' properties and rooms and find the one that better suits your taste (and Instagram feed)!