Undoubtedly, Santorini is mostly famous for its unique sunset views. But in this blog post, we want to show you that this beautiful island, is always full of life – and ready to offer you a wonderful experience.
One of the most common reasons for one to book a trip and go on vacation is to take a break from everyday life and relax. Turning off your alarm might be the first thing you want to do when you reach your destination. Although regarding Santorini, we suggest you reconsider. Read the full article and let us highlight all the morning activities worth enjoying in Santorini!
TAKE A LOOK AT THE SUNRISE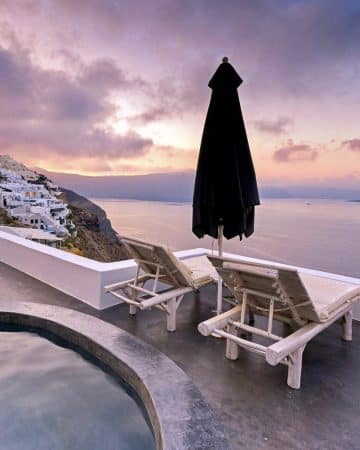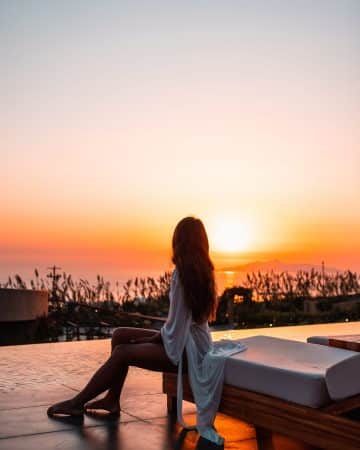 Sunsets are a must…but what about the sunrise? Certain spots in Oia, have the blessing of offering views of the sun slowly appearing in the sky. Andronis Luxury Suites is one of them. The pinkish colors of the sky in this photo of Pythia Suite are the reason why it's one of our favorite sunrise captures. The second photo is a shot from Andronis Concept's common pool and once again, the sky is captivating! Also, you don't have to worry about missing it! Our reception provides you with a daily weather forecast, and the sunrise/sunset exact times for the following day!
ENJOY A HEARTY BREAKFAST
Whether it's in your pool or at the restaurant of your hotel, breakfast is the most important meal of the day. The reason why you should set your alarm early for breakfast is to enjoy it in complete silence and make the most out of the peaceful ambiance. Don't miss the chance to discover breakfast spots to savor all day.
But what about, the activities outside of our hotels? Especially during the summer, the temperature in Santorini tends to increase significantly during the day. Sometimes even higher than 40°C/100°F. This is why we suggest you seize every morning and wander around when the temperature is still not so high.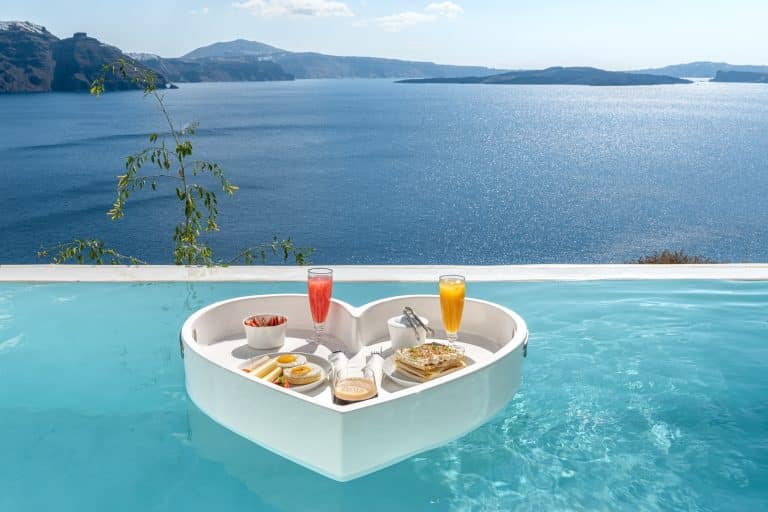 HAVE A MORNING CRUISE
Exploring Santorini from the water offers a whole new perspective of the island's rugged coastline, secluded beaches, rocky inlets, and sugar-cube houses cresting the cliffs. It's time to expand your horizons and take to the sea!
Andronis Feretti is a splendid option but if you're looking for something different, Andronis' concierge will be able to advise you on the ideal motor yacht or catamaran. The rest is up to you. You can be as active or indulgently lazy as you feel. Relaxing in complete privacy, there are crystal waters to swim and snorkel in, the famous Red Beach to drop anchor at and Thirasia Island to discover.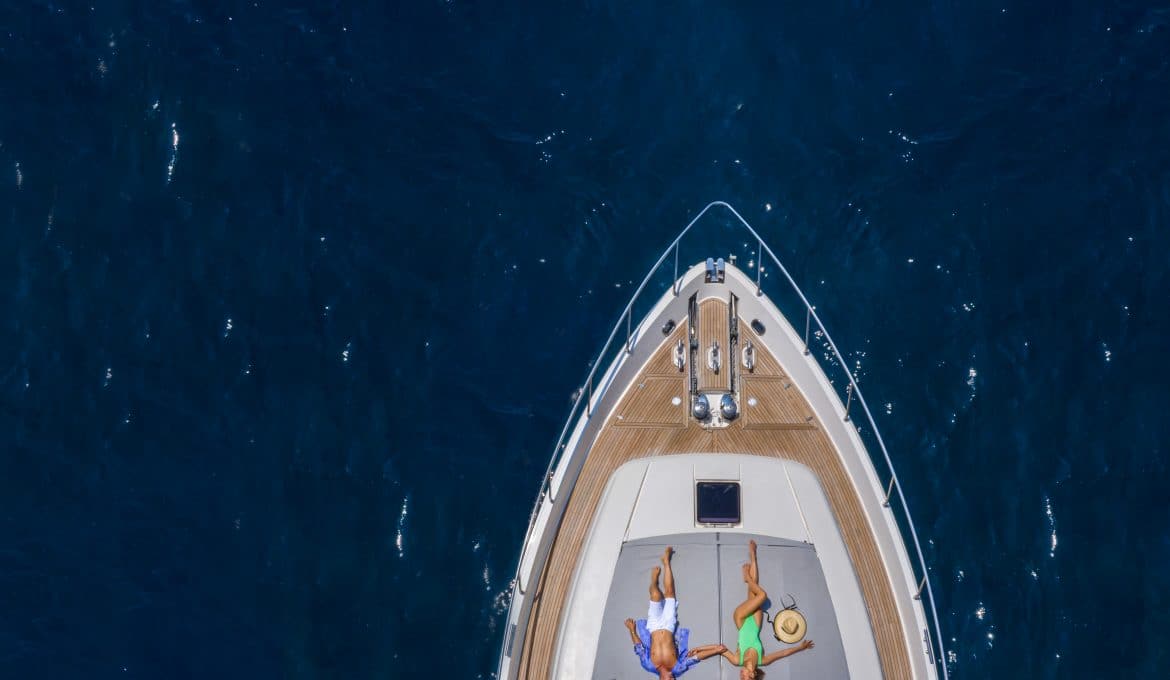 STROLL AROUND OIA
You have for sure heard that Santorini is a very "touristy" destination. Especially during sunset, streets tend to be full of people trying to admire and capture this unique moment of the day.
Therefore if you want to explore the beauty of villages' narrow streets, the best moment is during the morning. The ambiance is a lot more peaceful then and you will be able to see the traditional side of the island. Also, get the chance to meet some locals and get to know what greek hospitality is all about.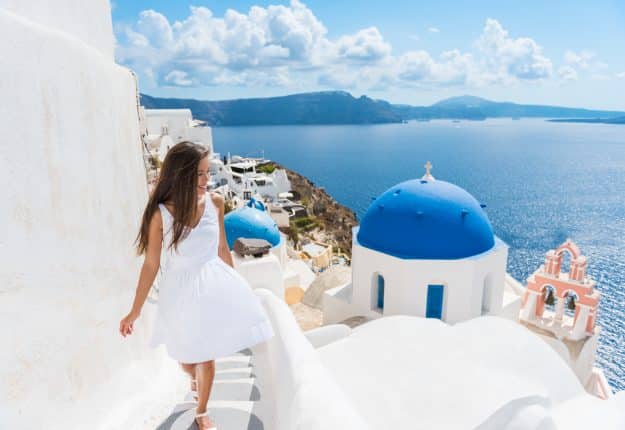 UNRAVEL THE BEST VIEWS
Would you prefer to try energetic morning activities in Santorini? Then the famous hiking path that connects Oia and Fira could not drop from our list. It's considered one of the most fun activities one can have on the island. The route is really easy to walk and the view gets more and more rewarding with every step you take. If you don't feel like walking the whole path, we have a suggestion for you. Approximately in the middle of this route, you can stop at Andronis Concept Wellness Resort. There you can have a tasty breakfast at Throubi Restaurant or maybe a rejuvenating treatment at Kallos Spa.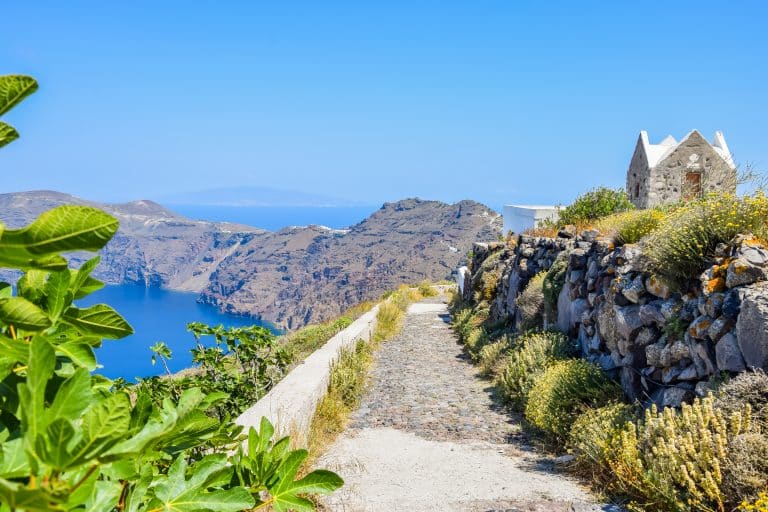 EXPLORE THE SECRETS OF "ATLANTIS"
Did you know there is a myth saying that Santorini used to be the famous lost city of Atlantis? Along with archaeological evidence from Akrotiri, an ancient city that was abandoned when the volcano erupted, they have inspired theories of the island being the location of the legendary lost city of Atlantis. The Hellenic Centre for Marine Research concluded that even if Santorini is somehow linked to Atlantis, it is difficult to find evidence at the bottom of the sea.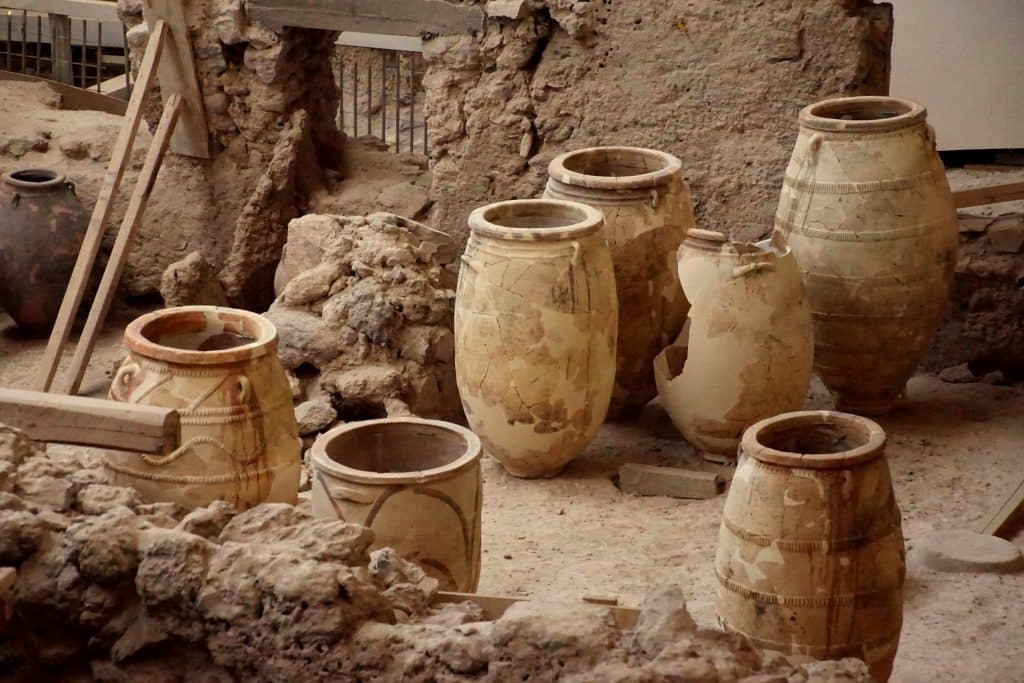 TAKE A WALK ON THE VOLCANO
Have you noticed that Santorini has a half-moon shape? The inner side of this shape is the so-called "Santorinian caldera". What created this unique natural phenomenon, was a big volcanic eruption around 1500 BC. This volcano now stands still and "sleeping" as a sole island next to Santorini. You can access it in a boat and have a guided tour around its crater. It is a totally safe and interesting experience so we would advise you not to miss the chance to visit it.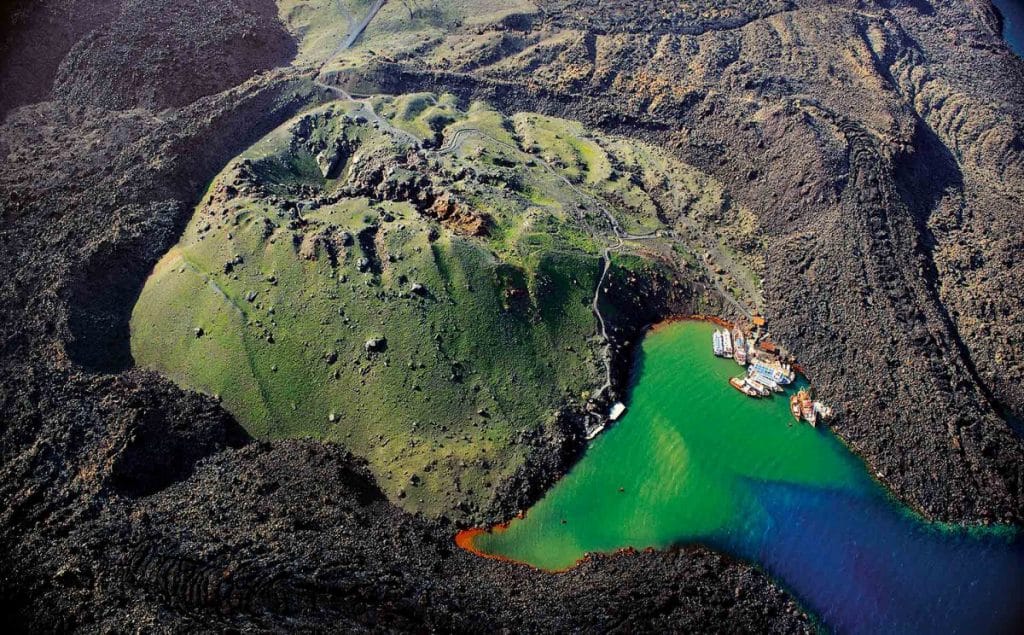 As you can now tell, Santorini is so much more than just an island with sunset views. These are just some examples of things that can make you jump off your bed and seize the day. There are many more, from scuba diving to pleasant wine tours around the island. Also, Santorini's location, makes it really easy for you to visit other Cycladic islands close by like Folegandros, or Ios. Do you want to find out more things to do on this unique island? Take a look at the 4 best-kept secret moments worth experiencing in Santorini.