Breakfast at Andronis Exclusive is a serious matter. Our menu suggestions cover all your nutritional needs, but you may wish to make your own combinations. Our catalogue includes a diversity of hot and cold beverages, various fruit juices, smoothies, and well-being drinks, a selection of different types of bread, homemade spreads, cereals, yoghurt, sliced seasonal fruits, various cold cuts, eggs, and omelettes, as well as gluten-free, vegan and vegetarian options.
BREAKFAST AT LYCABETTUS RESTAURANT
From traditional Greek recipes like "Eggs Kayana with bread, feta & eggs-tomato siphon",  to significant favorites like "Black truffle eggs with tortilla, scrambled eggs, black truffle & prosciutto" or "Crab eggs benedict", our 27 main dish options will not disappoint you. Incredible vegan and vegetarian toasts, bowls, and gluten-free pastries are also available through our breakfast menu.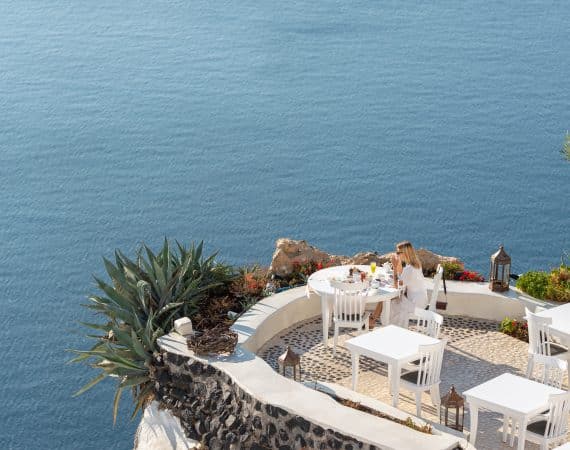 BREAKFAST AT ANDRONIS LUXURY SUITES
Breakfast at Andronis Luxury Suites is a serious matter. Enjoy an impressive breakfast experience at your suite's private balcony overlooking Santorini Caldera and infinity blue.
Do you want a special experience? Check the next option!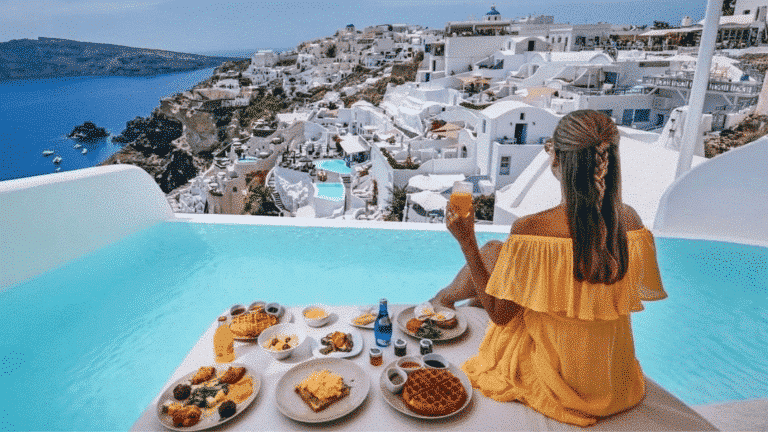 THE "FLOATING" BREAKFAST
Breakfast in bed will never feel quite as indulgent after a floating breakfast. Imagine yourself in the private pool of your suite or villa, witnessing the thrilling view of Santorini with a floating tray of delicious breakfast, Greek delicacies, fresh juices, and smoothies. Breakfast in pj's or swimsuit? You choose…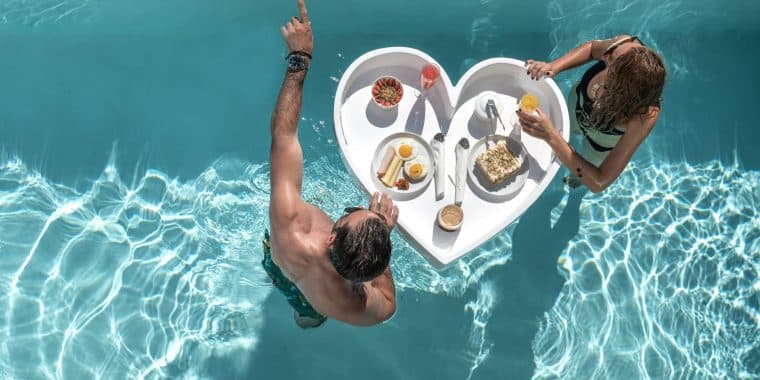 YOGURT TROLLEY AT ANDRONIS ARCADIA
Pacman Restaurant during the evening is a magical place to admire the sunset while having a light dinner. But in the morning, the on-site restaurant of Andronis Arcadia transforms into a paradise of tastes. The only disadvantage? You'll have a hard time choosing a yogurt combo within so many options!
Are you an "Exotic" (combo: grapefruit, pineapple, kiwi, apple & honey) or a "Detox" (combo: spinach, pear, ginger, celery, chia seeds & honey) type? We've got you covered! But even if you can't find a combo including everything your palate loves there's always the "Make your own yogurt" option.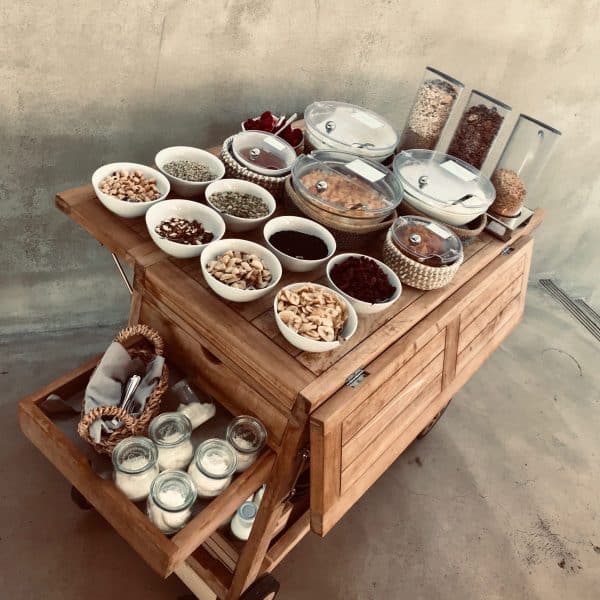 BREAKFAST AT THROUBI RESTAURANT
Is there a better thing in the morning than a short hike from Oia to Imerovigli? Oh yes, there is…It's the breakfast waiting for you in Throubi Restaurant in Imerovigli. Regain the energy you spent with a healthy fruit salad and a juice or treat yourself with a croissant (or two), you earned it!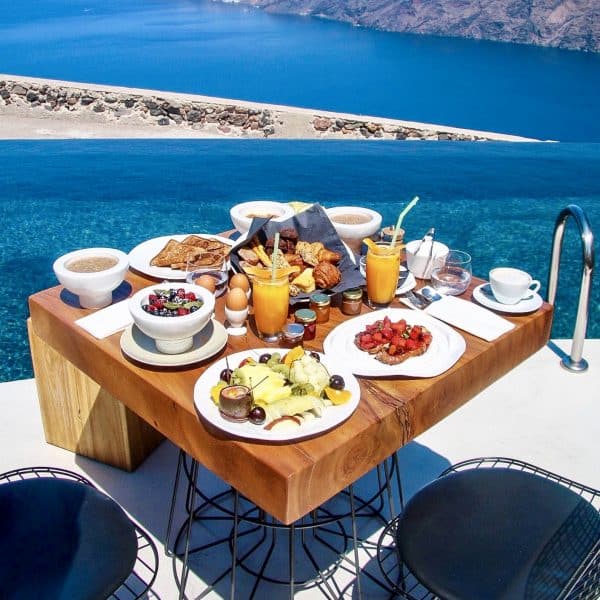 BREAFAST OF "GODS" AT ANDRONIS BOUTIQUE
We love taking care of you, that's why each one of our dishes, either it's a common breakfast option or something you might have never tried before, it's delivered to you with attention to detail and the best ingredients.
You can find mouth-watering dishes like greek traditional pies: sweet Custard pie, salty Feta & Spinach pie, Cheese pie, or the breakfast basics that you for sure love: french toasts, waffles, sandwiches, pancakes, cupcakes… A must-try is the famous Andronis Omelet, a dish inspired by Mr. Andronis favorite omelet including: manouri cheese, spinach, and mushrooms.
Let's not forget our variety of beverages… juices, coffees, teas for every taste!
Wondering how you can book these special breakfast options?
Simply book through our reception during your stay, or contact us to pre-book, we will then present you with the available options and make all the necessary arrangements.
Let's Get Social