In the kitchens of our renowned restaurants, we are taking nouvelle cuisine to a new level of culinary excellence. The diverse and distinctive character of our restaurants and bars makes each one an unforgettable destination. Our team of dynamic and creative chefs expresses their passion for fine food in every dish, adding to their delicious menus each season to tempt you back. Take a look at the characteristics of each restaurant to find out which one will be on the top of your checklist for this summer.
LYCABETTUS RESTAURANT | OIA
"Indulge in the most discreet and impossibly romantic dinner of your life"
Share intimate moments while you are dining literally on the edge of the cliff with the famous incomparable blue view around you. This delightful terrace is shaded by countless clusters of stars and creates a sense of grandeur in a relaxed and elegant setting. You can't be anywhere else but at Lycabettus, the restaurant of Andronis Luxury Suites.
Executive Chef Nikos Leivadias is a seasoned veteran of the demanding Santorini culinary scene, sourcing the best produce of the region to lead his creations to new heights. Original flavor combinations enhanced by seasonal produce, artistic presentation, & contemporary techniques constitute the essence of his cooking style.
The focus of the Menu is on seafood, Greek, and Mediterranean fare with authenticity, creativity, and masterful execution in every bite.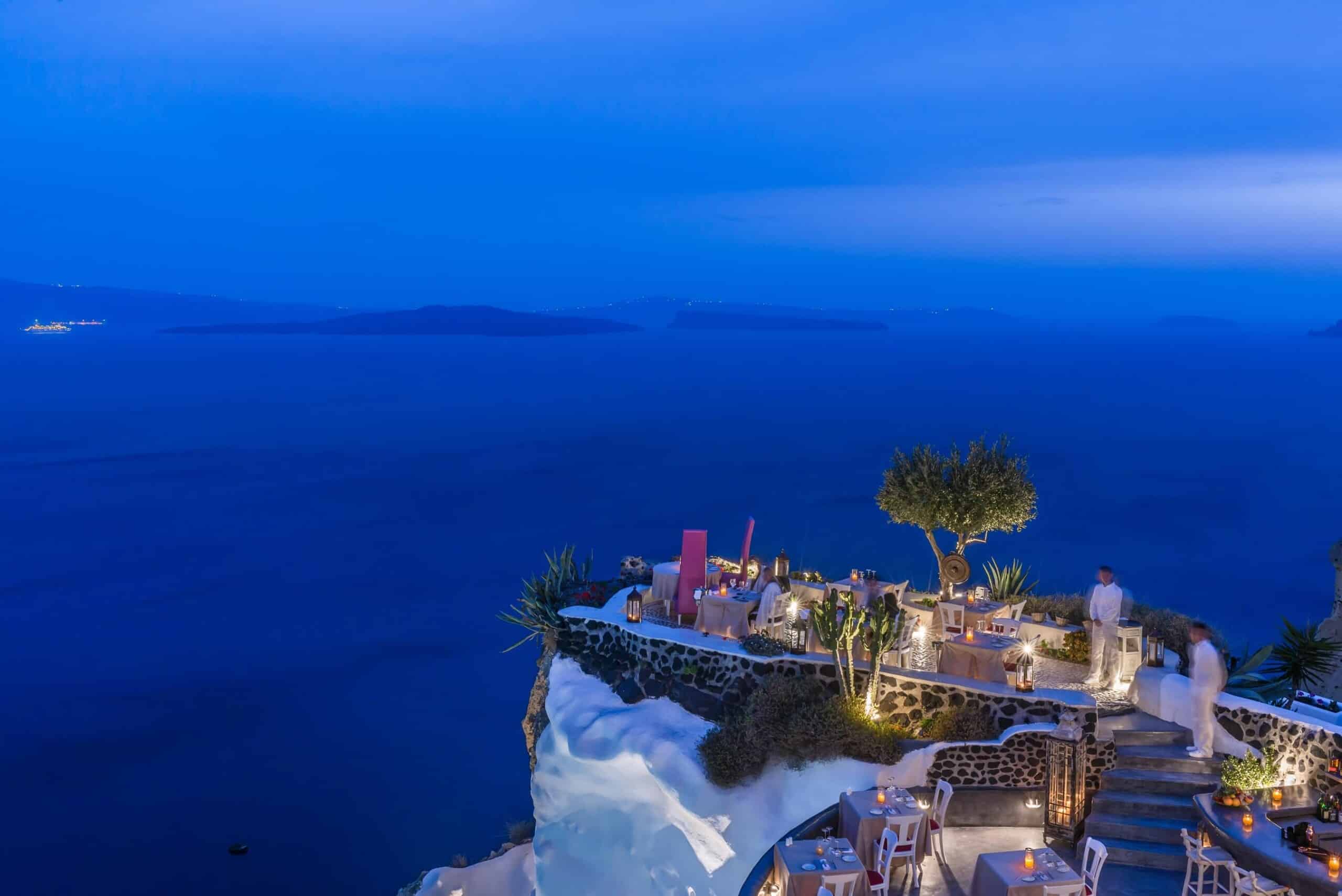 THE SOMMELIER'S TABLE
On the edge of the hill, our sommelier organizes a wine tasting accompanied by a Greek food pairing for only one couple every night. You may explore Santorini's rich vineyard while sited on the famous cliffs royal table.
Reservations at concierge@andronisexclusive.com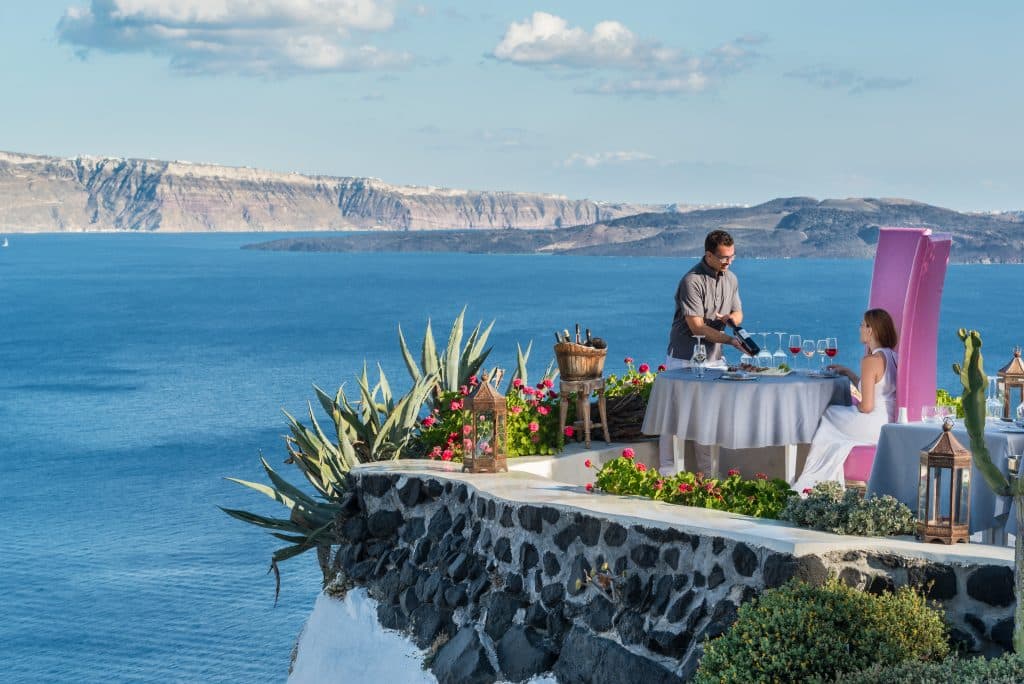 LAUDA RESTAURANT | OIA
"An outstanding gourmet destination"
Long before Santorini became known as one of the world's most popular destinations, Oia was a small village with 306 inhabitants, located at the northern edge of the caldera. Lauda, built on this rock in 1971, was the village's first restaurant. It was the place where the locals gathered to talk and drink, the place with the village's only telephone.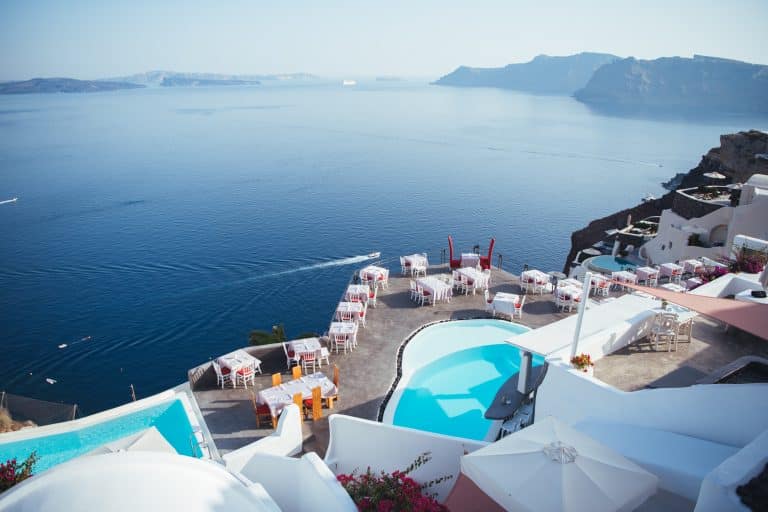 Today, Lauda the restaurant of Andronis Boutique Hotel is committed to honouring the history and tradition of this unique place. Equipped with exceptional local ingredients and our devotion to the volcanic soil, the native grapes, the aromas, and the colours of Santorini we strive to offer you an authentic gastronomic experience.
Emmanuel Renaut, the Chef and founder of Flocons de Sel, the legendary 3 Michelin Starred restaurant and member of the "Grands Chefs" Relais & Châteaux and "Grandes Tables du Monde", belongs to a "new generation of chefs who re-invent the local products with malice".  Leading the kitchen of the first restaurant in Oia, Emmanuel, together with the talented Chef de Cuisine George Dospras, could prepare anything less than a Menu based on the unique island's produce.
The essence of the menu was created aſter Renaut's first visit last summer to a magic island, a peaceful place with influences from the local products, the sea, and the mountain, embraced by a team with passion for the best and respect for nature.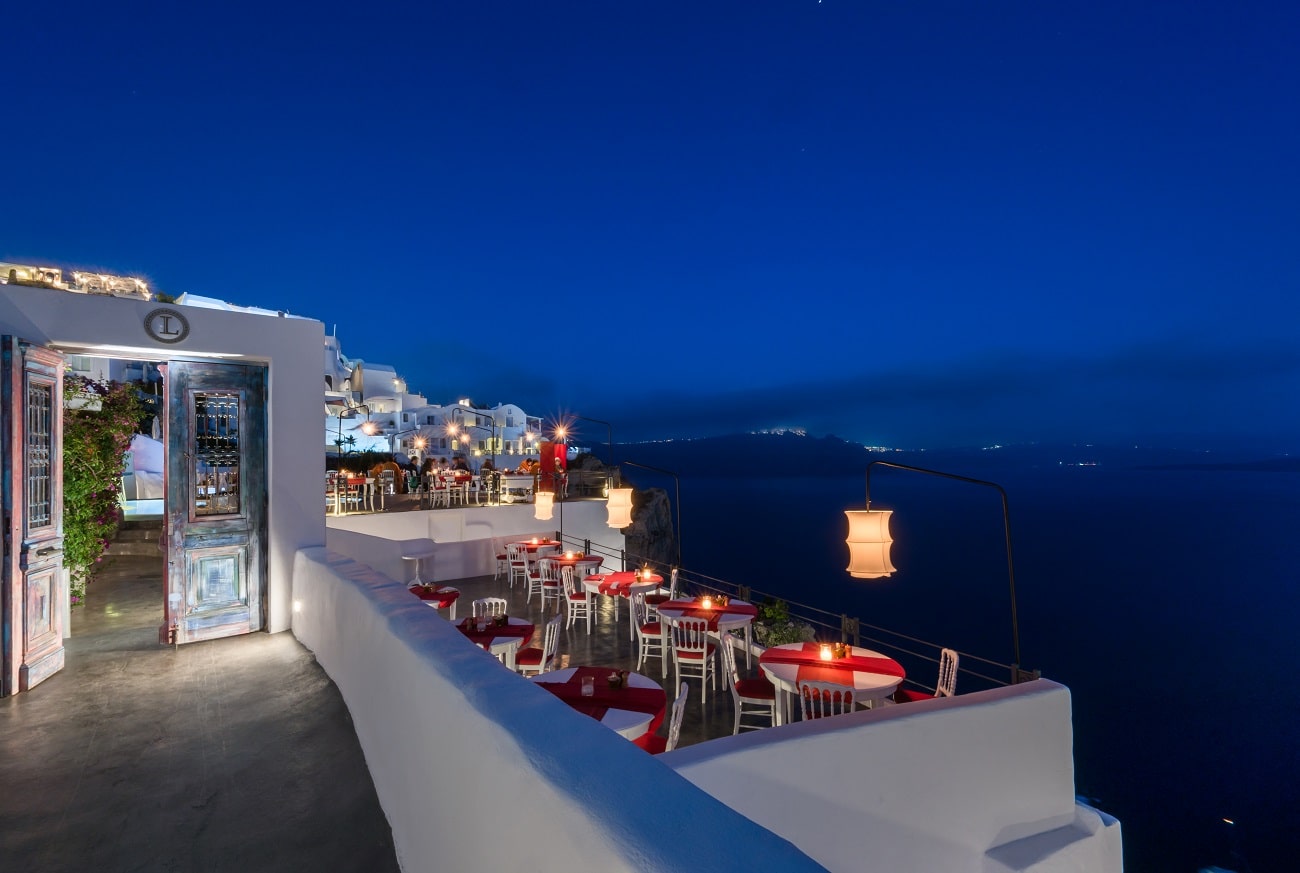 OPSON RESTAURANT | OIA
"Exploring Greek food across history"
Opson Restaurant part of Andronis Arcadia Hotel brings you a unique new dining experience – cuisine inspired by the tastes and ingredients of classical Greece. Using fresh vegetables from our own kitchen garden and locally sourced delicacies, our head chef combines contemporary cuisine with the flavours of an ancient time, bringing together the best Greek food with dishes known and enjoyed by philosophers such as Aristotle, Plato and Homer.
Executive Chef Stefanos Kolimadis's concept is ambitious and inspired in equal measure, promising to blow away Santorini's gourmet scene: Working alongside a classical scholar, he has turned to archaeology, literature and art from Ancient Greece to locate, test and perfect food enjoyed by our legendary forefathers.
Bridging together points in time, the menu makes good use of the finest local produce, including freshly-picked vegetables and fragrant herbs, Santorini cheese, capers and freshly-caught seafood and fish.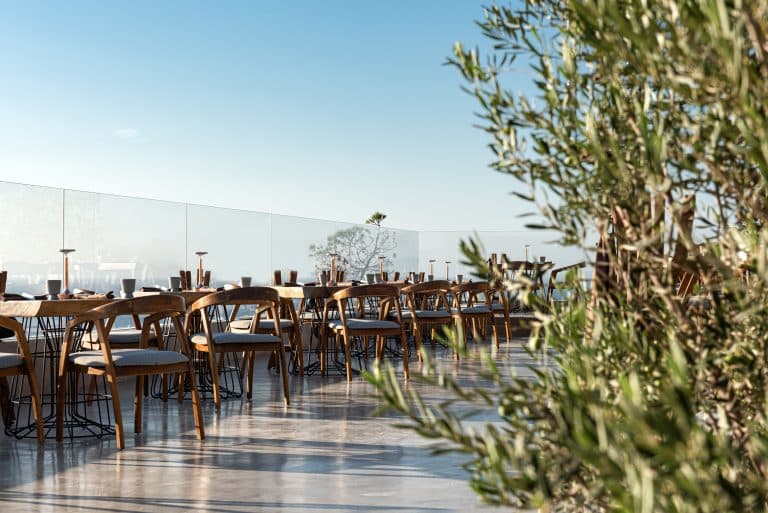 PACMAN RESTAURANT | OIA
"Fine Sushi & Mediterranean cuisine under dream sunset views in Oia"
Following Andronis Arcadia's lifestyle philosophy, Pacman Sunset Restaurant-Bar welcomes you in a vibrant & boho-chic area, combining earth Architecture with fine dining cuisine under the guidance of a selected team, always ready to share its passion for creating exceptional culinary experiences.
Pacman open-air sushi bar cherishes the "Kokoro" (heart and mind) philosophy and provides award-winning dishes in a casual, yet elegant atmosphere with friendly service.
Except for the fine Sushi selections, get also inspired by the Mediterranean's dazzling seafood as well as ingredients grown in our own gardens.
And, once you're done with your meal, stick around to indulge in one of our exquisite signature cocktails at a fun environment with cool party vibes and a magical sunset ambiance.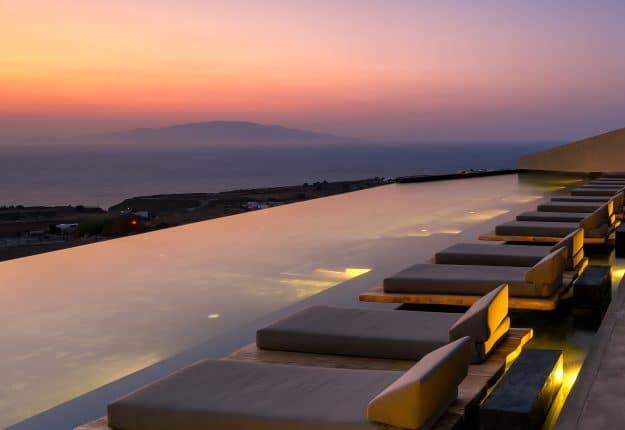 CATCH RESTAURANT | OIA
"The utter foodie experience in Santorini"
Catch, the utter foodie experience at our brand new restaurant concept where you enjoy the harmony of flavors with frequent zingy kicks. Zesty and fresh, yet thoughtful and accomplished, cooking takes the main stage at Catch.
Traditional comfort-food classics that our gifted chefs have been roasting, baking, curing, and making in their own culinary delights. Exceptional seafood, slow-cooked meats, inspired salads, all elegantly prepared, awaiting you at this new incomparable place in Santorini.
Exclusive signature cocktails along with our eclectic wine list, promise to unpack new summer drink trends showcasing unforgettable delicious experiences.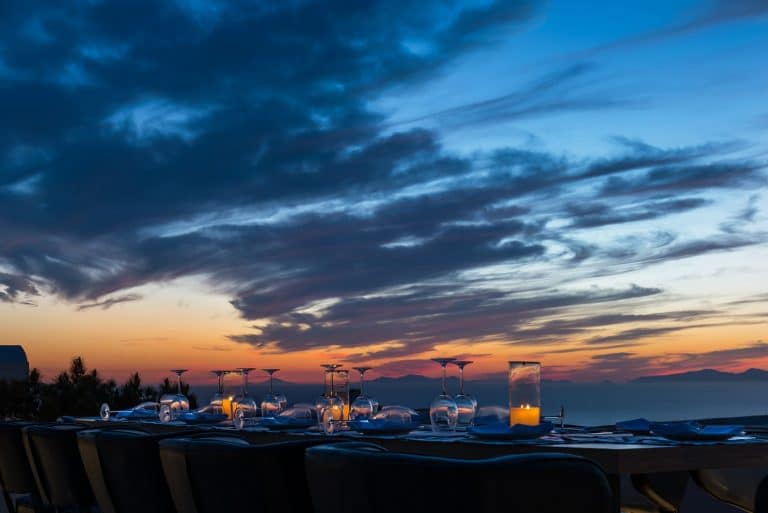 THROUBI RESTAURANT | IMEROVIGLI
"An unforgettable private dining experience…"
Following Andronis Concept's holistic philosophy of health and wellness, Throubi restaurant celebrates the Santorinian gastronomy under the guidance of a selected team, always ready to share its passion for creating exceptional culinary experiences. Obsessive perfection here is in the details as each dish is created and plated like a work of art, inspired by the nutritionally balanced Mediterranean cooking style.
Executive Chef Pavlos Kiriakis together with Chef de Cuisine Charalampos Koukoudakis, bring youthful energy and sophistication leading a kitchen team truly invested in creating extraordinary food and using the freshest raw ingredients from the restaurant's purpose-built gardens.
On Throubi's lunch and dinner menus, you'll find a redefined Santorinian gastronomy based on nutrition science.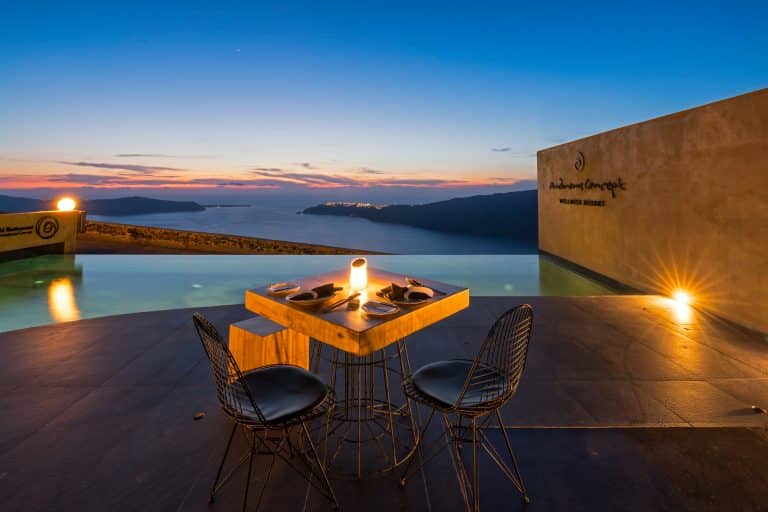 PRIVATE DINING
Beautifully designed, our private area provides a discreet, indulging & romantic setting for a very special dinner. A wholly discreet and supremely flexible private dining space overlooking the most beautiful sunset in the world. Throubi brings the five-star service along with a degustation menu from our executive chef perfectly combined with a premium wine selection, personally designed by our Sommelier.