Whether you live alone or with your beloved ones, your home should be full of happiness and fantastic memories. It's a place that represents you and allows you to relax and bring out your unique personality.
Bohemian or Boho decorating is for those who want their homes full of life, culture, and interesting items for all the world to see. This aesthetic flies in the face of modern sensibilities and embraces the carefree, relaxed, and the unusual.
It draws inspiration from the carefree, bohemian mystique of a world traveler. And this is exactly the vibe we wanted Andronis Arcadia to have. A place to invite all the curious souls and make them feel at home, in one of the most outstanding islands on earth, Santorini. One of our favourite features of our hotel is its warm, inviting vibe that is welcoming our guests to relax and spend some days of absolute leisure.
While there are no rules when it comes to Bohemian decorating, we gathered some decoration ideas from our interior designer, Georgia Gourzela, in order to help you carry the boho-chic greek island vibe at your home! See them all listed below:
TIP #1: COLORS
You must be very careful with the color combinations you choose for your place. The boho-chic design gives a sense of calmness, freedom and relaxation. Therefore a choice of neutral color combinations into fabrics such as curtains, bedcovers and blankets will give you a successful result. You can also choose the same palette color on the wall paint. A smart trick you can use to be sure you choose the right color is to get inspired by a landscape that causes you the same feeling.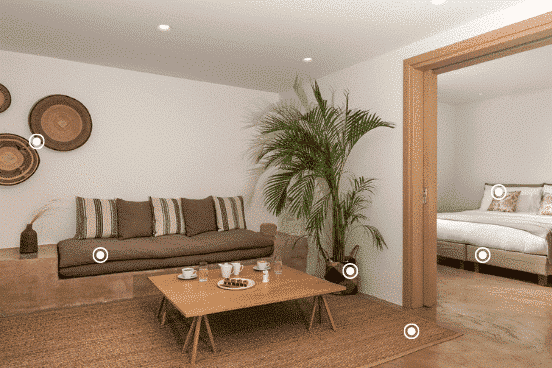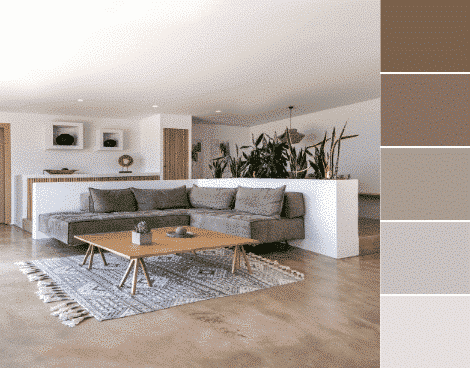 TIP #2: FABRICS
Another important step for a quality boho result is the fabrics' selection. So make sure you select fabrics with a special texture like wool, linen, or bamboo. Also, fabrics with geometrical patterns will give a bohemian character in your room, such as a pillow with stripes or a round rug. The more natural fabrics you use in your bedroom's design the more healthy living you get. As a result, you will feel calm, peaceful and happy.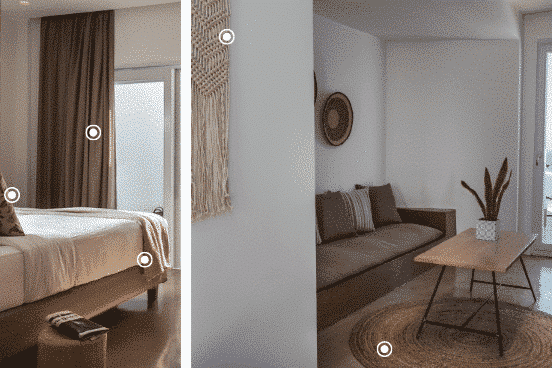 TIP #3: PLANTS
Boho style is the absolute nature-friendly interior trend. That's why you should not forget to put a natural touch in your room. A small pot with a plant or a bigger plant in a basket if your room allows it, can give you the natural sense you are looking for. Even a wallpaper with plants or a poster can give you the sense of being surrounded by nature, but we are strong supporters of natural life.
TIP #4: WALL DECORATIONS
You can decorate the walls of your bedroom with rattan or wood creations. If they are handmade, you get a more unique result. Also, hanging rugs or fabric art can make your home look cozy and definitely enhance the boho character.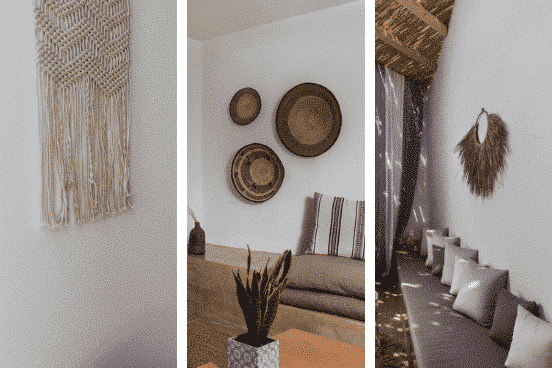 TIP #5: FURNITURE
Last but not least is the furnishing of your room. Raw wood, rattan, or bamboo furniture will make your room look like a jungle paradise. Furniture is the signature of your room design. If you can't change the furniture, you can consider painting them like wood. You shouldn't forget a natural quality mattress that will update your sleep and your life as a consequence.
Which one of Georgia's decoration ideas was your favourite? We hoped you liked them all and we can't wait to receive photos of your renewed boho-chic rooms in our email. If you are searching for some creativity, take a look at our 4-bedroom villa, you'll feel inspired.