Andronis, on the mythic island of Santorini, has been the trusted and cherished destination of honeymoon couples and holidaymakers for years. We help create beautiful, sunlit memories, offering discreet luxury and a warm welcome. Now, after careful preparation, we are reopening with a selection of carefully curated private tours, shopping and dining experiences that respect guests' need for relaxation, privacy and pampering in a safe and friendly environment.
1. PRIVATE WINE TOURS
Sunshine in a bottle – raise your glasses on a private wine tour
They say that a glass of fine wine captures the essence of the place that grew it, the sunshine that ripened the grapes, the brightness of the taste, the freshness of the perfume. For centuries, Santorini has produced dry whites and full-bodied reds from its fertile volcanic soil. The best way to discover them is on a private wine tour for two, accompanied by the highly knowledgeable sommelier from Lycabettus Restaurant at Andronis Luxury Suites.
The majority of Santorini's top vineyards produce the celebrated dry white Assyrtiko wines that the island is known for. Their distinctive basket-shaped vines cling to the ground, withstanding wind and sun to produce truly distinctive wines. A delicious contrast, the Mavrotragano grape, which is native to Santorini, produces exceptional deep, spicy, warm reds.
Of course, the best way to sample these wines is with food. At the clifftop Lycabettus Restaurant, guests dine on a spectacular promontory in one of the most beautiful outdoor dining rooms in the world.
Sommelier's Table is an intimate food and wine pairing evening for one couple each night, with modern Greek cuisine teamed with the finest wines from the island. As well as Santorini's own wines, the comprehensive wine list at Lycabettus takes you from Grand Cru Champagnes to rare vintages from around the world. Let the sommelier be your guide as the beauty of the setting and the warmth of the evening seduce you.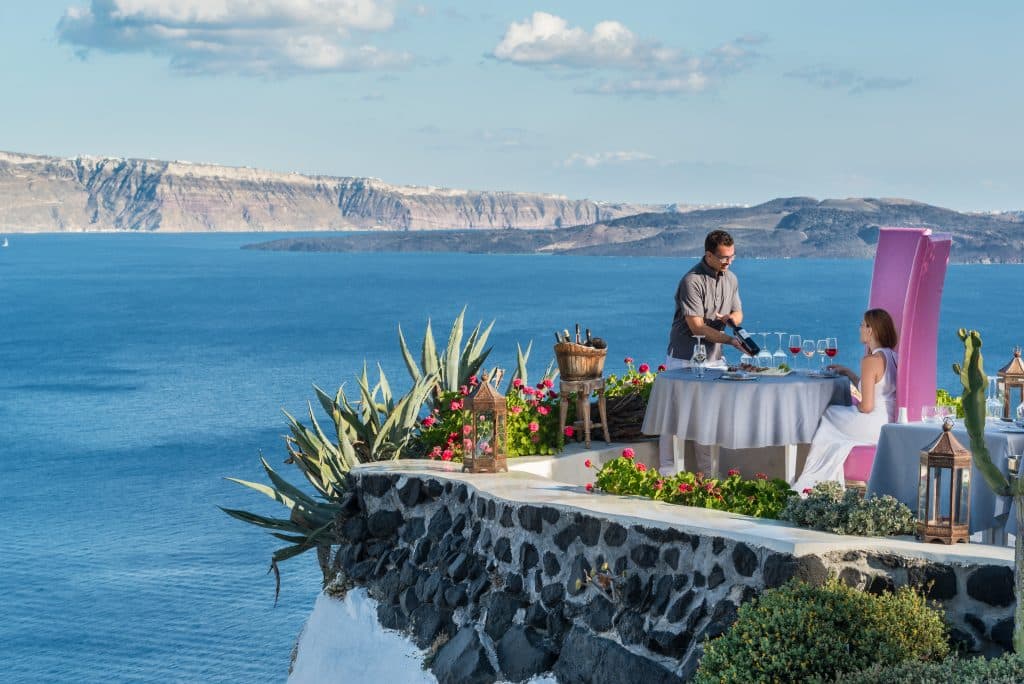 2. PRIVATE ISLAND CRUISES
A breath of fresh air – charter your own island cruise
Exploring Santorini from the water on an exclusive boat tour offers a whole new perspective of the island's rugged coastline, secluded beaches, rocky inlets and sugar-cube houses cresting the cliffs. It's time to expand your horizons and take to the sea!
Guests at Andronis Suites will be familiar with the concierge service, from arranging airport transfers and restaurant reservations to ensuring their favourite premium sun care products are in their suite on arrival. Now a call to the concierge is all it takes to arrange a customised boat tour for two.
Andronis Suites' concierge will be able to advise you on the ideal motor yacht or catamaran – the rest is up to you. You can be as active or indulgently lazy as you feel. Relaxing in complete peace and privacy, there are crystal waters to swim and snorkel in, the famous Red Beach to drop anchor at and Thirasia Island to discover.
Your concierge can arrange breakfast, lunch, or sunset cocktails onboard, all prepared to your specifications by a small, discreet team.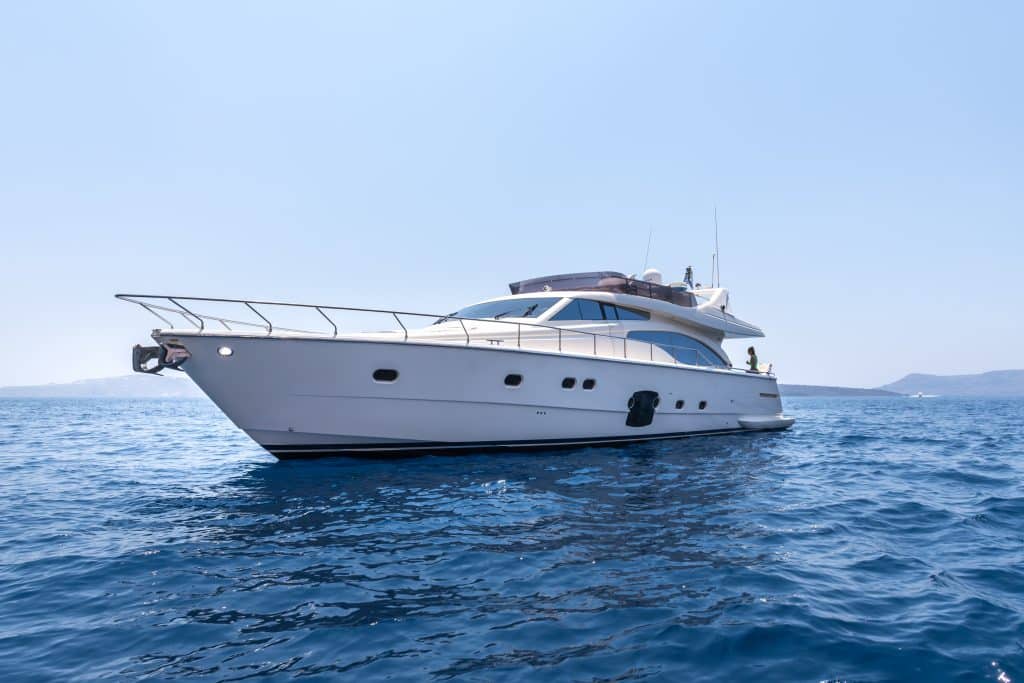 3. PRIVATE SANTORINI WALKING TOURS
Being close to nature, feeling the sunshine on your face and having the freedom to explore is what many of us have been dreaming of these past months. Arranged through Andronis Boutique Hotel, a selection of guided walking tours of this fascinating and varied island give guests a personalised introduction to Santorini's hidden gems, its natural beauty, myths and traditions.
Away from the bustling bars, cafés, and boutiques, lies a landscape of ancient paths and picturesque whitewashed villages, flower meadows and deserted beaches. Our welcoming local guides will take guests through unspoiled landscapes with breathtaking views out over the caldera. How far you walk and what you see is up to you – every turn takes you to another perfect photograph waiting to be taken.
Wildflowers, the island's unique vineyards and simple, pure-white churches as well as picturesque abandoned villages dot the countryside. There are paths connecting Santorini's famous black beaches of Kamari and Perissa as well as trails to the ancient ruins of Thira, perched high on a rocky plateau, and the major archaeological site of Akrotiri.
Andronis Boutique Hotel walking tours celebrate the natural beauty of Santorini while respecting the island's delicate environment – this is wild beauty at its most unspoiled and memorable.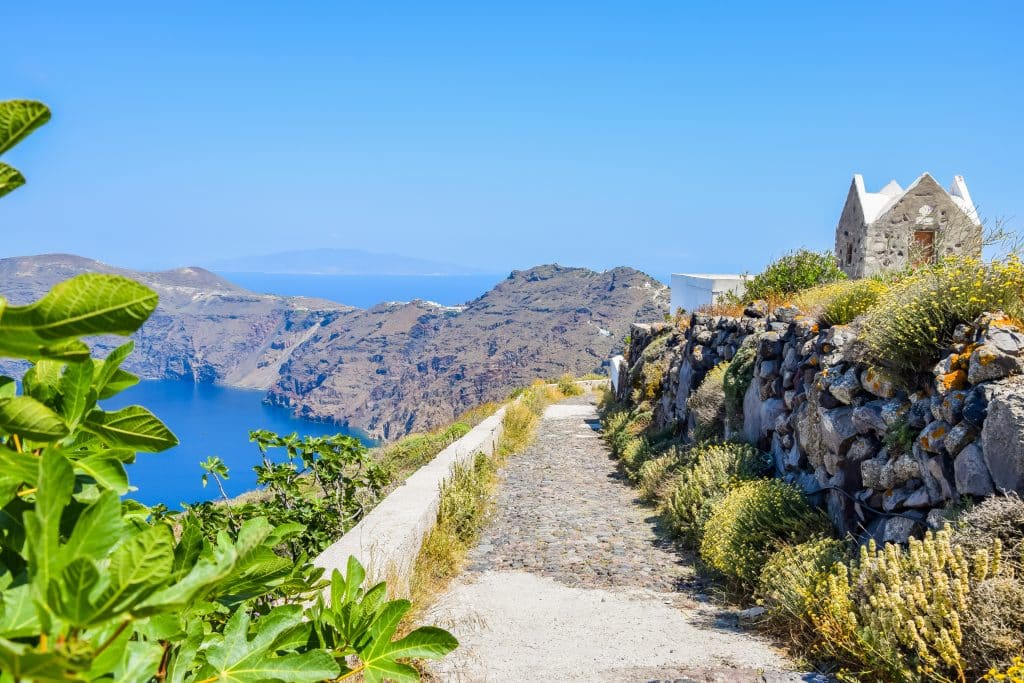 4. PRIVATE HELICOPTER FLIGHT TO GREEK ISLANDS AND ATHENS
Retail therapy – indulge in a Mykonos shopping spree by private helicopter.
Santorini is well known for its varied and gorgeous selection of boutiques, but Andronis Exclusive always goes beyond its guests' expectations. A very special shopping trip – the Mykonos Shopping Spree – is available for couples who fancy a day out on the delectable island of Mykonos, exploring the island's fashion, jewellery and interiors shops.
The only way to arrive, of course, is by private helicopter, escorted only by the pilot and the Andronis shopping concierge, whose insider knowledge will guide you to the must-have purchases and hard-to-find boutiques hidden in Chora's cobbled lanes or the ultra-chic outlets around Psarou Beach.
The mix of brands is intoxicating – from Louis Vuitton and Hermes to Dsquared2. Independent boutiques sell capsule collections by international designers including Isabel Marant and Celine, the most desirable beachwear, sandals, beautifully embellished accessories and unique handmade jewellery.
After an indulgent spree exploring Mykonos's elegant, chic and funky shops, the ultimate treat is knowing that your helicopter awaits, ready to take you home to Santorini.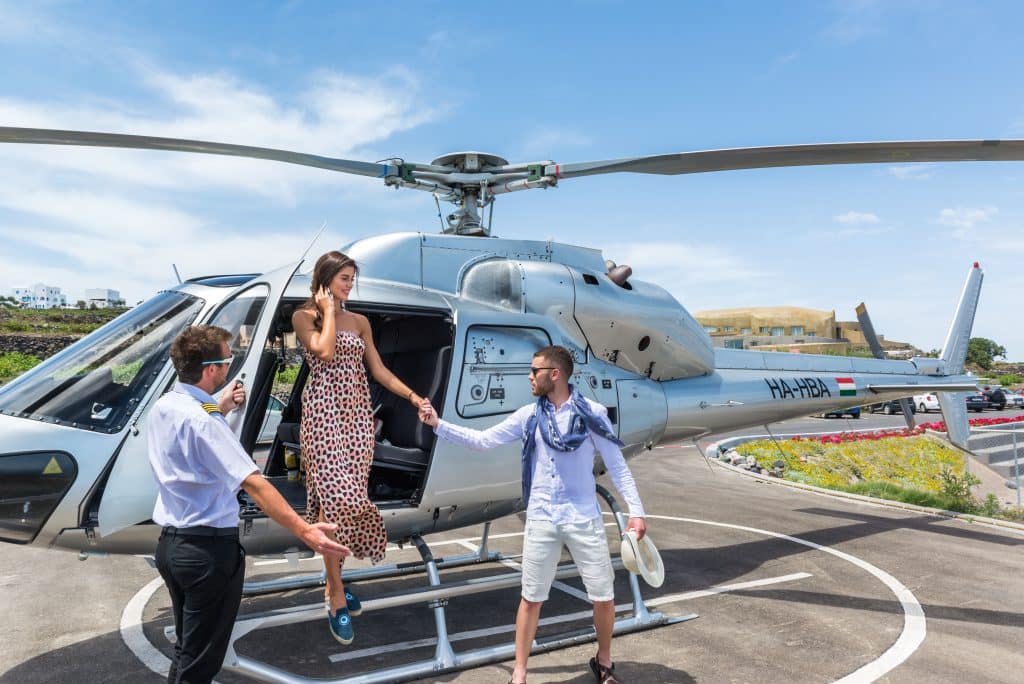 5. PRIVATE PHOTO SHOOT
Capture your memories with a private professional photoshoot.
One of the words often used to describe Santorini is picturesque – everywhere you look there is a vista along a narrow cobbled alley, a blue dome silhouetted against an even bluer sky and the eve-magical sunset. The trick is knowing what to focus on.
This is where having a professional photographer with you makes all the difference. Whether you are on honeymoon or enjoying a heavenly holiday, a private photoshoot arranged through Andronis Suites offers the chance to take home a professional-quality photo gallery of your time on Santorini.
Privacy and time to relax together are the essences of an Andronis holiday and the memories of your time on Santorini are precious. Working with our friendly and experienced photographer, couples can select their most cherished locations to be photographed in such as their private pool terrace, a favourite Andronis restaurant or clifftop view. Each shot and setting will build into a unique album to treasure forever.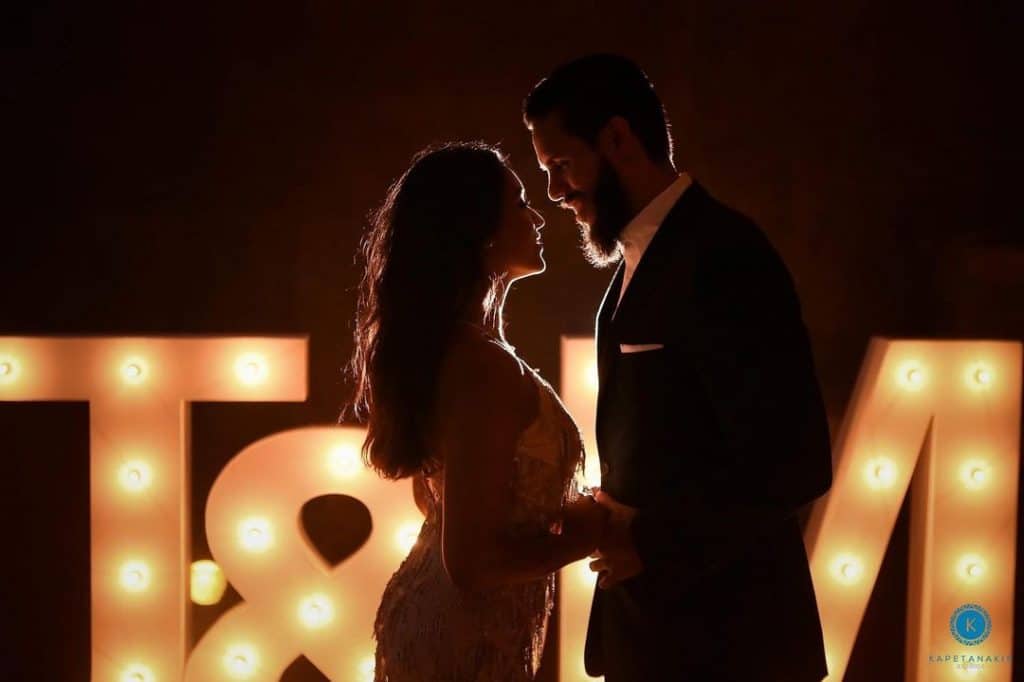 6. PRIVATE SUNSET YOGA CLASSES AT ANDRONIS CONCEPT
And breathe… sunset yoga to soothe the soul.
There is an energy and warmth about Santorini that nurtures the soul and revives the spirit. The island's rich and ancient history, the sunbaked volcanic rocks and the sparkling Aegean that laps around them contribute to make Santorini the ideal place to realign mind and body.
The Andronis Concept Wellness Resort offers a blissful combination of tranquility, pampering treatments and uninterrupted views of the sea and caldera. Located high on the crest of the island at Imerovigli, pool suites and villas gaze out to the caldera and are the best place from which to experience the sunset.
The Panorama Yoga Room, as the name suggests, takes in the spectacular views below and the sun as it sets in a blaze of shimmering apricot pink. Inspirational instructor Elena guides guests through a life-changing yoga experience during these new and exclusive sunset yoga classes.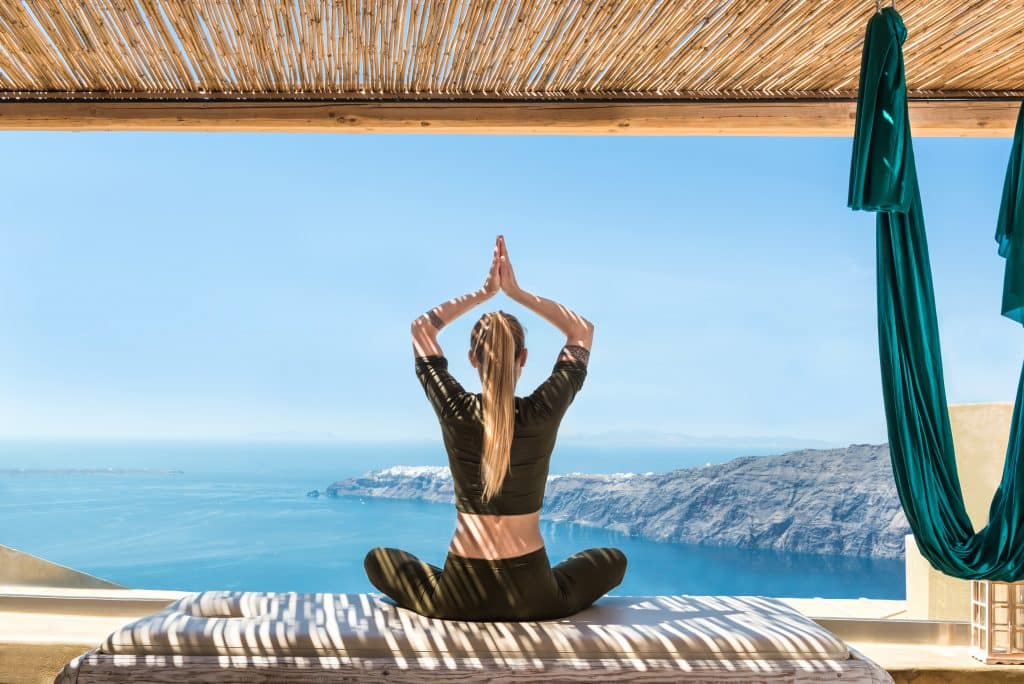 7. PRIVATE COOKING CLASS AT ANDRONIS CONCEPT
Dish of the day – learn to cook real Greek cuisine.
Cooking and sharing delicious food is at the heart of Greek life and culture. The Andronis executive chef knows all there is to know about celebrating Greek cuisine in the tempting, authentic dishes he cooks.
The cuisine at Andronis Concept, and throughout the Andronis Exclusive collection, is based on seasonal fruit and vegetables straight from our own gardens. That and the sort of culinary know-how passed on from generation to generation.
Cooking classes at Andronis Concept are open to one couple at a time or to a single-family – Andronis Concept is one of the few resorts on Santorini that warmly welcomes families. Together, you will prepare a special meal in a purpose-built outdoor kitchen.
Guided by our executive chef, who loves to share his knowledge of the unique flavours of Greece, you will help cook a series of traditional dishes with the chance to take notes as you go along so that you can recreate the dishes at home.
Saving the best till last, guests will be able to share and savour their hand-cooked feast from the glass-walled dining room high above the caldera. Bon appetit – or rather, kalí orekski!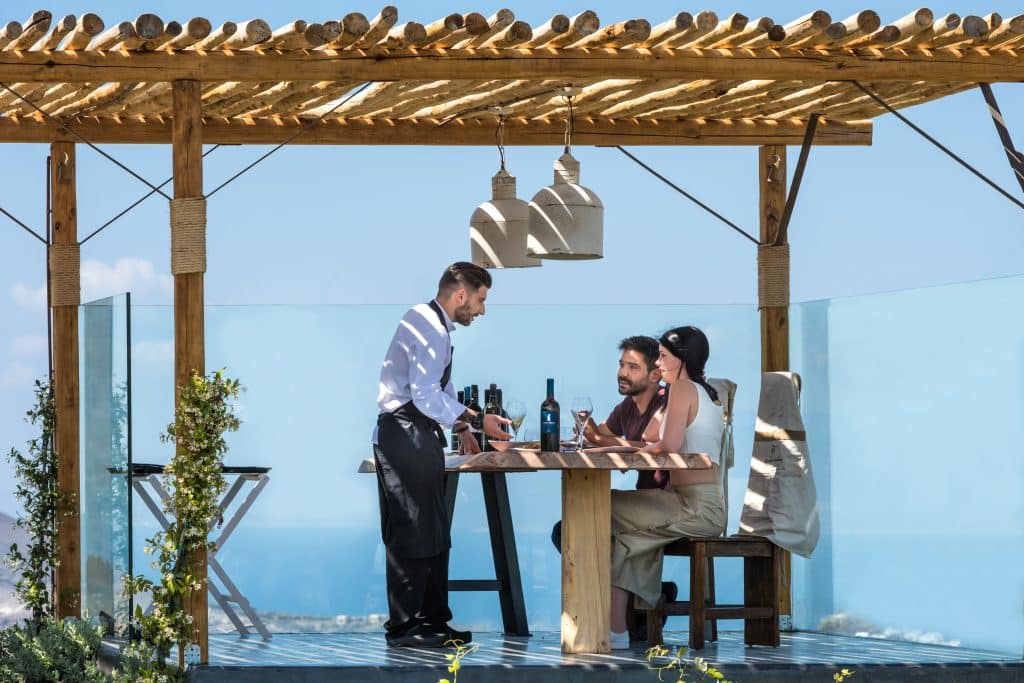 8. PRIVATE DINING AT THROUBI RESTAURANT
Table for two – Throubi's private sunset dining
Santorini is an island of fabulous views, but few can compare to the sunset vistas seen from Throubi Restaurant's private dining area. Throubi's discreet and beautifully designed private space is the perfect setting for a relaxed romantic meal, enjoying five-star service and exceptional cuisine.
The degustation menu draws on traditional Santorinian cuisine, updated under the expert eye of executive chef Pavlos Kiriakis. Using just-picked produce from the Andronis kitchen garden as well as the freshest seafood and highest quality meats, Kiriakis and his young team have created a menu that not only looks good, but is good for you as well. Nutritionist Margarita Gavala worked alongside Kiriakis to ensure that each dish, such as red sea bream with wild greens and Greek summer truffle, is as delicious as it is balanced.
To complete the experience, Throubi's sommelier has selected premium wines, including those from Santorini's celebrated producers, to accompany the menu.
Relaxing in the comfort of their own private dining area with fine food and wine, as well as Santorini's matchless sunset as a backdrop, is a luxury that every couple should enjoy.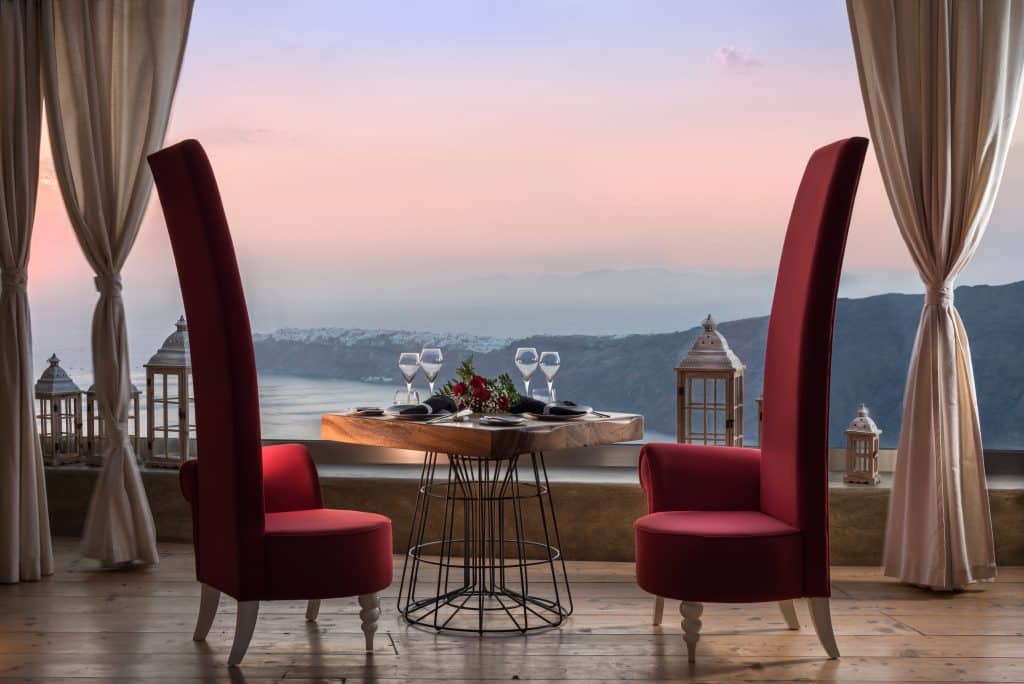 9. PRIVATE TOURS AROUND THE ISLAND WITH OUR LUXURY CARS
Sit back and let Andronis take you for a luxury car tour
Santorini is an island of drama and contrast, tradition and contemporary style, wild empty spaces and picture-perfect towns and villages. A private chauffeured tour  for two is a fascinating and indulgent way to see the sights from the comfort of an air-conditioned luxury car.
Guests can choose their vehicle from the Andronis fleet of luxury cars and the concierge is on hand to help suggest a route. A private car tour is the ideal way to do as much or as little as you feel like.
There are always new things to discover on Santorini and idyllic places to stop off and explore. Why not request a picnic lunch to enjoy together on a deserted beach or spectacular headland?
However far you choose to go and whatever you choose to do, your chauffeured tour will end at your doorstep, from where it's just a short step into your private pool for a refreshing dip.