Honeymoon in Santorini is the dream of every romantic couple. It's an island full of dreamy views, idyllic landscapes and loving activities. The setting is ideal for you to fall in love, not only with the island itself but also with the person you are visiting it with. We know that planning a wedding can be quite stressful, this is why we created this article full of tips in order to make the planning of your honeymoon a breeze.
As you have probably heard, Santorini tends to get crowded during the summer. But that will not be a problem for you if you have planned everything in advance. Even though there is a variety of options, most hotels don't have a big number of rooms, so you make your reservation as soon as possible in order not to miss your favourite place.
THINGS TO PLAN IN ADVANCE
After booking your flight, the first thing you'll have to do is to book your accommodation. The supreme place for a couple to stay is definitely at the caldera of Oia. Suites and villas with private pools and hot tubs are the perfect spots for newlyweds to host their love. You can check Andronis Luxury Suites for a unique sense of elegance and tranquility or Andronis Boutique Hotel with its traditional cave suites, spreading the romance all around.
Another reservation you should definitely make early is the restaurants where you want to dine. As mentioned before, there is a great variety of nice restaurants on the island, although they tend to get busy in the evenings as they are a safe and quiet haven for people to enjoy the golden hour. Take a look at Andronis' honored restaurants and make your reservation online.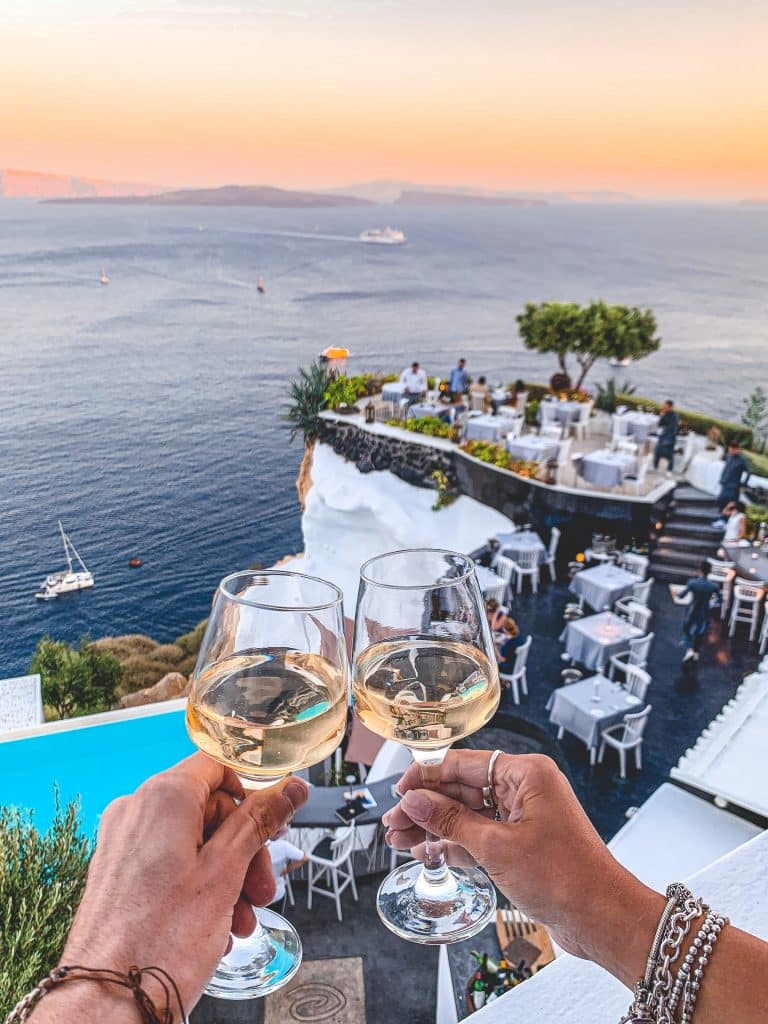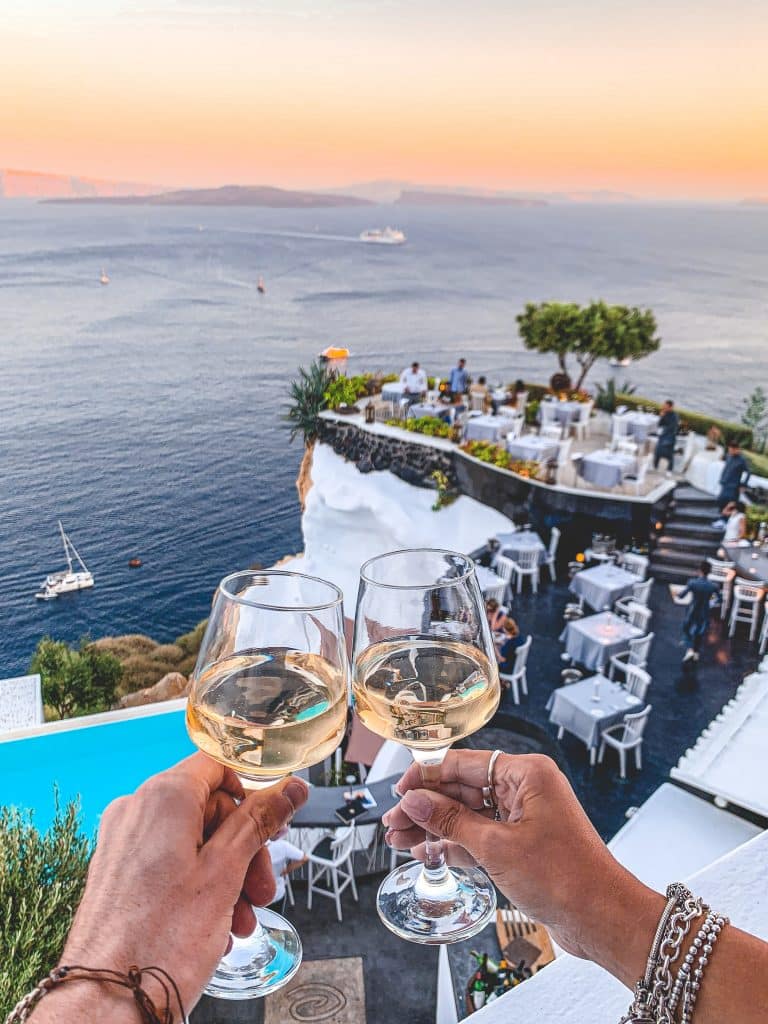 HONEYMOON ACTIVITIES IN SANTORINI
CATAMARAN AND YACHT CRUISES
A volcano eruption many years ago is responsible for giving Santorini this particular shape but also, its unique ambient. Exploring the island from the water on an exclusive tour offers a whole new perspective of the island's volcanic coastline, secluded beaches, rocky inlets and a view of white-washed houses hanging off the cliffs. You can choose to make a day tour and you go around the island and the volcano. Making various stops will give you the opportunity to discover the bottom of the ocean while snorkeling.
Another option is to book a yacht and go island hopping in the Cyclades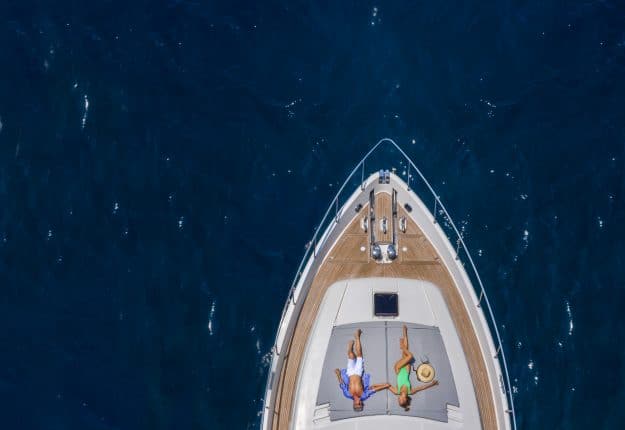 CATCH A SANTORINIAN SUNSET
Oia is one of the most famous places in the world to see the sunset. And you should definitely visit its castle one evening to do so. However, there are many beautiful spots where you can admire the sun sinking in the sea. One of them is the lighthouse (Faros) in Akrotiri. It is located on the northwest side of the island, providing infinite views of the Aegean Sea.
Another famous option for sunset gazing is to book a sunset boat tour and sail around the island during the golden hour.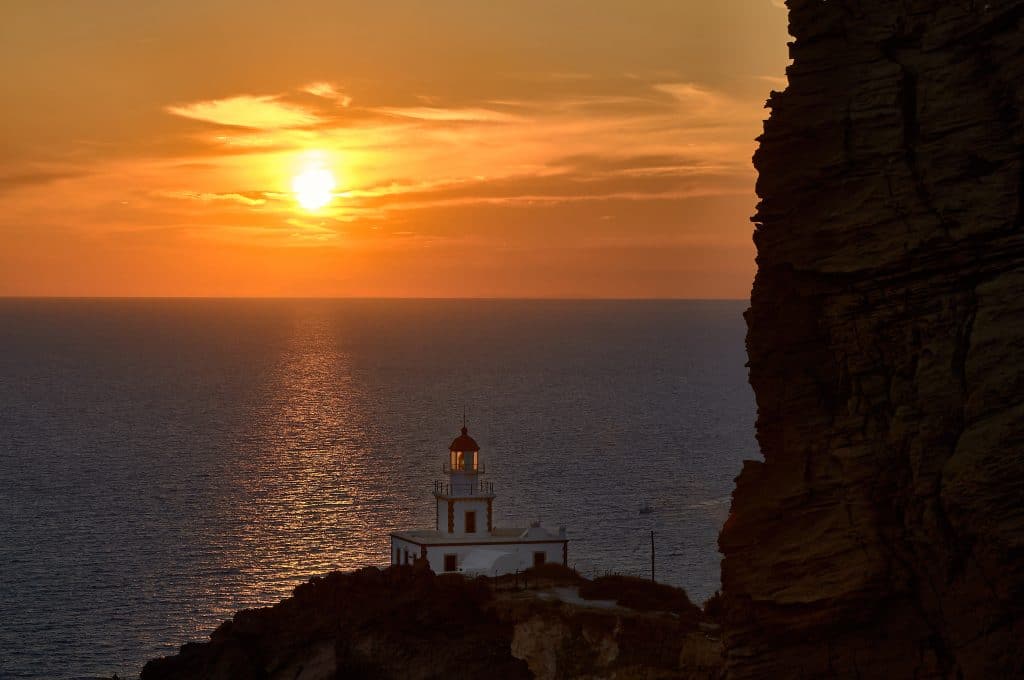 VISIT A WINERY
Santorini is an island known for its rich wine and food variety. There are many wine bars where someone can try different flavors. Although, one of the most romantic honeymoon activities in Santorini is visiting the wineries or doing a wine tour around the island. There are many options, but if you prefer to also have a great sunset view while tasting some of the finest wines, Santo Wines and Venetsanos wineries are the best options. You can find more information in our article "An Ode to Santorini wines".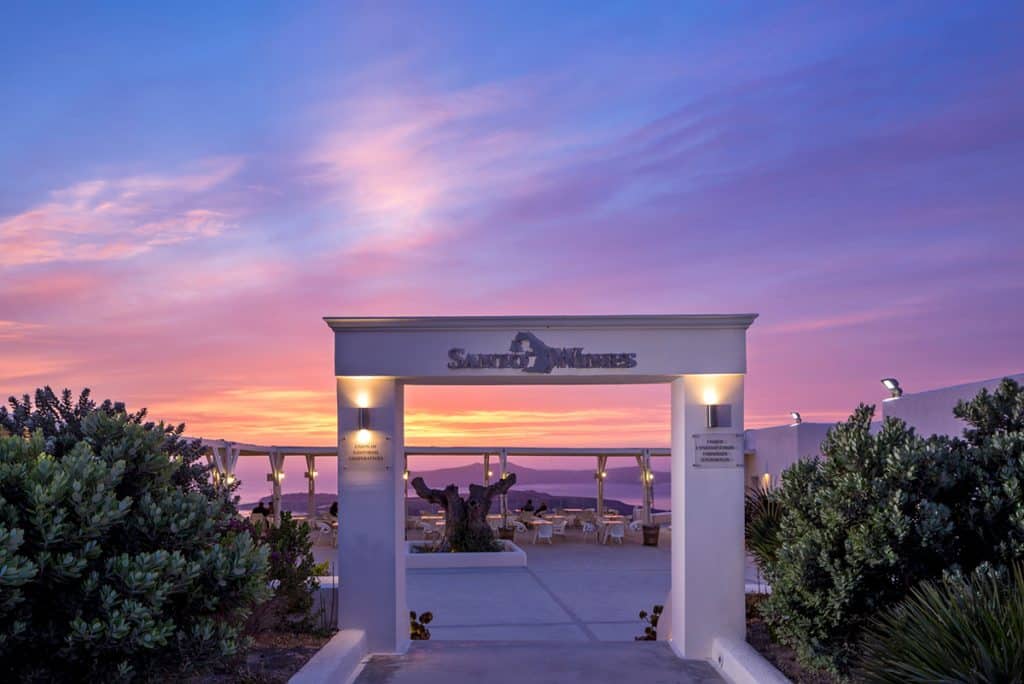 MAKE A PRIVATE PHOTOSHOOTING
While waiting for your wedding photos to get back, having a private photo shooting in Santorini is a must. Capture the sweet moments between you and your beloved one and make the memories last forever. In consultation with the photographer, couples can select their most cherished locations to be photographed in such as their private pool terrace, their favourite Andronis restaurant, or a place on the island like a clifftop view or a traditional village.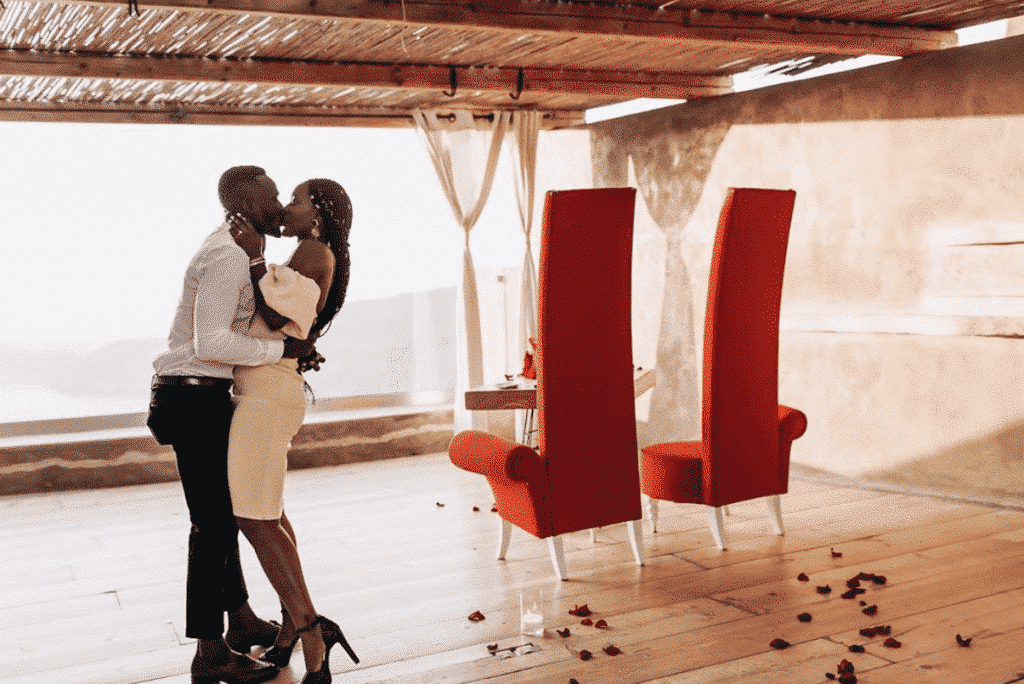 PRIVATE COOKING CLASSES
Cooking and sharing delicious food is at the heart of Greek life and culture. And your honeymoon is the best occasion for you two to bond over a new activity. Plus you get to decide which one will be the most talented chef of the house. At Andronis Concept you can prepare a special meal in a purpose-built outdoor kitchen. Under the guidance of our Executive Chef, you will learn how to cook traditional Greek recipes and also take notes, so you can recreate them when you go back home.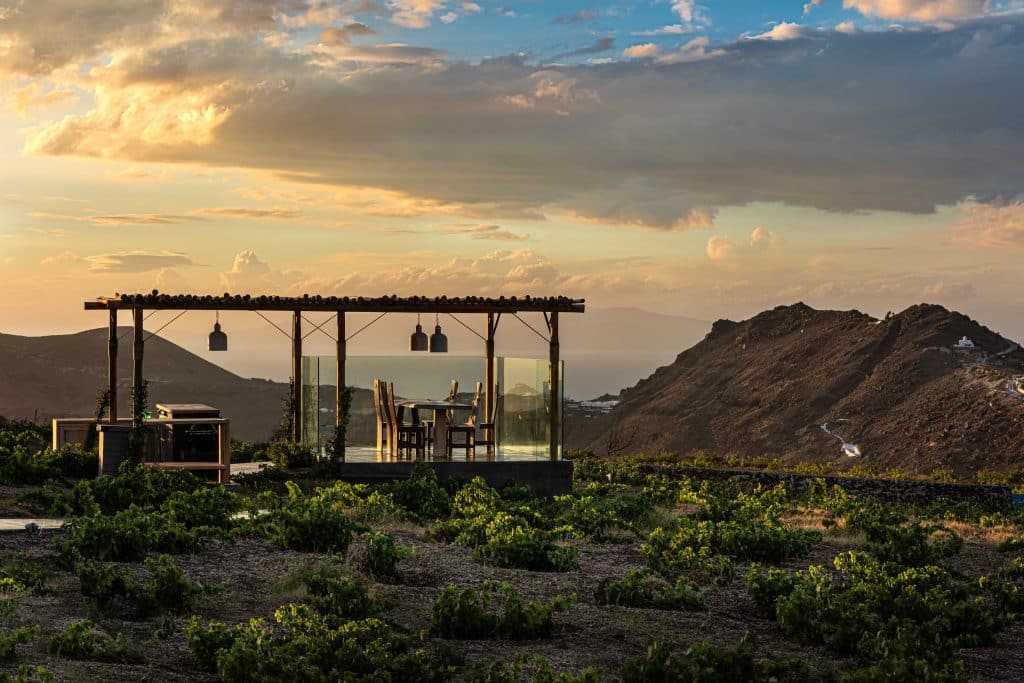 SANTORINI AS SEEN FROM THE SKY
Exploring Santorini from the water is awesome. But can you imagine the views you will get while exploring it from the sky? There are many options and schedules for helicopter tours on the island. You can wander over Santorini for a day, or even visit Myconos for a quick shopping spree. In addition, if you prefer privacy, you can also book a helicopter for your arrival or departure to Santorini.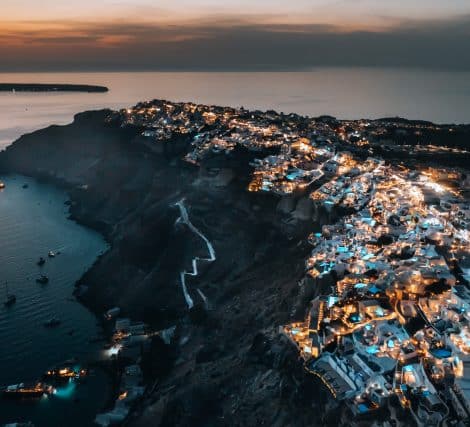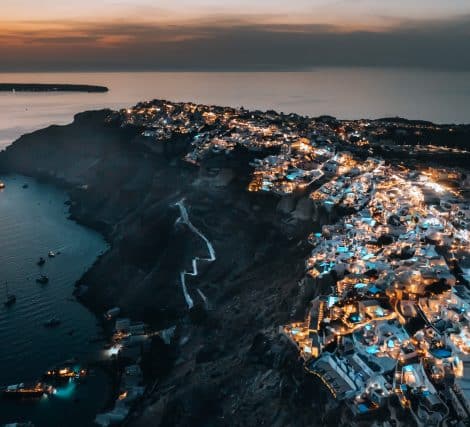 PRIVATE DINING
Private dining can be one of the most romantic honeymoon activities in Santorini. For instance, beautifully designed, the private area of Throubi Restaurant provides a discreet, indulging and romantic setting for a very special dinner. It is a wholly discreet private dining space overlooking the most beautiful sunset in the world.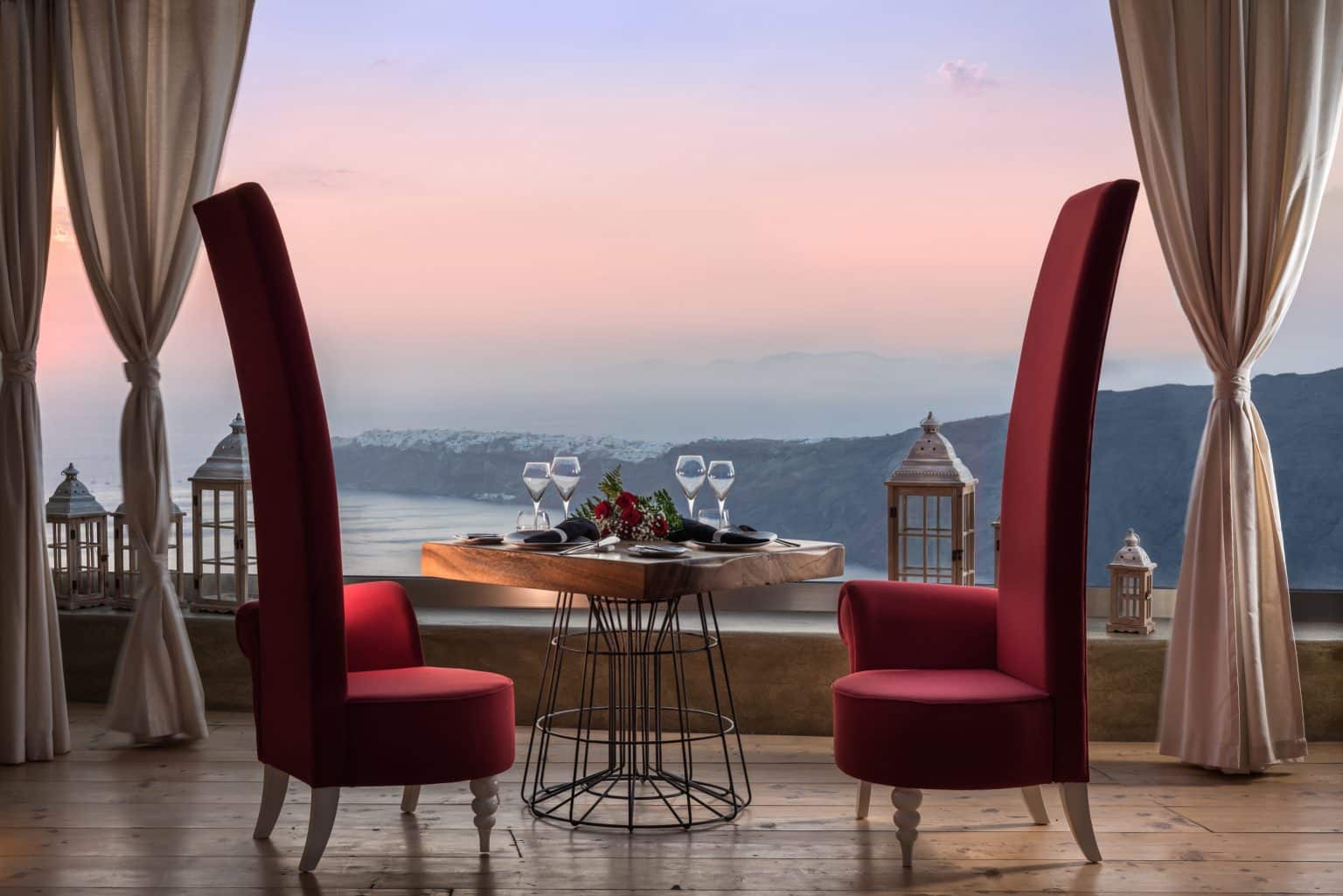 USEFUL INFORMATION
WHERE TO STAY IN SANTORINI FOR YOUR HONEYMOON
Santorini has many small villages for you to choose from. Although we strongly suggest you book accommodation on the western part of the island so you can have direct sunset views or if that is not possible, admire the colours of the sky during this magical moment of the day.
WHEN TO VISIT SANTORINI FOR YOUR HONEYMOON
Depending on the activities you want to enjoy you can visit Santorini at different times of the year. The season in Santorini is starting in early spring and finishing in late November with July and August being the peak months. If you can't bear the Mediterranean summer heat you would better enjoy coming in Spring or Autumn. Although, if you have in mind a more typical greek vacation with sunbathing and swimming, Summer is the time for you!
HOW LONG TO STAY IN SANTORINI FOR YOUR HONEYMOON
Once again, the duration of your trip is something depending on how little or how many activities you want to do. A trip of 3-4 days will be enough if you want to see the basics, although even if you stay for a week, we promise, there will still be a lot of things for you to do.
In conclusion, a honeymoon in Santorini can be the most magical and romantic trip you 2 will have and a great start to your married life. Don't miss the chance to book this amazing experience now and avail of our Valentine's Offer.