Thirsty Pink Sundays at Pacman Bar-Restaurant are already a thing!
Every Sunday, we are shaking the party life in Oia, Santorini, with the pinkiest events at the brand new Grande Pool of Pacman. Such a party couldn't take place without a dedicated Pink Menu full of Drinks and Snacks. Whether you are looking forward to visiting Santorini or you are missing the days you spent with us, we've got you covered! Our Bar Manager, Dimitris Kosaras shares with you his secret recipe for the Signature Pink Cocktail – Masticha Beauty. Enjoy!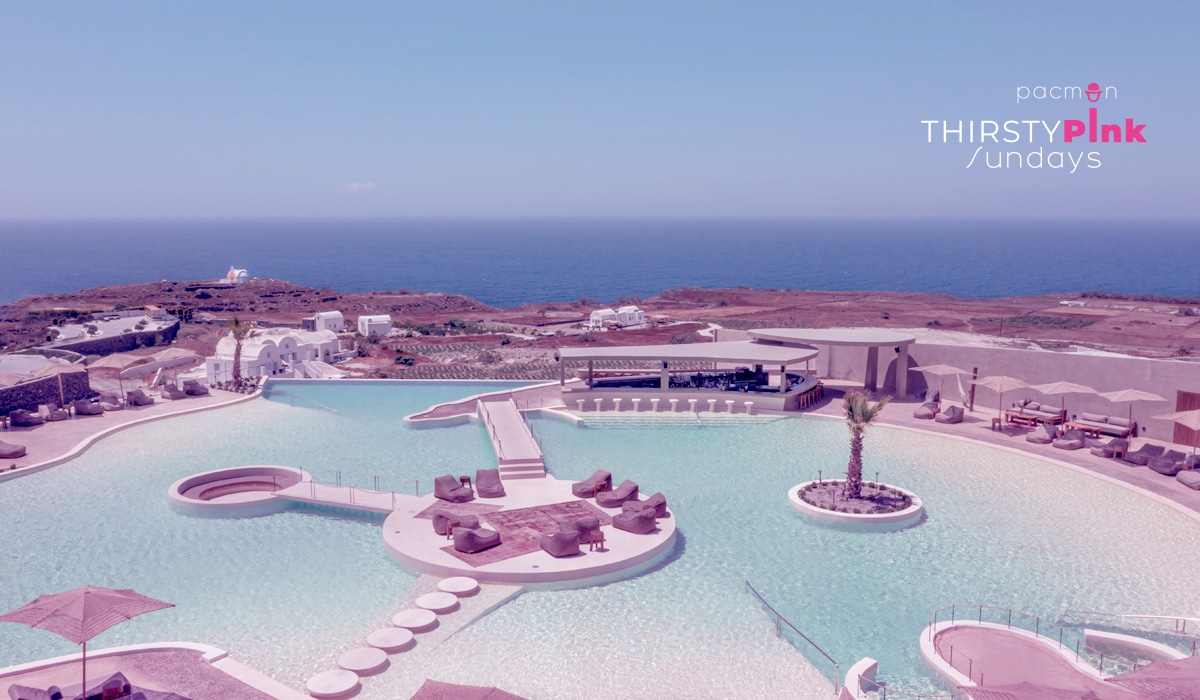 Masticha beauty Recipe
Premium gin – 45 ml
Masticha – 15 ml
Oleo Saccharum strawberry* – 30 ml
Yuzu lime – 20 ml
The execution is very simple!
Shake all ingredients with ice & strain in a highball glass with ice
Top up with pink grapefruit soda
Garnish with a cucumber slice & edible flower
For the *Oleo Saccharum strawberry You take a glass jar and place strawberries that you have cut into 4 pieces until the bottom is covered. Then you spread on top a very thin layer of sugar, enough to cover all the strawberries. You will have to repeat the process 2 more times to fill the jar with 3 layers of chopped strawberries covered with sugar. Close the jar with a lid and let it rest for 1.5 – 2 days. Remove the chopped strawberries from the jar and we will be left with a very tasty and aromatic thick strawberry syrup to use in your cocktail The chopped strawberries that you will extract can be used in cocktails as a garnish!
If you follow the recipe, the cocktail will be amazing! But if you are still missing the ambiance of Pacman and our Thirsty Pink Sundays you can listen to our Organic Sunset Playlist on Spotify. The vibe of our evenings at Pacman, infused with the top-quality organic house music will give you the best of times!