The tradition of Halloween originated with the ancient Celtic festival of Samhain when people tried to repel ghosts by lighting bonfires and wearing scary costumes. As the years and centuries passed by, the Christian All Saints Day (November 1st) incorporated some of the traditions of Samhain. Soon, the evening before was known as All Hallows Eve, and later Halloween.
Halloween may not be your favorite holiday of the year. When it comes to food though, you know that its delicacies are hard to compete with. Not only because of the excellent tastes and candies but mostly because of the unlimited creativity you can use. It's up to you to decide whether you'd like to turn your house into a haunted mansion or simply give your guests goosebumps. However you'd like to celebrate Halloween this year, we have the perfect fit for your gatherings. Time to make the most delicious Halloween Pumpkin Muffins that our pastry team suggests and spook out your friends!
Halloween Pumpkin Muffins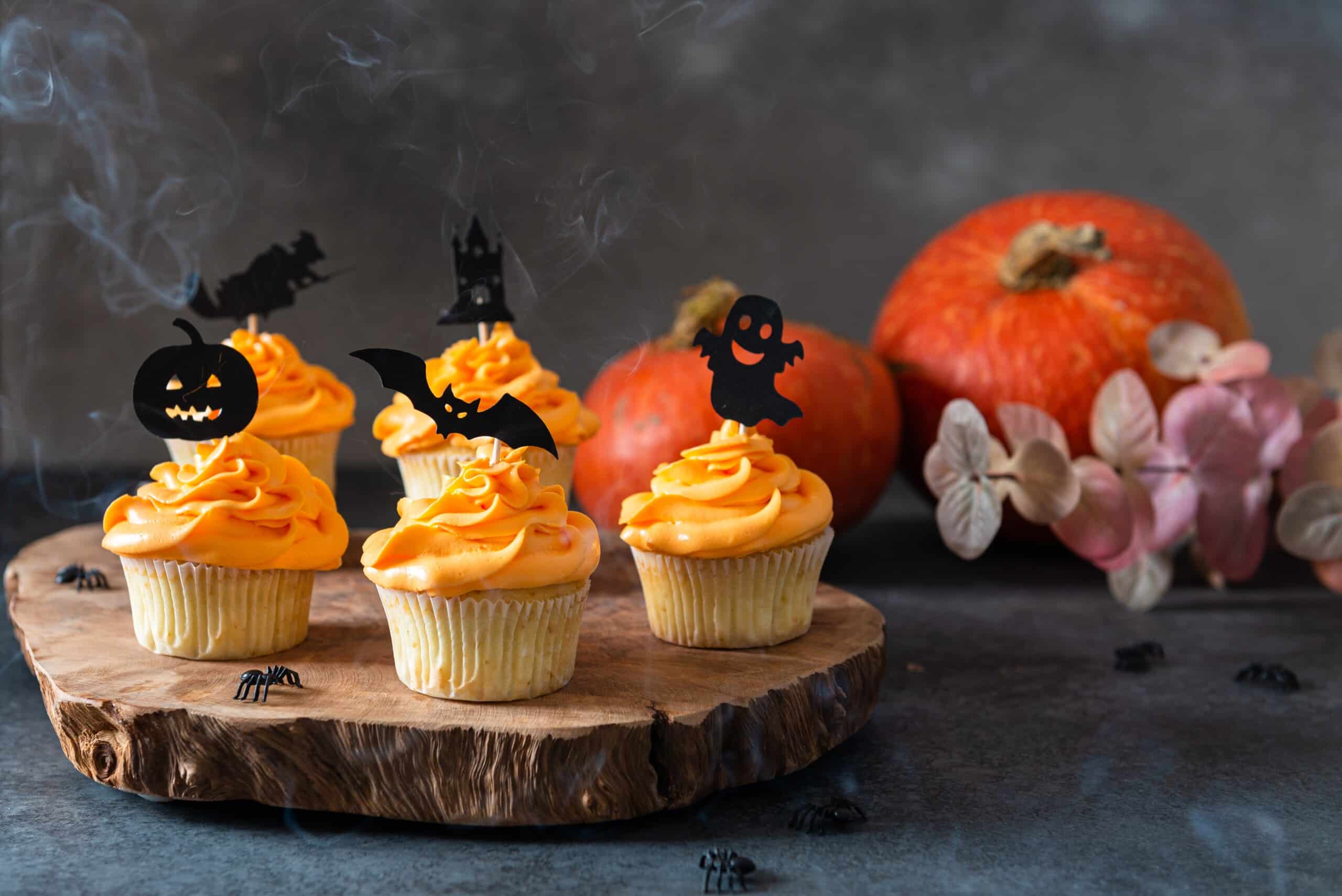 Ingredients for the Halloween Pumpkin Muffins
Whole eggs – 100g (approx. 2 medium-sized eggs)
Milk – 60g (1/4 cup)
Sunflower oil – 236g (1 cup) 
Grated Pumpkin – 270g (1 1/2 cup)
Brown Sugar – 330g (1 2/3 cups)
Butter – 56g (4 tablespoons)
Granulated sugar – 95g (1 cup)
All-purpose-flour – 350g (2 3/4 cups)
Baking Soda – 8,5g (1 1/4 tsp)
Salt – 5g (1/2 tsp)
Cinnamon powder – 5g (2 tsp)
A pinch of Ground cloves
Golden raisins – 200g (1 cup)
Total grams – 1615g
Ingredients for the frosting
Butter – 150g (4/6 cup)
Cream cheese – 110g (1/2 cup)
Powdered sugar – 200g (1 cup)
Food coloring of your choice
Total grams 460g
Method
Using a hand whisk, mix the eggs and all the sugars, and then incorporate the milk and pumpkin.
Melt the butter, and while it's still hot add it to the mixture together with the sunflower oil.
In another bowl, mix and sift all the powders together, and then add them to your mixture.
Finally, cut the raisins and add them too.
Leave in the fridge for at least 3 hours (ideally one day).
Fill muffin cases 3/4 full and bake at 150°C (300°F) for 20-25 mins, until risen, firm to the touch and a skewer inserted in the middle comes out clean.
For the frosting
Soften the butter in the microwave.
In a mixer, make the butter light and fluffy (a paddle attachment would be the most suitable).
Add the flour and continue to beat, gradually adding the cream cheese.
Add the color of your choice.
Add your mixture to a pastry bag, cut its tip, and when the muffins have cooled, decorate them.
As we explained earlier, it's up to you and your creativity to decide on the decoration of your sweets. We dare you to be artistic and in order to inspire you, we share some of the ideas we loved in the photos below.
Although, if Halloween is just a boring holiday for you, once again, we've got you covered! You can book your escape to Santorini and avoid all of the fuss! The greek sun and our warm hospitality will make you forget everything dark & spooky.