Thanksgiving day is dedicated to gratefulness. Historically it started as a day of appreciation for the harvest and other blessings of the past year. Today the holiday continues to be an essential part of American culture and the opening of the festive season…A day dedicated to the appreciation of our family & loved ones. Thus knowing how to host the best Thanksgiving dinner is essential. 
Together with our Food & Beverage Manager, Anastasios Dimitriadis, we prepared this article, in order to transmit the beautiful aura of our Restaurants to your home. The result will be a dinner like no other! 
Let's start straight with everything you need to take care of in advance…
Preparations
Number of Guests

The first thing to decide is the number of guests attending. Everything will be arranged according to that. So, you will have to make sure that everyone confirms their presence. If you wish to make it more formal you can also send out invitations and require an RSVP.
Arrange the space
When hosting a dinner, it is important to make sure that there is enough space and seats for everyone to be comfortable. Along with that, you should count the available chairs, plates, glasses, and utensils in your cabinets. This way you can buy in advance what you are missing and not panic a few hours before the dinner. If there is not enough space in your dining area, don't hesitate to create a kid's corner to accommodate your young guests.
Decoration
Thanksgiving is a festive day, and this is the vibe you want your house to reflect. If you have already decorated your home for Christmas it will be a great plus. But even if your tree is not up yet, it's okay! Some candles, flowers, pumpkins, and a beautiful table decorative centerpiece bowl can work wonders in setting the mood. Just make sure the big tray of turkey will fit on the table!
Make a playlist
The main responsibility of the host of the best Thanksgiving dinner is to create the right ambiance. How could that be possible without the right music? You don't need to be a DJ to make a list of selections that will create a cozy atmosphere. After all…who doesn't love Christmas Jazz?
Menu
Food Menu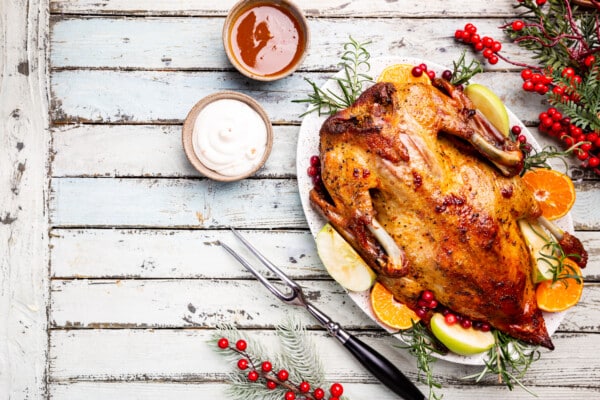 The moment that the turkey touches the table is something we are waiting for all year. Apart from the turkey though, great appetizers and desserts are what make dinner memorable. Some fancy ideas for starters are canapes, a tart, or even a nicely-served pumpkin soup. For dessert, you can take look at the 2+1 Christmas delicacies our team suggests!  Another detail that makes you a great host is to take into consideration any possible allergies or dietary habits of your guests. It is important for everyone to feel included.
Drinking List
We can't think of a dinner without drinks. Whether your family is fond of alcohol or not, drinks are what will complete your evening. Aside from the usual soft drinks and alcohol, you should also include a welcome and dessert drink. How about popping a Champagne when everyone arrives? A warm welcoming toast will make you all rejoice. After dinner, you can serve a nice liqueur or hot spiced chocolate.
Again, if you have young guests make sure to have soft drinks or some juices for them to pair their dinner.
Wine Suggestions
Our Sommelier, Sotiris Kandylis will jump in to suggest the best wines for Thanksgiving dinner.
White Wines
For the Thanksgiving table I would either recommend a Gewürztraminer or a Nychteri two different styles of wines for different reasons. For instance, I would like to pair my turkey with Zind's Humbrecht Gewurztraminer Clos Windsbuhl 1995 at this point this wine has developed layers of complexity even though is quite early to enjoy! Excellent wine for poultry with hints of exotic fruit and stone fruit compote with distinctive hints of gunpowder and flint. A wine to remember for a lifetime.
On the other hand, I would love to enjoy thanksgiving with a Nychteri from Santorini and to be more precise the Hatzidakis Nychteri 2015. The toasted nut aromas, the minerality the hints of tangerine and orange peels and the citrus flavors would complement Thanksgiving dinner.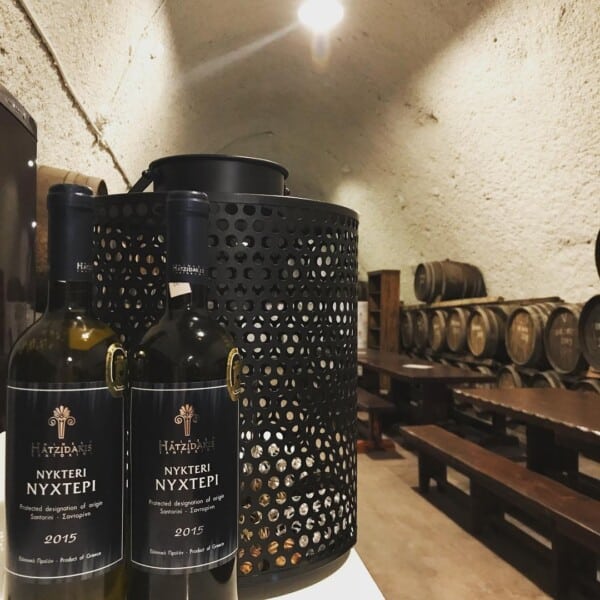 Red Wines
For red wine drinkers, I would highly recommend either a Primitivo or a Grenache. 
Primitivo from Puglia would be a great option for such a dinner. 'Es' Riserva is a Primitivo di Manduria by Gianfranco Fino the vintage of 2014. Compact and concentrated on the nose, with notes of tobacco leaves and cardamom, then rich blueberry fruit, mulberries, and chestnut honey in the background. On the palate concentrated and compact, rich, vivid fruit, opens with a lot of force, dense, hearty tannins, intertwined with lots of fruitiness, very long, on the finish still some new oak is obvious.
Chateau Rayas Chateauneuf-du-Pape 2009 would be the ultimate Grenache for such an occasion! Notes of raspberry, black cherry, wild strawberry, black pepper, and cinnamon. Bolt, rich and, at the same time, elegant, firm and with excellent persistence. The perfect wine for the perfect thanksgiving.
*Pro-tip: When it comes to wine, don't forget the crucial step between corkage and enjoying it: decanting. The process of decanting applies to new bottles and it means slowly pouring the wine into a container before serving it into the glass. It is beneficial for nearly all types of wine.
Table Setting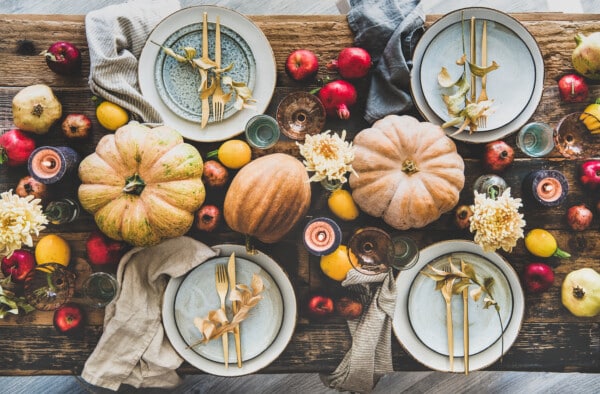 The turkey is in the oven, and the wines are resting in fine jars, so it's now the perfect time for you to set the table. Start with a tablecloth in a festive color. Use the pretty decoration you chose but don't light the candles until the last moment before your guests arrive. Set the plates and utensils according to the steps of the menu, a glass of wine and an additional water glass. Don't forget a nicely-folded napkin for each guest. If your dinner has a formal character you can also arrange everyone's spot and use place cards.
Everything is set and done so it's now time to relax and enjoy the unique dinner that you prepared for your loved ones. Even if something doesn't go as planned, don't stress about it. It will be a story for everyone to discuss during the next gatherings.
On the other hand, if you feel like you are not ready to host the best Thanksgiving dinner yet, you can book a retreat in Santorini and choose one of our high-end restaurants to dine in. You can rest assured that our experienced team will teach you all the right tricks!