Situated in the vibrant heart of the historic center, the district of Psiri, Athens calls curious travelers in like a siren, with its charming allure and a treasure trove of captivating experiences. While often overshadowed by the city's iconic landmarks, Psiri, Athens boasts a rich tapestry of antiquity stores, lively food markets, and exceptional gastronomic delights. So, heed this clarion call, go forth and discover some of the fun and peculiar things to do in this magnetic corner under the shadow of the Acropolis.
What to do in Psiri, Athens:
  1. Antique Shop Exploration
For history aficionados and antique lovers, Psiri is a paradise waiting to be discovered. The neighborhood is carpeted with quaint, authentic antique shops that house an impressive array of curios and valuable baubles. Meander down the jumbled streets, and you'll stumble upon stores brimming with vintage jewelry, antique furniture, ancient artifacts, and unique curiosities. Unearth hidden gems from Greece's past, maybe try your hand at haggling and let the shop owners regale you with stories about their cherished finds. Whether you're a serious collector or simply love perusing historic relics, the antique shops of Psiri, Athens are almost certain to grab your imagination.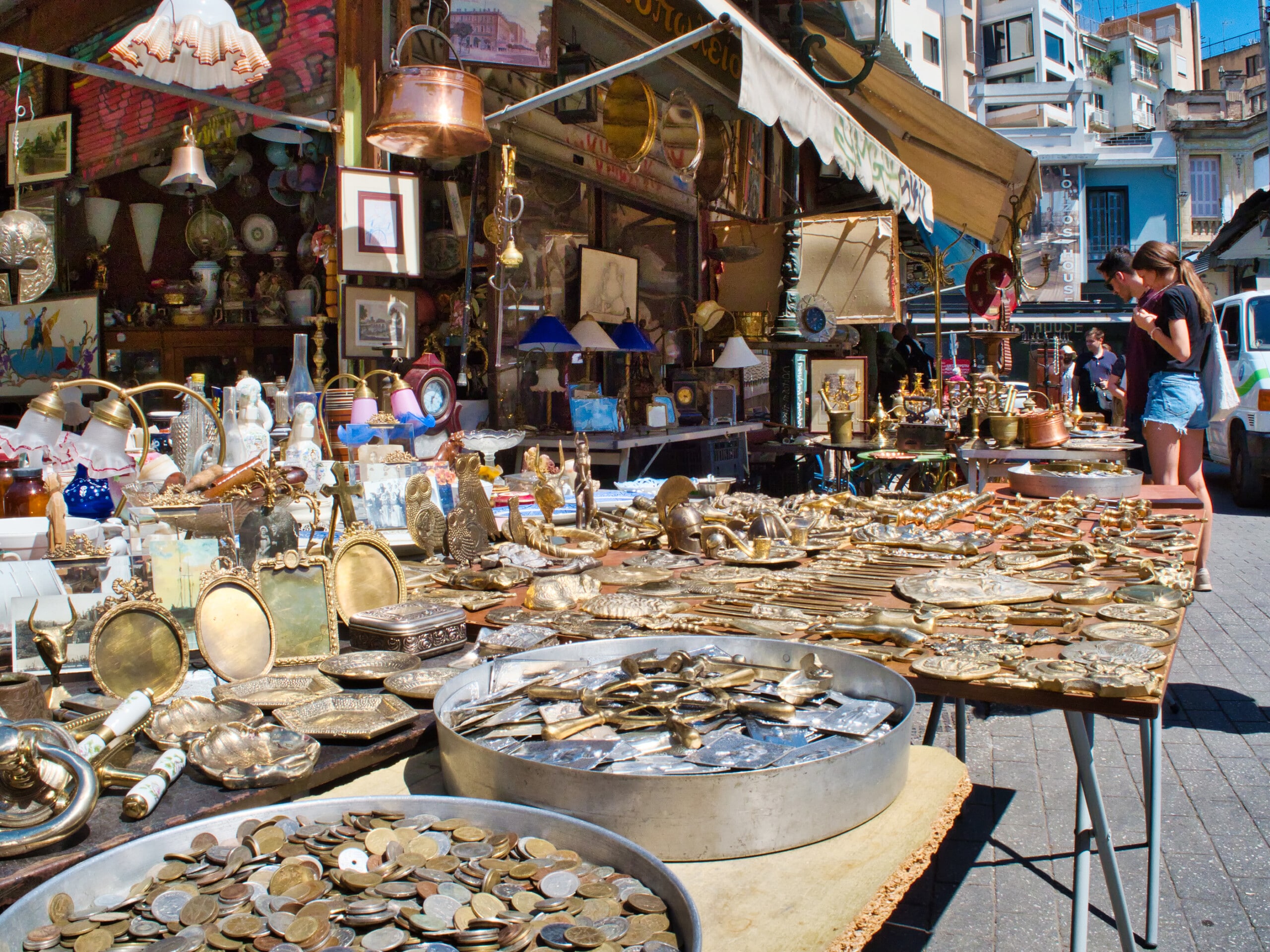 2. Exploring Food Markets
Psiri's bustling food markets are a sensory bath, offering a bonafide and immersive experience into Athens' culinary heritage. Begin your gastronomic adventure at the Varvakios Central Market, where locals and visitors alike gather to procure the freshest produce, aromatic spices, and traditional delicacies. Marvel at the vibrant displays of colorful fruits and vegetables, breathe in the enticing aromas of herbs and spices, and sample delectable cheeses, olives, and cured meats.
Adjacent to the Varvakios Market, you'll find Evripidou Street, renowned for its specialty food stores. This narrow street is a treasure trove of Greek ingredients and culinary delicacies. Dive right into spice shops brimming with exotic fragrances, visit traditional bakeries offering freshly baked bread and pastries, and stop by delicatessens to try gourmet Greek products. Embrace the lively and slightly chaotic atmosphere, and strike up conversation with passionate merchants who are eager to share their knowledge and love for Greek cuisine.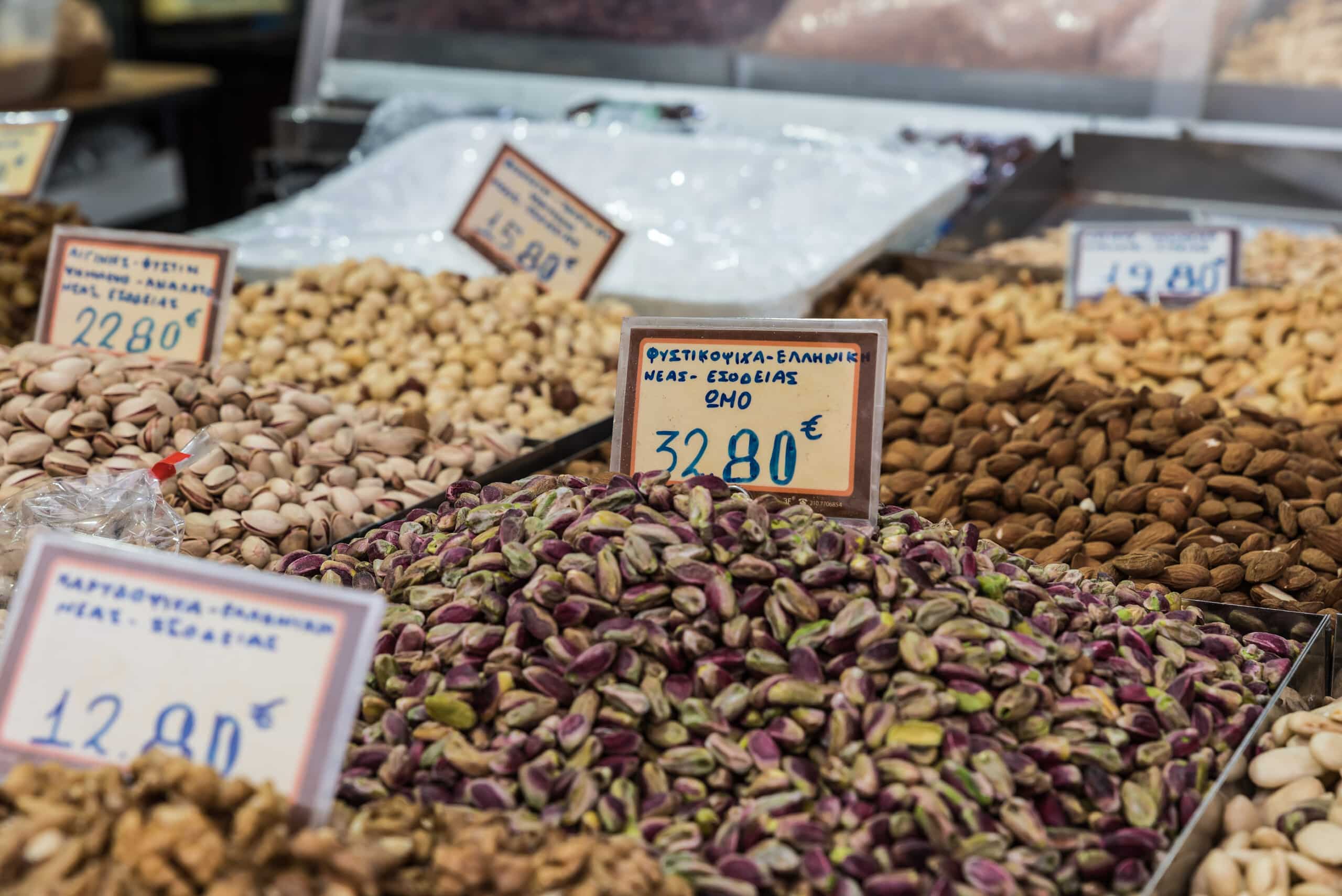 3. Gastronomic Delights
This neighborhood of Psiri, Athens is stacked with all manner of gastronomic delights. From traditional tavernas to modern bistros, the area throws an abundance of culinary options that showcase the rich flavors of Greek cuisine. If you're on the hunt for Greek authentic dishes, you'll be rewarded, as the area is home to several Greek-style delicatessens, where you can savor a variety of cured meats, artisanal cheeses, and homemade specialties while enjoying the cozy, rustic ambiance.
Craving something more familiar? Head over to iFeel, for the most contemporary of Psirri Athens restaurants, serving a homemade array of Greek flavors with a modern twist and international brunch favourites. Tuck into refined comfort food made from the freshest ingredients at the hottest spot in town, which is also a great option for soaking up the evening vibes of the district as you people-watch with a delectable cocktail or wine glass in hand.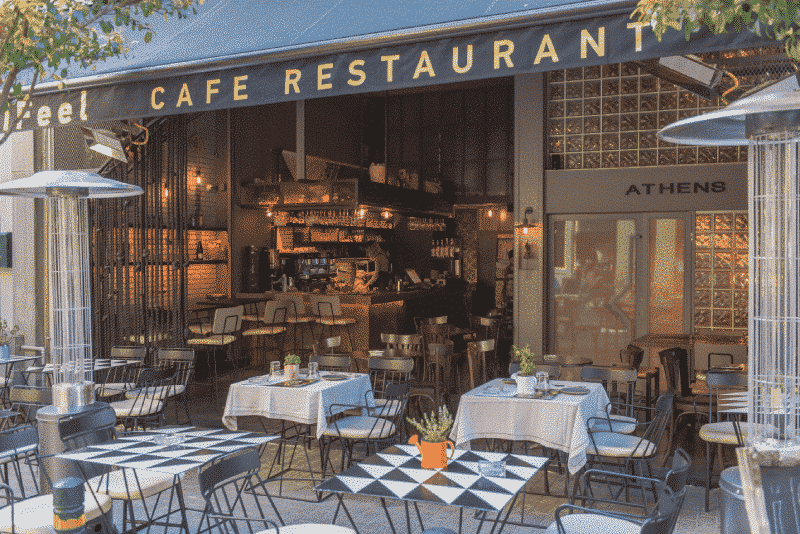 If you're into very sweet desserts, you're in for a treat. Psiri, Athens is a dessert haven with a plethora of traditional and contemporary Greek sweets, as well as familiar confections. The district has the works, all the way from delicate loukoumades (honey-soaked dough balls) to creamy galaktoboureko (semolina custard pie). Pair your treats with a cup of strong Greek coffee and sit back to enjoy the sugar rush, al fresco.
As you follow the winding roads, you'll come across a myriad of other places to discover and explore. From novelty cafes, ethnic eateries and local tavernas and lots of street food.
  4. Soak in the Colorful Atmosphere
Beyond the antique shops, food markets, and culinary treasures, Psiri, Athens itself is an experience to be savored. Get amongst the neighborhood's vibrant energy by taking leisurely strolls through its charming streets, and hunt for the colorful street art that adorns the buildings.
During the day, the district is fairly quiet, giving you the option to explore it in its best light and with fewer crowds around. As the day progresses, the pace gradually picks up, drawing people in to either browse the shops for that one-of-a-kind artifact or to enjoy a catch-up over a beverage or lunch. Join in on a favourite pastime as you take a breather and refuel with a juice or refreshing iced coffee at a sidewalk café.
In the evenings, Psiri, Athens transforms into a buzzing hub of social activity, pulsating with the rhythm of the ebbs and flows of its denizens. Check out the local nightlife and bar scene that includes both hip and novelty places as well as traditional ones. Psiri's uniquely colourful atmosphere is an enchanting blend of the old and the new, capturing the essence of Athens' timeless spirit.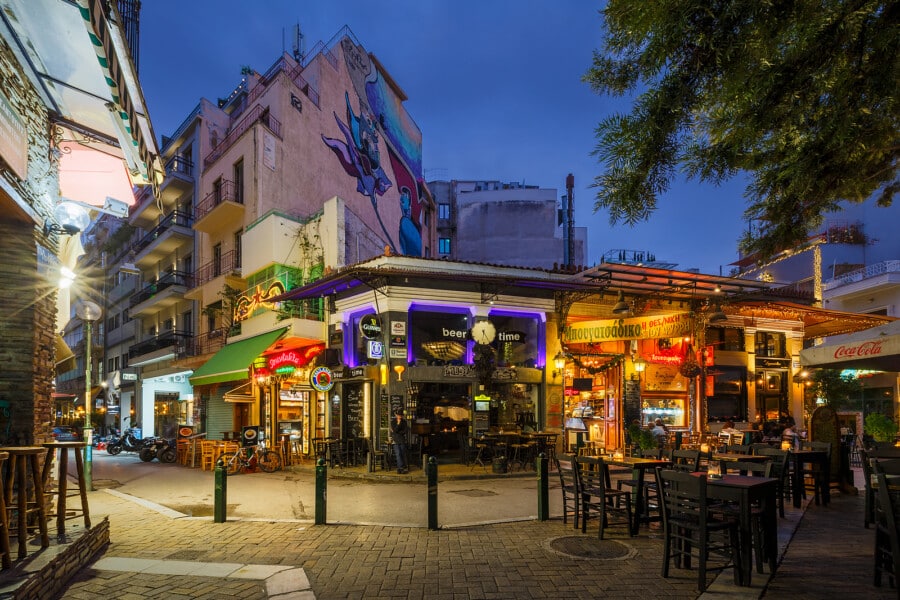 Where to stay in Psiri, Athens: Andronis Athens
Athens is an unforgettable experience, and staying at one of the sophisticated suites by Andronis Athens takes that experience to another level of urban indulgence. It is one of the boutique hotels in Psiri, Athens that offers an exclusive selection of meticulously designed luxury suites in Athens city, each one a unique sanctuary of comfort and elegance.
From the moment you step in, you'll be greeted by a captivating blend of contemporary aesthetics and warm hospitality. The suites boast spacious interiors adorned with tasteful furnishings, a soothing color palette offset by splashes of vibrant color, and all the modern-day amenities. Relax in the plush seating areas, unwind on the comfortable beds, and rejuvenate in the lavish bathrooms featuring sleek fixtures and luxurious toiletries. The private balconies or terraces are definitely a highlight, offering stunning views of the neighborhood's charming streets and neoclassical architecture.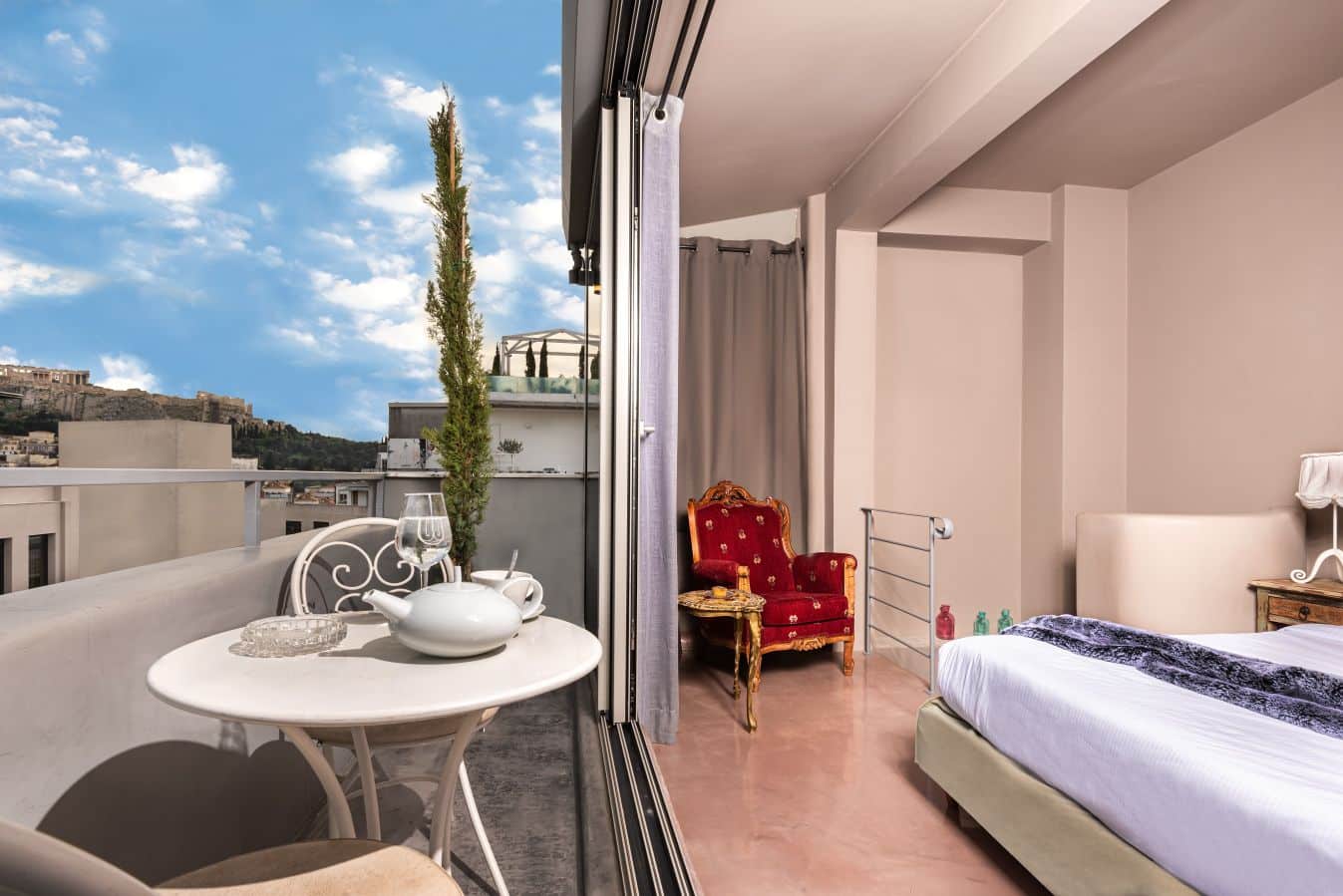 If you want the ultimate city stay experience in Psiri, Athens, go for the Elegant Athens Suite with Acropolis view for an iconic and soul-stirring backdrop. By choosing Andronis, you are securing a memorable stay at one of the boutique hotels in Psiri, Athens, where your experience is nothing short of extraordinary, and your time here is truly indulgent and unforgettable.
Psiri, with its antique shops, vibrant food markets, and gastronomic wonders, presents a compelling invitation to explore a lesser-known side of Athens. Engage in the thrill of discovering ancient relics, awaken your senses in bustling food markets and artisanal eateries, and surrender to the pleasures of Greek cuisine in the neighborhood's finest eateries. Whether you're an antiquities enthusiast, a food lover, or a seeker of authentic experiences, Psiri, Athens promises a delightful urban playground made up of a myriad of stimuli.