If I could begin to describe this hotel, my words would still be lacking. Let some of my photographs above try and do it justice. The Andronis Luxury Suites by far exceeded any expectation I had for our stay in Santorini. It was located in the heart of Oia, nestled between the cliff sides of the caldera. It offered stunning views of the classic, archetypal white and blue buildings that Santorini is world renown for. The location was so convenient, it lay at the beginning of Oia's pedestrian walkway. It's also in close proximity to Ammoudi's Bay, one of Santorini's precious gems.
We stayed in the Deluxe Suite with an indoor jacuzzi, an alternative Louisa gave us instead of the private infinity pool I requested. Our room was conveniently located right next door to the hotel's infinity pool, as well as right beneath Lycabettus Restaurant, the hotel's grandeur dining area. We made dinner reservations there that first night we arrived, on the small little cliff that only holds 7 tables. It was such a magical experience.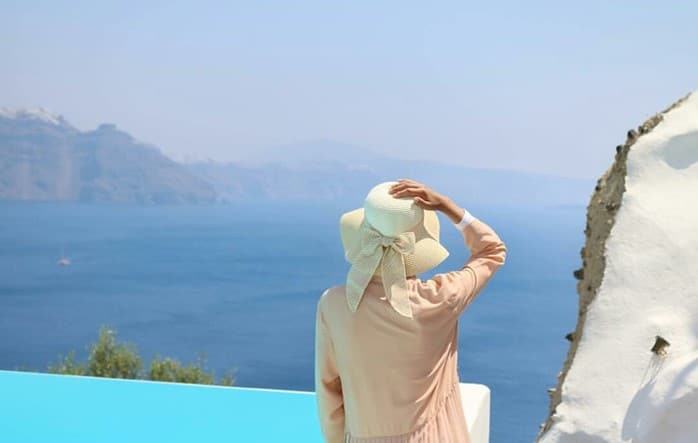 THE DO'S & DON'T'S OF SANTORINI:
Santorini is comprised of two main areas, Oia and Fira. Fira is the larger, more densely populated town, while Oia is the beautiful tourist-ridden town. My recommendation would be to stay in Oia, especially if you're looking for that picturesque Santorini that's all over the internet. There are some locals that still reside in Oia, however many of the properties have been bought out by resorts.
For all my hijab-wearing readers, this tip is for you. Don't book a room with a private pool. Privacy simply doesn't exist. Because of the bean shape of the caldera, all the beautiful houses and resorts are scattered across the cliffside. It's very difficult to find a room situated in the proper place that holds a completely private pool. I was initially seeking a room with a pool until Louisa explained to me the topography of the area and how impossible it is to have privacy. I would however recommend the private hot tub instead.
Rent an ATV to get around. Cabs in Oia are scarce. My one small tip would be to test drive it in the daytime first. Santorini has no traffic laws and people can go a little nuts with their driving. The island is also very hilly. It's easier to get a feel for the roads when you're driving an ATV in the daytime opposed to the evening.
Go before peak season begins because the crowds can get a little crazy, especially around sunset. High season for visiting Santorini is during July and August. However, the official operating season in Oia begins April 1st. Try and go sometime between April and July to avoid large crowds. The bougainvillea also bloom during the springtime, and a visit to Greece is incomplete without spotting this elegant flower framing the entryways. The contrast between the colors of the bougainvillea and the white washed walls of the houses is remarkable.
Always make a reservation before heading out to lunch or dinner. Make sure you call the restaurant in advance and find out if they have seating available. This would apply to Mykonos restaurants as well. Many of the popular dining areas get booked very quickly, especially during peak season. Rashad and I headed out to dinner on numerous occasions and were unable to get a table. We'd end up having to make a reservation then and come back later.
Make sure to pick up a hat from one of the street vendors. Not only are they adorable, but they really do help shield you from the sun.
The Greeks are so friendly and hospitable so making conversation with the locals is so important. They love talking about their country and informing you of some of the best stuff to do in the area. Some of them even went out of their way to do favors for us.
Make sure you bring comfortable shoes. Whether you're staying in Oia or Fira (especially Oia) you'll be doing a lot of walking and climbing a lot of steps. Just leaving our room alone required us to walk 5 flights of stairs.
One last tip for my hijab-wearing readers, bring loose trousers with you. The sun is very strong and it reflects off of the white buildings which makes it even hotter. It can be very blinding without sunglasses. Bringing loose clothing helps make the heat more bearable.
THINGS TO DO:
Trek down the 230 steps to Ammoudi's Bay. If you get tired on your way back, donkeys are situated at the bottom of the stairs. You can ride them back up instead of walking.
Private/Semi-Private Catamaran Cruise! Sail into the Aegean Sea and watch the sunset while taking in the scenery. You can take a dip in the water and even enjoy freshly bbq'd seafood on deck.
Explore the hidden gems and side alleys of Oia.
Take a trip to Fira and explore the town.
When in Greece, try a fish pedicure! If you're very ticklish you may want to skip this one. (Cough cough, Rashad!)
Watch the sunset from Oia's rooftops.
For honeymooners, you should definitely book a photoshoot session with a professional photographer. This experience was one of the highlights of our trip.
MUST TRY FOODS:
You absolutely MUST have a freddo cappuccino. And not just once. Every single day. You'll thank me later.
Try the different types of seafood throughout the island. Some of the unique fish we had were scorpion fish and mullet fish. After we finished our scorpion fish, the chef came out and told us to eat the cheeks of the fish. It turned out to be the most delicious part.
White eggplants are a rare vegetable that call Santorini's soil home. They tend to be sweet, so try having them in a dessert.
The tomatoes growing on the island have a very strong, rich flavor, unlike tomatoes anywhere else. Try a dish with some fresh tomato sauce.
Santorini's fava bean is world famous. It has a unique flavor similar to that of red lentils.
I hope this was a helpful guide for any of you planning a trip to Santorini. I tried to touch upon all the questions I received and I hope this piece serves you all well. If you have any more questions, feel free to comment them below."